MU students honored for academic excellence and leadership contributions
Millikin University, in conjunction with the College Conference of Illinois and Wisconsin (CCIW), announced its Jack Swartz Award Recipients and the CCIW Academic All-Conference team for the Spring season of 2021 on June 7.
Millikin junior men's track athlete Ben Kuxmann, of Bourbonnais, Ill., and senior softball player Maddie Holland, of Shelbyville, Ill., were selected as the Jack Swartz winners for the Spring season. To be considered as a Swartz Award winner, student-athletes must carry at least a 3.50 grade point average and have made a leadership contribution to their program. Both student-athletes have a near-perfect grade point average.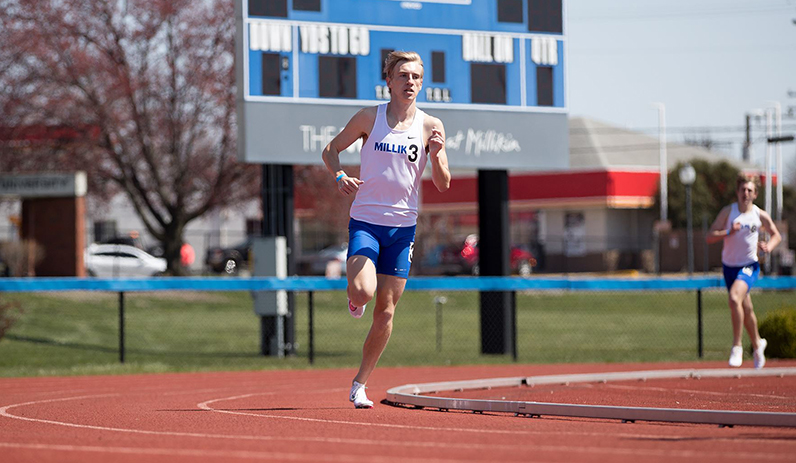 Ben Kuxmann
Ben Kuxmann recently finished third in the Men's 800 Meters with a time of 1:52.15 at the 2021 NCAA Division III Outdoor Track and Field Championships held on May 29 in Greensboro, N.C. On May 5, Kuxmann was selected as the CCIW Men's Outdoor Track & Field Athlete of the Week after winning the 800-meter run against Washington University in St. Louis on April 30. He broke a 37-year old school record with a time of 1:50.12, which is currently ranked first in the CCIW and second in Division III.
Maddie Holland finished the 2021 season batting .321 with three home runs and 21 runs batted in while starting in the outfield for the Big Blue. Holland played an integral part on a Big Blue team that not only captured the CCIW regular season title but earned the title of CCIW Tournament Champions. Millikin softball earned its first NCAA Tournament berth since 1990 by going 4-0 in the conference tournament.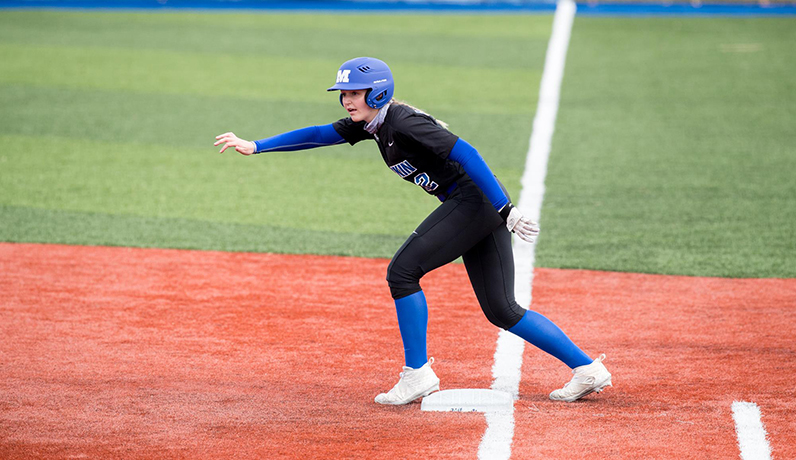 Maddie Holland
Each season the CCIW selects an Academic All-Conference Team. To be recognized, the student-athlete must be enrolled as a full-time student; must have participated on a team during 2021 Spring season; and must have at least a 3.30 cumulative grade point average. Athletes must have completed two semesters at their current institution before being eligible for Academic All-Conference Recognition. The list below is the team members from Millikin for the Spring 2021 season.
2021 Spring Sports CCIW Academic All-Conference
Player Year Sport Major Hometown (H.S.)
Jacob Bailey So. Baseball Mathematics-Actuarial Science Lombard (Glenbard East)
Brent Beals Sr. Baseball Business Effingham (H.S.)
Frank Bryan Jr. Baseball Criminal Justice Plainfield (Plainfield East)
Sam Butler So. Baseball Sport & Rec. Management Champaign (Central)
Jared Buzan Gr. Baseball Masters of Business Admin. Crete (Illinois Lutheran)
John Collins So. Baseball Accounting Jerseyville (H.S.)
Ethan Current So. Baseball Physics Granbury, Texas (H.S.)
Kyle Kane Sr. Baseball Biology (Pre-PT) Westchester (Nazareth Academy)
Evan Lawrence Sr. Baseball Physical Education Belleville (McKendree University)
Sean Miller So. Baseball Finance and MIS Hope, Ind. (Hauser)
Bobby Simmons So. Baseball Accounting Katy, Texas (Faith West)
Tanner Whitworth So. Baseball Accounting Florissant, Mo. (Hazelwood West)
Alex Zogg So. Baseball Business Management Bloomington (Normal Community)
Adam Zuk Gr. Baseball Masters of Business Admin. Plainfield (Plainfield North)
Trevor Britton Sr. Men's Golf Business Management Wadsworth (College of Lake County)
Mitch Cremer Sr. Men's Golf Accounting/Finance Decatur (LSA)
Griffin Nyi So. Men's Golf Accounting Pontiac (H.S.)
Jack Patterson Jr. Men's Golf Accounting Alton (Marquette Catholic)
Max Phillips Jr. Men's Golf Chemistry Salem (H.S.)
Erika Castanon Sr. Women's Golf Biology (Pre-Med) Valparaiso, Ind.\Valparaiso
Jenna Cheek So. Women's Golf Nursing Geneseo (JD Darnell)
Morgan Greene So. Women's Golf Business Management Eureka (H.S.)
Erin Klasing So. Women's Golf Mathematics Actuarial Science Okawville (H.S.)
Makenna Parkhouse So. Women's Golf Health Promotion Gridley (El Paso Gridley)
James Broach So. Men's Tennis Elementary Education Normal (Normal Community)
Clayton Maack So. Men's Tennis Business Chesterfield, Mo. (Christian Brothers)
Reiss Naylor Jr. Men's Tennis Accounting Troy (Triad)
Holden Owens Jr. Men's Tennis Environmental Science Loveland, Ohio (Milford)
Brianna Barconi So. Women's Tennis Digital Media Marketing South Elgin (H.S.)
Danielle Beard Sr. Women's Tennis Business Management Oak Brook (Timothy Christian)
Shelby Jones Jr. Women's Tennis Social Sc. (Sec. Teaching) Alton (Marquette Catholic)
Amber Rezinas Jr. Women's Tennis Elementary Education Shelbyville (H.S.)
Aly Armstrong Jr. Softball Business Management Effingham (H.S.)
Grace Biondo Jr. Softball Actuarial Science Naperville (Naperville Central)
Bailey Coffman So. Softball Business Heyworth (Bloomington Central Catholic)
Kaylee Goluch Jr. Softball Elementary Education Inverness (Fremd)
Gretchen Gould So. Softball Elementary Education Sterling (H.S.)
*Maddie Holland Sr. Softball Accounting Shelbyville (H.S.)
Cassidy Knoerzer Sr. Softball Psychology Lake St. Louis, Mo. (Timberland)
Kailey Pulec Sr. Softball Business Management Frankfort (Lincoln Way East)
Addison Sargent So. Softball Nursing Mt. Vernon (H.S.)
Emma Spurgetis So. Softball Exploratory Studies Rock Island (H.S.)
Lexus Tennison Jr. Softball Business Management Bloomington (University)
Skielyr Trenkle Sr. Softball Business Management Le Roy (H.S.)
Jada Wilson So. Softball Early Childhood Education Decatur (Warrensburg Latham)
Katie Abell So. Track & Field Biology (Pre-OT) Jacksonville (Routt)
Jackson Allen Sr. Track & Field Business Decatur (LSA)
Katherine Batcheller So. Track & Field Physical Education Fenton, Mo. (Rockwood Summit)
Kristian Boado So. Track & Field Nursing Algonquin (Dundee Crown)
Alexus Coleman Jr. Track & Field Health, Fitness & Rec. Silvis (United Township)
Joey Davies Sr. Track & Field Chemistry (Pre-Med) Tinley Park (H.S.)
Maddy Eck Jr. Track & Field Nursing Pleasant Plains (Springfield Lutheran)
Ruth Edwards So. Track & Field Elementary Education Springfield (H.S.)
Anna Gambol Sr. Track & Field Elementary Education Glen Ellyn (Glenbard West)
Garrett Jones Jr. Track & Field Chemistry Mattoon (H.S.)
*Ben Kuxmann Jr. Track & Field English (Sec. Teaching) Bourbonnais (Bradley Bourbonnais)
Anne Longman Jr. Track & Field Arts Technology Park Ridge (Maine South)
Skylar Meents So. Track & Field Arts Technology Downers Grove (Downers Grove North)
Mackenzie Moyer So. Track & Field Nursing Carlinville (H.S.)
Brianna Niebrugge Sr. Track & Field Biology (Pre-PT) Decatur (St. Teresa)
Stephanie Oliver Sr. Track & Field Art Therapy Cedar Lake, Ind. (Hanover Central)
Adriyanna Patterson So. Track & Field Criminal Justice Georgetown (Georgetown Ridge Farm)
Eryn Renison Jr. Track & Field Nursing Channahon (Minooka)
Julia Seaman So. Track & Field Early Childhood Education Marshall (Martinsville)
Joycelyn VanAntwerp Sr. Track & Field Psychology Kenwanee (Kewanee Weathersfield)
Alyssa Vignos Sr. Track & Field Environmental Biology New Berlin (H.S.)
Claire Weers Sr. Track & Field Biology (Pre-PT) Minonk (Fieldcrest)
Hailey Wimberly Jr. Track & Field Biology Salem (H.S.)
*=Jack Swartz Award winner