Big Blue Baseball players visit local school
Student-athletes at Millikin University not only engage in Performance Learning in the classroom, but they extend that same learning process through the University's tradition of giving back to the community.
In addition to the hours spent practicing, competing and meeting their academic commitments, Big Blue student-athletes spend a number of hours serving the central Illinois community each academic year.
This was the case on Wednesday, March 6, as the Millikin Baseball team took its annual trip to Parsons Accelerated School as Big Blue baseball players took turns reading to students in classrooms.
The Big Blue student-athletes read some favorites to the students, including popular Dr. Seuss books for the younger children. Groups of athletes were welcomed into the classrooms by the students and teachers to celebrate Dr. Seuss Day, which fell on March 2 this year.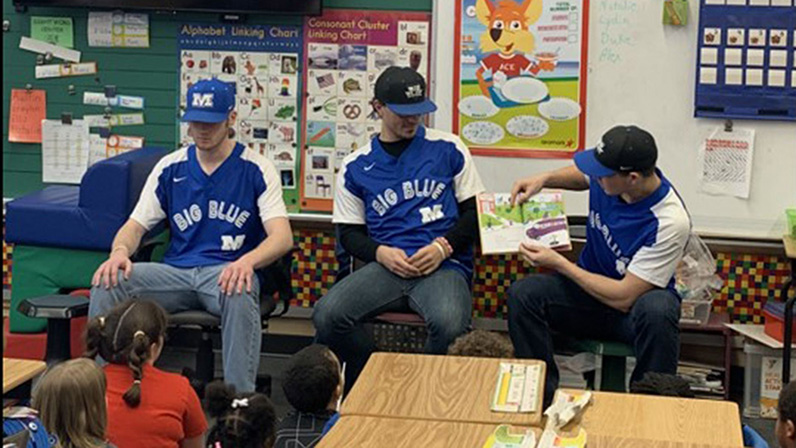 Dr. Seuss Day is a holiday that celebrates the birthday of Dr. Seuss. During the 1990s, the National Education Association advocated for a day to celebrate reading all over the United States. In 1998, it started Read Across America and decided to hold it on the same day as Dr. Seuss' birthday.
During the baseball team's visit, the Parsons middle school students took turns asking the Big Blue players questions about going to college and how important sports have been throughout their lives.
"This was my first year being able to do this activity with the kids because in previous years I had to stay back for my own classes," said Adam Zuk, a senior pitcher and sport management major from Plainfield, Ill. "It was an awesome experience to get to talk with the kids about baseball and college."
The Millikin University baseball team returns an experienced team in 2019 giving the Big Blue high hopes for the season. Head Baseball Coach Brandon Townsend welcomes back 26 letter winners including welcoming back four starting position players and almost the entire pitching staff from last year.
Millikin opened its season on Feb. 16 with a three-game series at Hendrix College in Arkansas. The Big Blue home opener is March 16 against Dominican University at Sunnyside Park in Decatur, Ill.