Millikin student achieves rare artistic feat
Millikin University art therapy major Kathryn Scarim specializes in printmaking and is an abstract artist through and through. A senior from Palos Park, Ill., Scarim has recently had the very high honor of having one of her multimedia prints accepted into the Emerge Gallery & Art Space located in Saugerties, New York.
An incredible feat for any art therapy undergraduate, Scarim's work entitled "Chosen One" will be part of the Gallery's "Petit: A Group Exhibition of Smaller Art." The exhibition features artwork sized under 16" x 20" of various mediums including oil, acrylic, collage, mixed media, fiber art, sculpture, photography and more. The work represents various styles from artists throughout the United States and internationally, including Russia, France, Italy and Switzerland.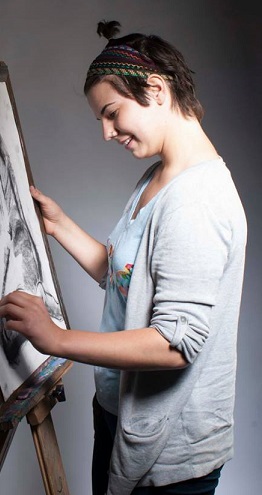 "To make this specific piece, I first used the traditional intaglio printing technique and then incorporated mixed media to develop a physical history on the surface," said Scarim. "Through layering acrylic paint, watercolor, pencil and gel medium I am able to render a developed, experimental and nontraditional final product."
An opening reception is scheduled for Nov. 4 from 5 – 9 p.m. Artwork will simultaneously be available online for viewing and purchasing at emergegalleryny.com. "Petit" will be on exhibit through Nov. 28.
"I feel very humbled by this experience," said Scarim. "My art is deeply personal and opening myself up to critique and possible rejection is always intimidating. However, keeping an open mind and an open heart allows me to seek out exciting opportunities such as this one."
Emerge Gallery was having an international open call for submissions for the exhibit and pieces were received from all over the world. The art director at Emerge Gallery juried what would be shown. Emerge Gallery is primarily interested in exhibiting up and coming artists, giving artists opportunities for exposure and networking that normally would be reserved for well-known artists.
Describing her artwork, Scarim says, "I love to experiment with layering solid shapes and washes over my chaotic line work - juxtaposing the organic with the geometric, the recognizable with the abstract, and the known with the unknown. Most recently, I have been working on flattening out and reducing shapes to simple contour line. This method is reminiscent of children's artwork - honest and unbiased."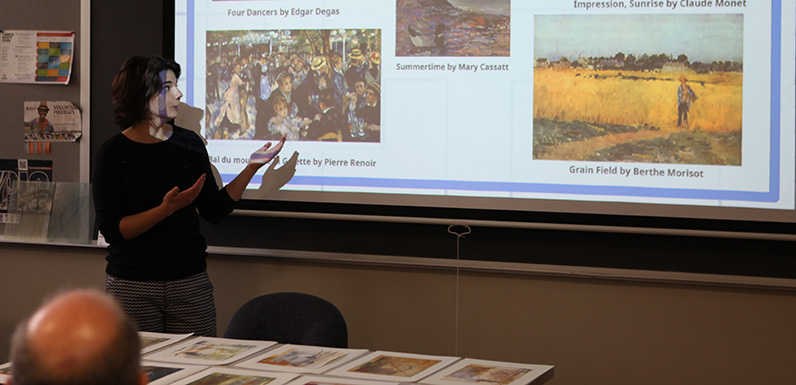 Scarim is set to graduate from Millikin in December 2016 and is currently working on her Bachelor of Fine Arts Thesis Exhibition. The exhibition will be held on Dec. 10 from 1-3 p.m. in the Kirkland Fine Arts Center Lower Gallery on Millikin's campus. Scarim will be exhibiting her original prints and paintings.
For more information on Scarim or to see more of her work, visit kathryn-scarim.squarespace.com.