Big Blue alums thriving in graduate school
Millikin University scholar athletes Erin Lukens, of Johnston City, Ill., and Anthony Bryan, of Plainfield, Ill., will continue their academic careers at Washington University in St. Louis, Mo., in the Doctor of Physical Therapy program after completing undergraduate degrees in biology at Millikin in May.
Lukens and Bryan have been fixtures in the Millikin Athletics community for the past three years, with both student-athletes achieving several prominent academic and athletic awards throughout their storied careers. Now, both of these Big Blue greats will continue their education to become doctors of physical therapy at one of the most renowned schools in the country.
Bryan and Lukens have been Academic All-Conference honorees each semester during their time at Millikin. Lukens has also been a winner of the Jack Swartz Award, which requires a cumulative grade point average above a 3.50 while also earning a varsity letter. Lukens has been named the Big Blue Athlete of the Week eight times during her Track career for the Big Blue. She holds records for Millikin in the Indoor 300 Meters, 400 Meters, 1600 Meter Relay, and Distance Medley Relay; she holds outdoor records in the 400 Meter Hurdles and 4x100 Relay. She has been on the High Dean's List for her grade point average in several semesters, and she is a Chi Alpha Sigma Scholar Athlete member. She is a member of Beta Beta Beta and was Millikin University's Student-Athlete of the Year in 2018. Erin has been a staple in the Decatur community during her time with the Big Blue by volunteering with Special Olympics and Mercy Gardens.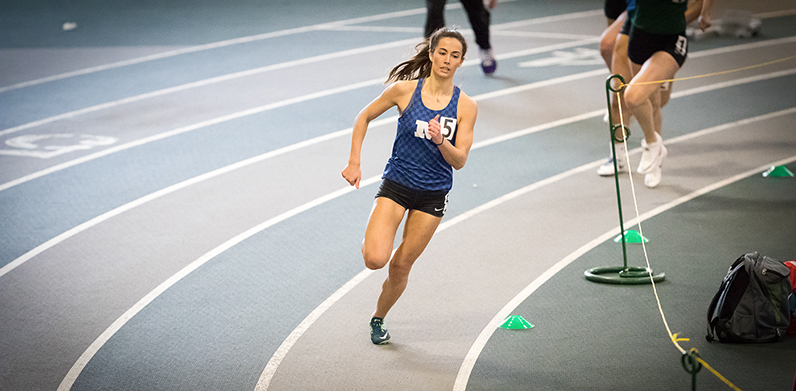 Lukens attests her overall success at Millikin to a great group of professors and coaches who are invested in her athletic and academic success, especially Dr. Travis Wilcoxen, associate professor of biology. When asked about Dr. Travis Wilcoxen's investment into his students, Lukens responded by saying, "As my professor and research advisor, he has always answered my questions and pushed me to become a better student. He always recognizes my success on the track as well as in the classroom." Dr. Wilcoxen can be found at most Millikin home athletics events, and his dedication to student-athletes like herself is exactly what Lukens was looking for in an undergraduate school.
Anthony Bryan has been a constant on the infield for Brandon Townsend's Big Blue Baseball program for the past four years, and he was an All-Conference selection for the Big Blue in the 2018 campaign. During his time as an undergraduate, Bryan has served in the Biology Department as a teaching assistant for upper level Biology lectures and laboratory sections, while at the same time preparing his own research under the direction of Dr. Travis Wilcoxen at Millikin's campus laboratories and at the Illinois Raptor Center, providing significant research in avian hematology. Bryan has amassed over 150 hours of shadowing experience in physical therapy during his time as a Millikin student. He is a member of the Illinois State Academy of Science and a member of Beta Beta Beta.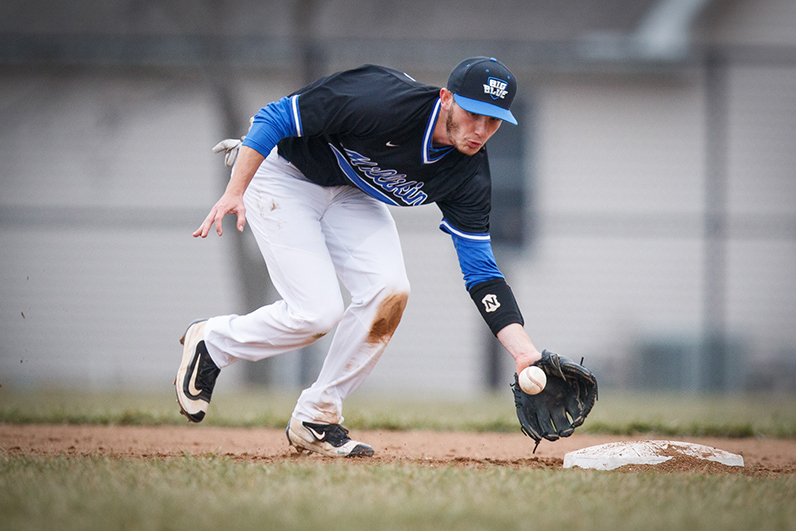 Like Lukens, Bryan has spent numerous semesters on the Dean's List, while at the same time producing fantastic results for his team on the field. Bryan knew that he would develop into the person he is now when he first stepped foot on Millikin's campus as a high school senior.
"It was easy to see that the people on campus were going to push me to be the best student-athlete I can possibly be. Honestly, Millikin has exceeded my expectations as a university and has truly helped to transform me into the person I am today," says Bryan.
One of those people who Anthony mentions is Dr. Wilcoxen. The professor and student-athlete have only been strengthening their relationship, even as Anthony's time at Millikin comes to an end. Anthony often looks back at the investment that Dr. Wilcoxen has made into his education, especially as new successes come so often for him.
"Ultimately, his guidance throughout my time at Millikin is something I am forever grateful for, and I will cherish the memories I have made with him over these past four years forever," Anthony said. "He is a wonderful person, let alone a wonderful professor."
Anthony credits his academic success to all of the Millikin Biology professors, as well as the Chair of the Chemistry Department, Dr. Paris Barnes. Dr. Barnes and Anthony's conversations always include the topic of baseball, and Anthony cherishes each of those moments. Dr. Barnes, like Dr. Wilcoxen, is a frequent attendee of Millikin athletic events and has served as the faculty liaison for the Women's Soccer team for the past several years. Like so many other Millikin student-athletes, Anthony wouldn't change his college experience if he had the chance.
As he so eloquently explains, "My experience as a student-athlete has prepared me for the expectations of graduate school. Hard work and perseverance are what I have learned and I will use those to overcome the struggles of graduate school."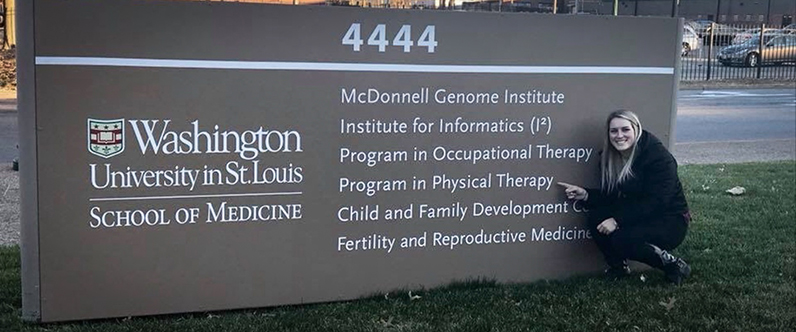 This isn't the first time Millikin students have been accepted and attended the esteemed Doctor of Physical Therapy program at Washington University in St. Louis. Kelsey Going (Women's Basketball) '16, Nicole Koch (Women's Softball) '17, and Emily Mihalkanin (Women's Volleyball) '17 are all having success at Washington University.
For Mihalkanin, of Willowbrook, Ill., who is in the midst of her first year in the physical therapy program, studying physical therapy was not her initial plan as she was originally studying Athletic Training at Millikin. During her sophomore year, Mihalkanin suffered an ACL tear. Through her own experience of physical therapy, Mihalkanin made an important realization through her unfortunate circumstance.
"I was really fascinated with my recovery and rehabilitation," Mihalkanin said. "I began physical therapy to return to playing volleyball and I really enjoyed the setting I was in. I knew physical therapy was a career I could see myself pursuing."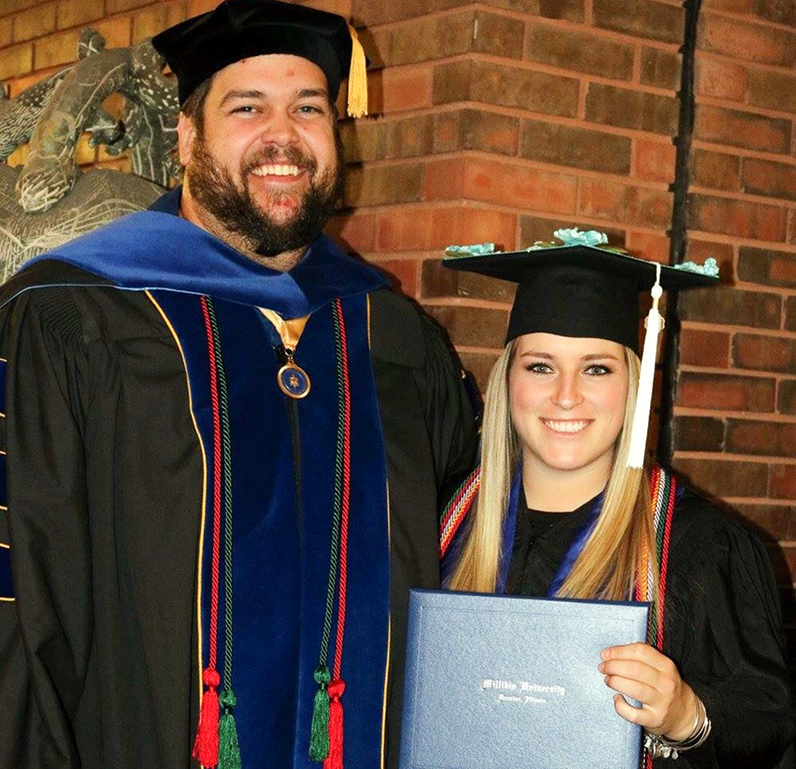 Transitioning from Athletic Training to the Biology program at Millikin was a smooth adjustment for Mihalkanin thanks to Dr. Wilcoxen. Dr. Wilcoxen made sure that Mihalkanin quickly got on the right track so she could be prepared to apply for graduate school. When applying to graduate programs, Dr. Cynthia Handler, associate professor of biology, helped Mihalkanin with the application and interview process.
"Dr. Handler met with me numerous times to do mock interviews before the real deal and I honestly believe that because I practiced those questions so many times, I was more prepared and comfortable in my interviews," said Mihalkanin.
Now in her second semester of her first year in the program at Washington University, Mihalkanin is appreciative of how Millikin has equipped her for graduate school.
"Millikin's rigorous Biology program definitely prepared me for the work load and classes I have," Mihalkanin said. "I took countless Biology courses at Millikin that were four credit hours each in addition to the three-hour labs once a week. Those labs were helpful in preparing me for long days at Washington University where we have class eight hours a day, five days a week."
Not only is the course load similar between Millikin and Washington University, but also the importance of hands-on experiences and engaging in clinical work from the start of the program. Mihalkanin's first clinical work at Washington University was with an outpatient clinic and her current clinical is with the St. Louis Children's Hospital.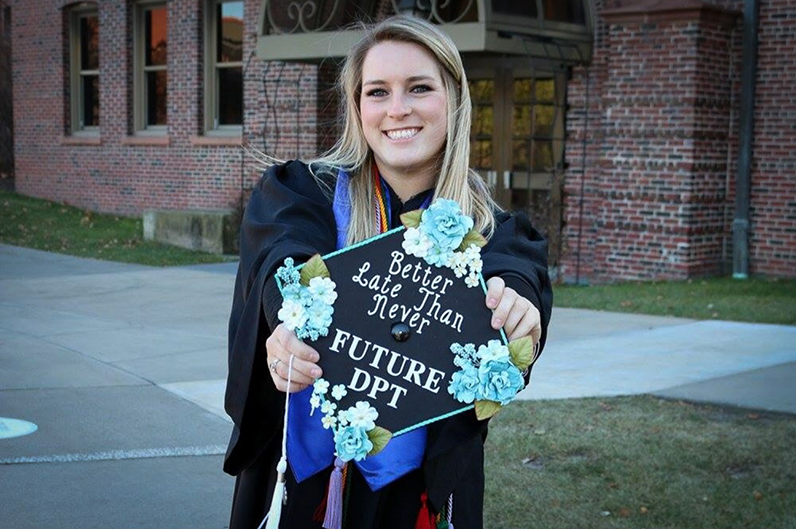 Being involved in real career experiences is nothing new to Mihalkanin thanks to the Performance Learning she was involved with during her time at Millikin.
"Millikin provided me with the best education possible and guidance as I applied to graduate school," she said. "Millikin played a huge role in getting me where I am today."
Recent former Millikin athletes have gone on to other graduate programs as well. Courtney Olson (Women's Soccer, '18) is in the Doctor of Occupational Therapy Program at Huntington University. Jessica Taul (Women's Soccer, '17) is in the Doctor of Physical Therapy Program at Evansville University, and Haylie Lading (Women's Track, '18) is in the Doctor of Physical Therapy Program at the University of Illinois-Chicago.
Millikin student-athletes excel inside and out of the classroom. With an emphasis on Performance Learning at Millikin, students are given the knowledge base and skill set to formulate their own independent research, under the direct guidance of professors like Dr. Wilcoxen, based on their athletic and academic experiences. The students mentioned above have all formulated their own research as a part of their degree requirements and each of them will undoubtedly go on to have exceptional professional careers.