Big Blue crowned CCIW Tournament Champions
The Millikin University Big Blue softball team earned the title of College Conference of Illinois & Wisconsin (CCIW) Tournament Champions in an 8-0 victory over the Illinois Wesleyan Titans on May 15. With the win, Millikin softball earned its first NCAA Tournament berth since 1990.
Big Blue softball earned an automatic bid to the NCAA Division III Softball Tournament by going 4-0 in the College Conference of Illinois & Wisconsin Tournament. The Workman Family Softball Field will play host to the Great Lakes Regional round of play in a six-team bracket from May 20-22.
"It feels great. We are very happy and proud of the players … they've really come together this season and it's something they've worked very hard for, and we are looking forward to moving on and taking the next step," said Whitney Sowers, Big Blue co-head softball coach.
During the NCAA Division III Softball Selection Show on May 17, the Big Blue did not have to wait long to find out who else would take the field in the upcoming Regional at the Workman Family Softball Field. The tournament consists of eight six-team regionals held in various locations around the country.
The Big Blue were named the No. 3 seed and will meet at-large bid recipient Belhaven in the opening round of the tournament on Thursday, May 20, at 2 p.m. Belhaven University, located in Jackson, Miss., finished out the regular season with a 30-10 overall record playing in the American Southwest Conference.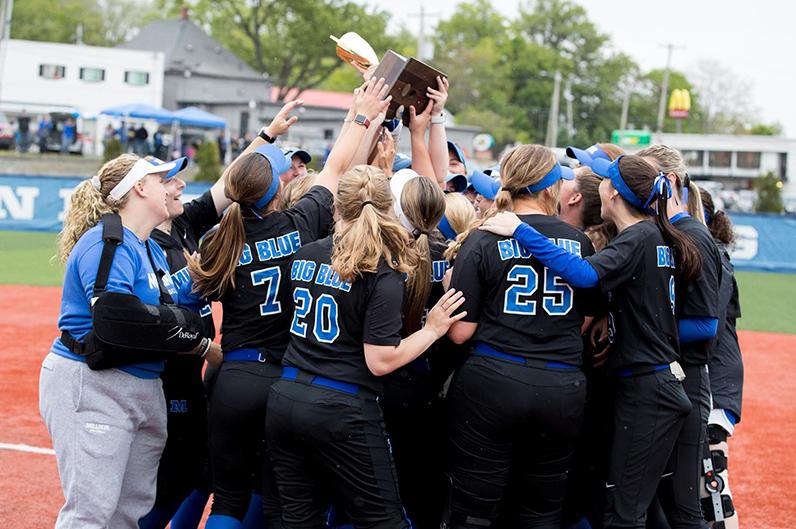 Katie Tenboer, Millikin co-head softball coach, says the opportunity to play in the NCAA Tournament at the Workman Family Softball Field is a special opportunity.
"Being in the Regionals was one of our goals including winning the conference and winning the conference tournament," Tenboer said. "We have a great fan base and it's really special that the players get to continue to play at home."
Other matchups that will be taking place in the region include No. 2 seeded Geneva, the winners of the Presidents' Athletic Conference, taking on Calvin University who claimed the Mid-America Intercollegiate Athletics Association (MIAA) Tournament title. The final two teams in the region are No. 1 seeded DePauw University, the North Coast Athletic Conference Champions, and No. 6 seeded Mt. St. Joseph University, the Heartland Collegiate Athletic Conference (HCAC) champions.
Games will be open to the public with 200 tickets available for each game. The tournament schedule begins with games at 10 a.m., 12 p.m., 2 p.m. and 4 p.m. on Thursday, May 20.
The Big Blue finished the regular season with a 31-11 record and were recently ranked third in the Great Lakes region by the NCAA.