Millikin Sociology Professors named Co-Presidents of Illinois Sociological Association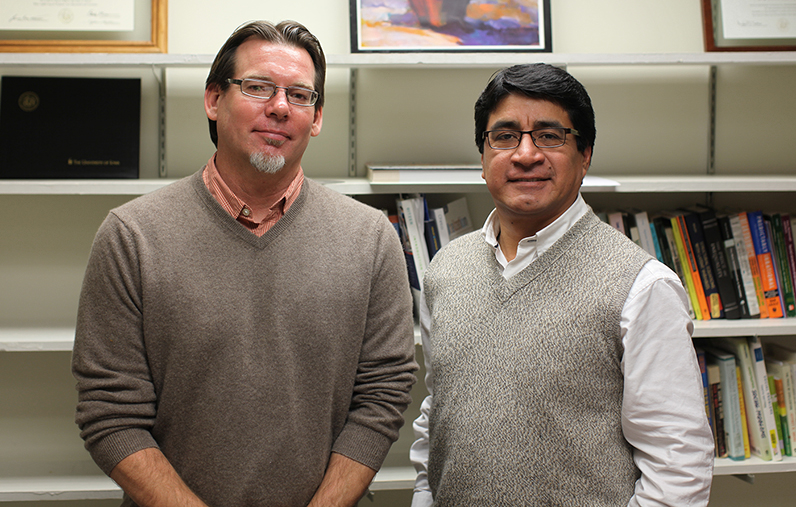 Millikin University Sociology faculty members Dr. Kenneth Laundra, associate professor of sociology, and Dr. Jorge Chavez-Rojas, assistant professor of sociology, have been named co-presidents of the Illinois Sociological Association (ISA).
The ISA is the regional scholarly association for sociology faculty and their students. The objective of the ISA is to educate by stimulating and improving research, discussion, interaction and service among persons engaged in the sociological practice and teaching of sociology.
"The ISA serves as a network hub for sociologists primarily in central Illinois," said Dr. Laundra. "A big part of the ISA is promoting undergraduate research and scholarship. There are always sessions dedicated to research and poster presentations, and we want to help give our students opportunities to build their résumés with conference presentations."
One of the ISA's main functions is to host the annual ISA Conference for presenting faculty and students who are researching and writing in the field. Millikin University will be hosting next year's conference in early November 2017, tentatively scheduled to be held in Millikin's new University Commons at Staley Library.
"Regionally, Millikin serves as a great area for the ISA conference," said Dr. Laundra. "We are going to be using students from sociology and organizational leadership to help plan and implement next year's conference."
The ISA Conference at Millikin will be themed "Sociology in Action" which is intended to promote Millikin's Performance Learning initiatives.
"We know Millikin will benefit from this opportunity because it's going to bring sociologists from all over to learn more about Performance Learning," said Dr. Chavez-Rojas. "Another way that we will promote Performance Learning at the conference is by connecting all the presentations to relate sociology knowledge with something more practical for the community."
Dr. Kenneth Laundra is a sociologist at Millikin University specializing in deviance, criminology, juvenile delinquency and environmental sociology. Originally from Michigan, Dr. Laundra earned a Ph.D. in Sociology from Utah State University in 1999, a B.S. in Psychology from Michigan State University and an M.A. in Sociology from Central Michigan University.
Dr. Laundra has taught at universities across the country, including Michigan State University, Grand Valley State University, Central Michigan University and the University of Portland. He has worked professionally in the field of juvenile delinquency and mental health. His primary field of research is in rural deviance and delinquency and he has published a book on the subject of rural delinquency entitled, "Freeland: Delinquency in Rural America."
Dr. Jorge A. Chavez-Rojas graduated from the University of Iowa with an M.A. in 2007 and a Ph.D. in Sociology in 2014. He also holds a B.S. in Engineering and a Master in Business Administration from the National University of Trujillo-Perú. Dr. Chavez-Rojas is originally from Perú with a work history in international humanitarian organizations.
Dr. Chavez-Rojas teaches courses such as, Introduction to Sociology, Sociological Theory, Social Stratification, Sociology of Globalization and Multiculturalism. His areas of research focus on economic sociology, organizations, bureaucratic corruption and altruism, mainly using a global comparative approach. He has presented his research at several sociological conferences. He is currently immersed in various projects examining cross-national variations in relation to individuals' values and actual behavior.
For more information on the Illinois Sociological Association, visit illinoissociologicalassociation.org.