Millikin senior art exhibit caps undergraduate studies
Millikin University student artists Shelby Truax and Michelle Holsapple will present their senior art exhibitions at the Perkinson Gallery in Kirkland Fine Arts Center on Millikin's campus April 9-14. An opening reception will be held on Sunday, April 9, from 1 – 3 p.m.; the reception is free and open to the public.
A senior graphic design/computer art major from Sherman, Ill., Shelby Truax is a photographer, and focuses her work on capturing a person's portrait.
"The process of constructing a portrait is what I enjoy, from the positioning of the lighting and creating different moods depending on the modifiers, gels and lights I use," said Truax. "I use the lighting to create the appropriate atmosphere for the message I'm trying to communicate."
In Truax's exhibition, entitled "Telling a Story like Dr. TJ Eckleburg," she wants viewers to be direct and look into the images eyes with thoughtfulness.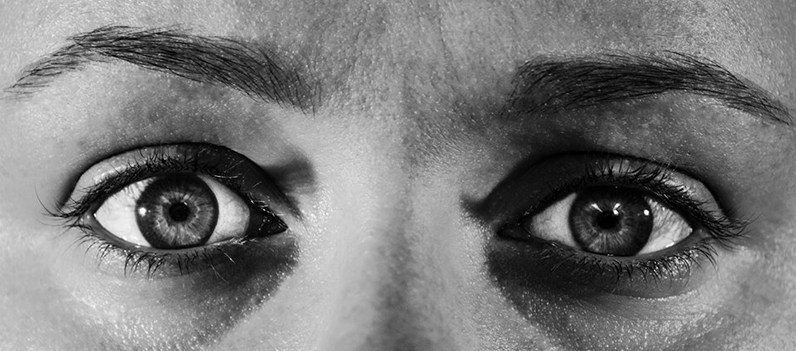 "I want the viewers to put themselves in place of the model and challenge themselves to think about themselves, life and death," said Truax. "Why think about life and death? Because we are all human. We all have flaws and our own unique beauty. I invite viewers to reflect and to think about self-love and of their own beauty."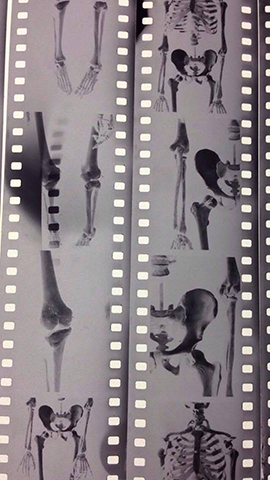 As part of her graphic design studies, Truax enjoys creating marketing materials. Her designs feature eye-catching forms of geometric shapes, colorful tones and theme appropriate fonts. She also enjoys creating magazine cover mock ups, bringing together photo and text, which can be seen in her "Create Cover" series.
"I am still growing as an artist and finding my place within the realm of commercial portraiture," said Truax. "I have the qualities of both a designer and photographer. I look forward to wherever this will take me."
Michelle Holsapple is a senior art therapy major from Oreana, Ill. She is passionate about drawing and painting trees, and establishing a history of mark-making and layering.
"The beginning process of applying a large form to canvas or paper is what I find the most exciting," said Holsapple. "The finished work, I believe, has a history that longs to tell the viewer a story; longing to tell the viewer of its journey to get there. My hope is that the process it encountered will leave the viewer looking deeper."
Holsapple says she begins her drawings with a tree form using large pieces of charcoal. She sometimes crumples up the tree and leaves it outside to take on the elements of nature.
Her paintings are a different process employing layers of oils, acrylic, sanding, and old music and maps.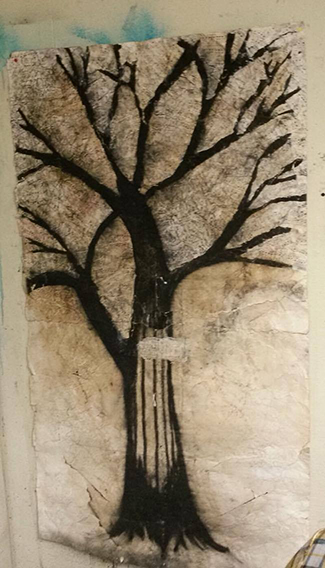 "In both my drawings and paintings I sometimes add collage to my work," said Holsapple. "By using layers, and with the history of the surface, I hope to create a dialog between the art and the viewer. I also use coffee in some of my work, for both color and aroma."
​Holsapple noted, "When someone sees my art, even if it is not their preferred style, I hope they can enjoy it, even if it is just the familiarity of the tree. I hope that they can be in that moment, as if right now that moment was enough."
The exhibition is in accordance with, and in partial fulfillment towards meeting the requirement for the Bachelor of Fine Arts at Millikin University.
The Perkinson Art Gallery is a premiere venue for the exhibition of visual art and cultural events in central Illinois. Perkinson Gallery hosts a wide range of exhibitions that focus on work by professional artists from Illinois and the Midwest, in addition to work by artists with national recognition. Patrons may view the displayed work daily Monday – Friday, 12 noon – 5 p.m.
Millikin's Art Department offers excellent opportunities for students to grow and develop their artistic talents. Art Department programs and faculty help prepare students for fulfilling careers as professional artists, and for related careers in museums, businesses, galleries and more. For more information about Millikin's Art Department, visit millikin.edu/art.