Big Blue Orientation Days welcome newest students to Millikin
New student orientation at Millikin University is the first step in becoming acclimated to the Big Blue campus community. Over a four-day period, June 14-17, the Millikin University campus community welcomed the newest students from the Class of 2025, as well as their parents and families, as they kicked off their on-campus experience.
More than 300 students were immersed in educational programs and social activities throughout the week that served as an introduction to the Millikin experience.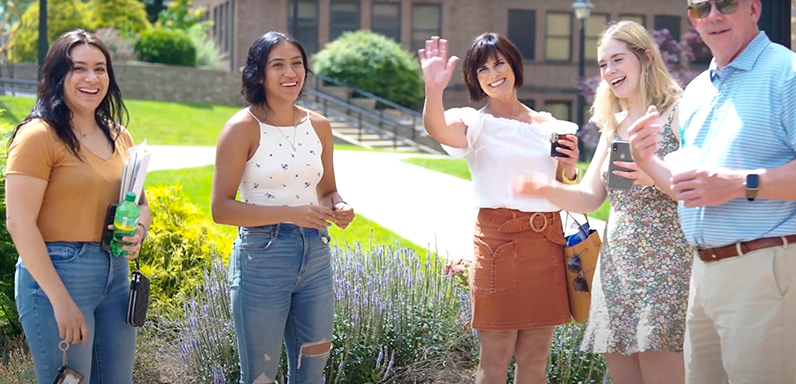 "Big Blue Orientation Days have been a welcomed on-campus experience for our new students, parents and family members to learn more about Millikin University," said Paul Lidy '04, dean of Campus Life at Millikin. "Campus rolled out the blue carpet to welcome students and their family members to campus to learn more about what it will be like in the Fall of 2021. We are so thankful to our awesome campus and community partners who helped make this annual event possible."
This year, the Millikin Office of Admission and the Office of Student Affairs partnered together to host the event. In addition to having lunch outside on the Miller Quad, students learned more about various departments, campus involvement and residence halls. Each day ended with a "Big Blue Burst" where the campus community applauded the new students for their choice to attend Millikin, and to sing the Millikin fight song and Alma Mater.
The orientation was also a time for students to meet each other – an important opportunity Shelby Baum '11, director of operations and events for Millikin, said in an interview with the Herald & Review.
"This is oftentimes where students meet their roommate, or future friends that they'll already know when they get here in the fall," Baum said. "It's a chance for students to feel part of the Millikin family before they get here in the fall."
Tour guide Kelson Bauman, a sophomore musical theatre major, says he tried to answer all the first-year student's questions on topics such as residence halls and how to find classes. "I think it's really good to get them to understand how many opportunities there are on campus," he said.
Aaliyah Combs-Halbert '25
Among the new students on campus was Jacobie Thornton who plans to study theatre at Millikin. The Dallas, Texas, native was impressed by Millikin's Center for Theatre & Dance which will be open to full capacity in the fall.
"It was just a feeling that I had when I stepped on campus, it was a mind, body and soul type of thing," Thornton said. "I saw things, I felt things, and with me being close to theatre, loving so much of theatre, their theatre program really spoke to me. Knowing how competitive it was, it was a matter of if I wanted to come here. Especially when I saw the new building. It's out of this world."
Millikin University will also be hosting Big Blue Orientation Days July 12-15. For more information, visit millikin.edu/orientation-days.