Millikin students, faculty and staff join together to commemorate Juneteenth
"Today is about acknowledgement. We have seen in recent years and recent days that we've been going through a very difficult time as a country, and our current social climate has inspired us to begin acting," said Dr. Alexander Deeb, director of campus life for inclusion at Millikin University.
Dr. Deeb was among several Millikin speakers who took part in the University's virtual Juneteenth Celebration on June 19 in honor of the nationwide commemoration of the end of slavery in the United States. Sponsored by the Division of Student Affairs, the event was hosted on Millikin University's Facebook page.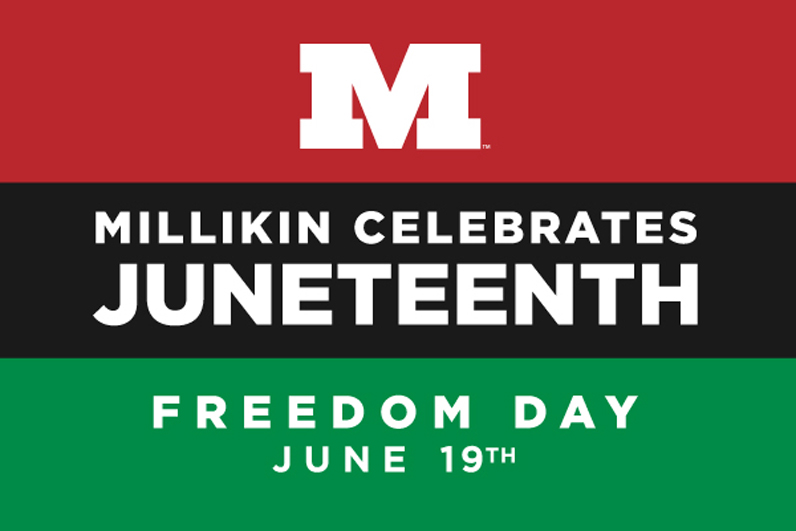 In addition to hearing from speakers, viewers had the opportunity to practice self-reflection and learn more about the history and importance of Juneteenth. Viewers also had the opportunity to learn how to get involved and stay informed about topics related to racial equity and social justice.
"We also want to focus on education; how we can all be better and how we can all understand this current moment, and how we can take it from now and move it forward so we can be a productive society," Dr. Deeb said.
Juneteenth is the oldest known celebration of the end of slavery in the United States. Juneteenth recognizes that June 19, 1865, was the day that Maj. Gen. Gordon Granger, accompanied by his Union troops, arrived in Galveston, Texas, to declare that the Civil War was over, and slavery was over and illegal in the United States. The announcement immediately set approximately 250,000 Texas slaves free, marking the official end of slavery in the U.S.
Since that time, the former slaves in Texas and their descendants have celebrated June 19 as their Independence Day. Most of the states in the U.S. and several countries around the world now also celebrate Juneteenth as the official holiday marking the end of slavery.
Raphaella Prange, vice president of student affairs at Millikin, shared details on some of the key figures who played a role in the abolishment of slavery. David Cook, assistant professor of clarinet, discussed the President's Commission on Inclusive Excellence which was established by Millikin President Dr. Patrick E. White in 2016 to advance the University's conversations surrounding race, equality and social justice issues.
Paul Lidy, dean of campus life, concluded the virtual presentation with a few reflections and next steps.
"I want everyone to take a moment and pause, and continue to acknowledge and reflect on the information that you heard today and think about the following words from Maya Angelou – 'I've learned that whenever I decide something with an open heart, I usually make the right decision. I've learned that even when I have pains, I don't have to be one. I've learned that everyday you should reach out and touch someone, people love a warm hug or just a friendly pat on the back. I've learned that I still have a lot to learn. I've learned that people will forget what you said, people will forget what you did, but people will never forget how you made them feel,'" Lidy said.
As a University committed to Performance Learning, Millikin is responding to the challenges of our times with study, learning, discourse and action.
Lidy noted, "It is important to know that additional programming, education and continued action to educate each other on things such as racism is not only needed but expected."