Dr. Danielle Alesi to serve as scholar at Newberry Library's NEH Summer Institute
Dr. Danielle Alesi, assistant professor of history at Millikin University, has been named a Scholar-in-Residence at the prestigious Newberry Library in Chicago, Ill., where she will serve as a scholar this summer for the Newberry Library's National Endowment for the Humanities (NEH) Summer Institute, "Mapping the Early Modern World."
Founded in 1887, the Newberry Library is one of Chicago's most iconic cultural institutions. Its collections, programs and exhibitions are a portal to more than six centuries of human history, from the Middle Ages to the present. The Newberry collection features some 1.6 million books, 600,000 maps and five million manuscript pages. The library connects researchers and visitors with its collection in the Newberry's reading rooms, exhibition galleries, program spaces, classrooms, and online digital resources.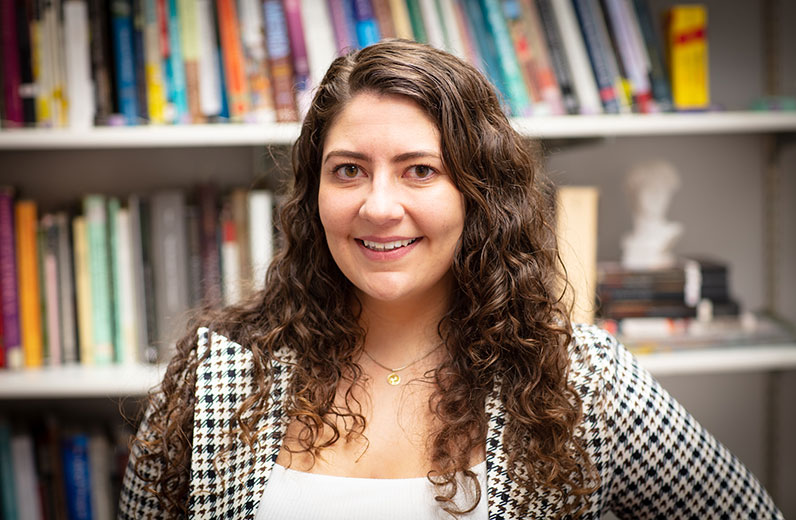 Dr. Danielle Alesi
Dr. Alesi will be one of 25 participants, from July 18 through August 12, 2022, serving as a scholar for "Mapping the Early Modern World," a four-week NEH summer institute for higher education faculty, co-organized by the Newberry Library's Hermon Dunlap Smith Center for the History of Cartography and Center for Renaissance Studies.
The participants will pursue a program of seminars, workshops, discussions and research exploring interdisciplinary approaches to the study of maps in connection with the global intellectual, cultural, and geographical transformations of the world between 1400 and 1700. The course of reading and discussion will consider four major "theaters" in which the production and use of maps operated: the world, the city, the sea and the skies.
"I am excited for this incredible opportunity to work with a community of scholars at the Newberry Library on the topic of early modern maps. For me, this will be useful to both my research and my teaching here at Millikin," Alesi said.
As part of her research for a book she is working on, tentatively titled "Consuming Empire: Eating Animals in the Atlantic World, 1492-1650," a chapter will be included on maps and how American animals are represented on early modern (ca. 1500-1700 ce) maps as a way to advertise or market the idea of "America" to potential settlers in Europe.
"This Summer Institute will allow me to work closely with the extensive collection of maps at the Newberry Library to uncover more on this topic," Alesi noted. "I will also be able to work with the community of scholars to process my ideas and findings and present my research to the other fellows at the end of the program, gaining useful feedback."
Dr. Alesi was formally appointed the John C. Griswold Professor of History at Millikin in Dec. 2021. She is currently serving a two-year term that provides professional development funding that can be used for travel purposes, research materials, stipends for guest scholars or visitors, and more. She specializes in the studies of human-animal relationships in colonization narratives.
"For teaching, I intend to use this opportunity to network and prepare both the content and the logistics of taking Millikin history students on a field trip to the Newberry Library in Chicago in Spring 2023, as part of my John C. Griswold Professorship initiatives," Alesi said. "Students will be able to see the collections there, including the maps I work with, and use Performance Learning to experience the workday of a scholar in a historical archive."
Supported by a grant from the National Endowment for the Humanities (NEH), "Mapping the Early Modern World" will encourage participants to engage with Newberry's vast archival collections related to Chicago and the arts as well as to incorporate new findings into their teaching and research.
The Newberry Institute for Research and Education supports scholarship and programming to advance Newberry's core mission of promoting the effective use of its collection for research, teaching and publication. The institute seeks to build a collaborative and welcoming environment that brings together a wide range of audiences to engage with critical humanities questions.