Peace Summit presents ideas to promote unity and justice within the community
On June 28, a host of Decatur (Ill.) youth, elected officials, social services agencies, members of law enforcement and community representatives gathered at The Salvation Army in downtown Decatur to take part in a Peace Summit. The event, which is the first of what organizers plan to hold as quarterly meetings, was organized to address issues impacting Decatur residents and to present ideas to effectively promote peace, unity and justice within the community.
"This is the introduction to the Decatur Peace Hub," said Keyria Rodgers, director of the Criminal Justice Department and professor of criminal justice at Millikin University. "This is about identifying ways to figure out what it is that Decatur needs and what are we missing."
During a brainstorming session at the Peace Summit, focus groups took on the task of identifying the most crucial needs of the Decatur community. The three most common themes addressed by these groups were police and the community, youth and the community, and community and support groups to fill needs such as mental health resources.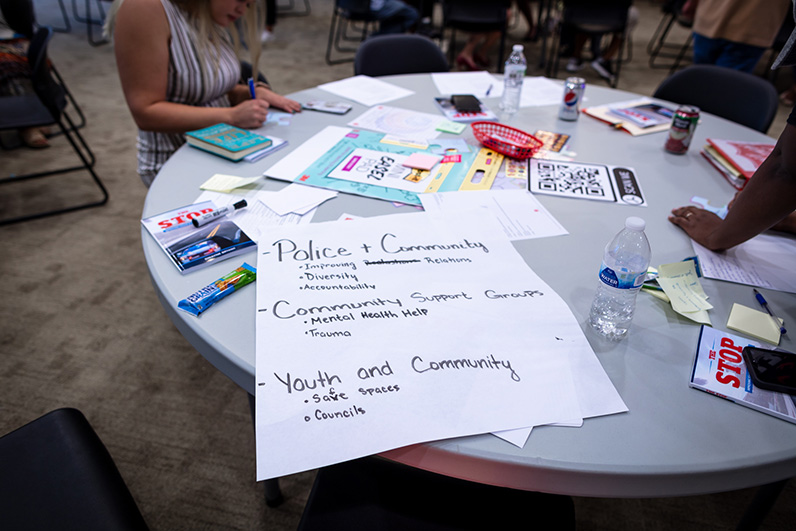 Rodgers remarked that the purpose of the Peace Hub is to find quantifiable ways to address these issues head-on. A partnership between Millikin, the Global Restorative Justice Partnership and The Salvation Army, sponsored by Illinois Humanities, will establish a group focused on developing resources and bringing tangible change to the Decatur community.
"People are being vocal about what they actually want to see in terms of creating a hub and what that means for us. So, we are going to honor them," said Rodgers.
A large portion of the Peace Summit was dedicated toward providing a platform for Decatur youth to voice their needs and concerns. One focus group introduced the idea of creating a youth city council to advise the Decatur City Council, while another group highlighted the need for adult mentors and positive role models for young people in the community.
Nichole Hill, 14, attended the Peace Summit and addressed the importance of unity among all parts of the community. "Instead of 'us' versus 'them,' it needs to be 'us.' It needs to be 'we,' the community as a whole," she noted.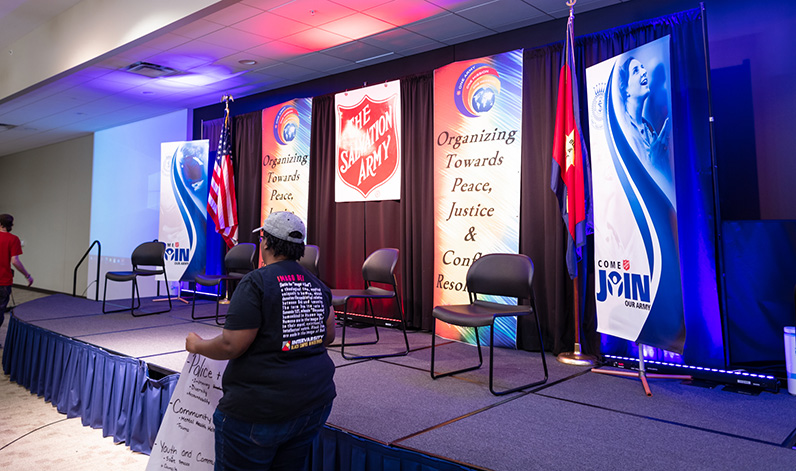 One of the event's two keynote addresses was delivered by Dwayne Bryant, an international speaker, consultant, author, and founder and CEO of Inner Vision International. Bryant encouraged the audience to closely examine relations between law enforcement and the community. He asked youth members from the audience to act out scenarios designed to cultivate open and honest discussions about civilian rights and law enforcement interactions.
"Officers know the law, and you, young, beautiful people, don't," Bryant said, referring to the scenario, which sparked a debate about legal pat-downs by law enforcement. As a specialist in law enforcement and community relations, Bryant touched upon topics such as causes of conflict escalation, the effects of body language and the importance of knowing one's rights.
With a full house and attendees finding off-site parking, Rodgers commented that the Peace Summit event was more successful than she anticipated. "I'm blown away and shocked by how many people came. This is what the community said they wanted, but I didn't expect this turnout."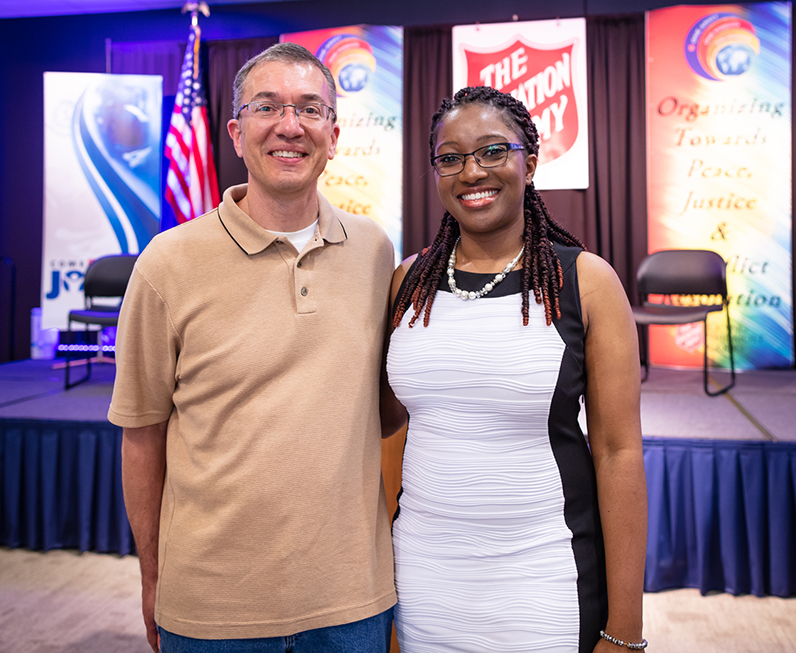 Keyria Rodgers and Dr. David Horn, professor of biology at Millikin
Rodgers, who also serves as director of the Teen Justice Diversion Program, grant administrator for Adult Redeploy Illinois and a board member of several Decatur organizations, said that the size of the crowd and its diversity was encouraging for achieving the Peace Hub's goals.
"We can actually find a way to start what we always wanted to do but never really had the courage or opportunity to do," Rodgers said while discussing the message she hoped the Decatur community would take from the Peace Summit.
"This entire Peace Hub is ours. This is our community, and this is home. We can design this Peace Hub any way we want, and we will see it through."