Karly Grice receives prestigious Nilsen-Donelson Award
Karly Grice, an assistant professor of English at Millikin University, was recently recognized with the prestigious Nilsen-Donelson Award for an article she coauthored with two colleagues titled "Taking Out the Trash: Complicating Rural Working-Class Narratives in Young Adult Literature."
The article was published in the summer 2018 edition of The ALAN Review, a peer-reviewed journal published by the Assembly on Literature for Adolescents of the National Council of Teachers of English (ALAN).
The ALAN Review publishes high quality articles and professional materials that support the learning and development of readers committed to, or wanting to learn more about, young adult literature – its authors, its readers and its advocates.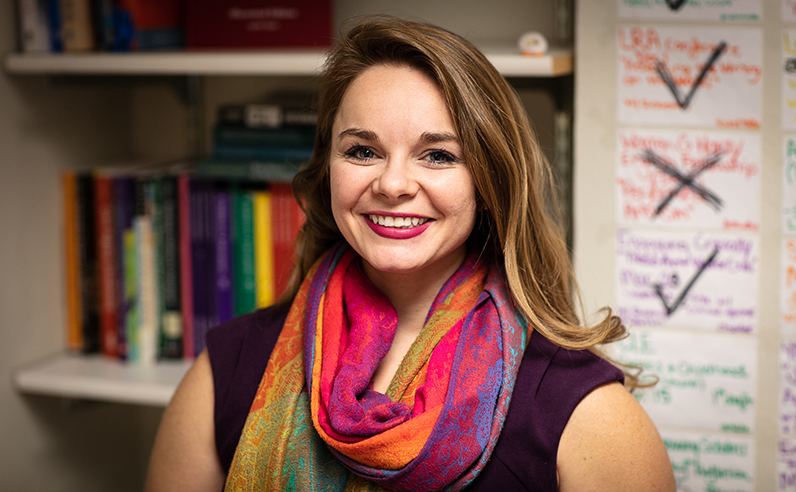 Established by the ALAN Board in 2011 and funded through the generous donations of Alleen Pace Nilsen and Don Nilsen, the Nilsen-Donelson Award is given to the author(s) of the best article published in The ALAN Review during a particular volume year. The award is named for two pioneers in young adult literature (YAL), Alleen Pace Nilsen and Ken Donelson, who were instrumental in the birth and growth of ALAN and whose textbook on YAL is still the most widely used in the world.
"The summer 2018 edition of The ALAN Review looks at economics and equity in young adult literature. It deals with socioeconomic status – a topic that young adult literature has not dwelled with a lot," said Grice. "My colleagues and I felt like we knew this topic, we knew these students and we knew these books."
Grice worked on the article with co-authors Caitlin Murphy and Eileen Shanahan. Murphy is currently a Ph.D. candidate in the Literature for Children and Young Adults program at The Ohio State University. Shanahan recently earned her Ph.D. at The Ohio State University and is currently an assistant professor of Literacy at Eastern Kentucky University. The article was written in 30 days and submitted in October 2017.
Grice says their interest in the topic was both personal and academic. For the article, they used three central texts for young adult readers as references – "The Serpent King" (2016) by Jeff Zentner, "Ramona Blue" (2017) by Julie Murphy and "The Smell of Other People's Houses" (2016) by Bonnie-Sue Hitchcock, to highlight key themes of white, rural, working-class, adolescent experiences. They chose these texts in particular because they feature white working-class protagonists.
The authors write, "We knew that the authors of these three texts describe explicitly the ways in which class affects the protagonists' lives without class being the sole focus of the narratives. Specifically, we felt that these three narratives were representative of working-class teens without implying that class was the defining descriptor of the characters' lives."
Grice noted, "We wanted to do a race and class-based analysis of young adult literature specifically featuring students who are barely represented. We decided to look at all the young adult literature published in the last few years and see if we could find any examples, of what felt to us, culturally, authentic and complex narratives, that also serve as counter narratives, to the damaging narrative of rural, working-class white people."
Grice accepted the Nilsen-Donelson Award at the 2018 National Council of Teachers of English (NCTE) Annual Convention in Houston, Texas, held Nov. 15-18.
Grice recently earned her Ph.D. at The Ohio State University. Her research and teaching interests include multicultural children's and adolescent literature, comics and multimodal texts, and teaching for social justice. She previously taught high school English in Anderson, S.C.