Dr. Eduardo Cabrera weighs in on being a Latino immigrant in the Midwest
Dr. Eduardo Cabrera, professor of Spanish and chair of the Department of Modern Languages at Millikin University, and finalist for the 2018 Latino Book Awards, was recently featured by AL DÍA News, a media outlet that focuses on the U.S. Latino experience.
Dr. Cabrera shared how he became a university professor in Illinois and went into detail about his latest book, "Nine Tales of Immigrants in the United States," a compilation of immigrant stories published in 2017.
"In my stories I explore how daily life in different states is," said Dr. Cabrera. "After living in California, where one feels welcome, where new immigrants arrive permanently - and that's why Spanish language is so alive - we endured discrimination for the first time."
Dr. Cabrera currently teaches Spanish and Latin American Literature and Culture at Millikin, anchoring a program for Millikin's student-run radio station WJMU while also writing books and academic articles. He has published a number of articles about literature, theatre, culture and politics in professional journals of Argentina, Chile, Colombia, Cuba, Mexico, Peru, Uruguay, Spain and the United States.
Dr. Cabrera is also the author of two books entitled "Teatro Argentino: The Theater Direction in Buenos Aires" and "Theater Brief for the Class and the Stage."
As part of his WJMU radio program at Millikin, Dr. Cabrera disseminates topics on Latino culture, from Latin American and Spanish politics, to topics of interest for the entire Hispanic community in the United States, like immigration.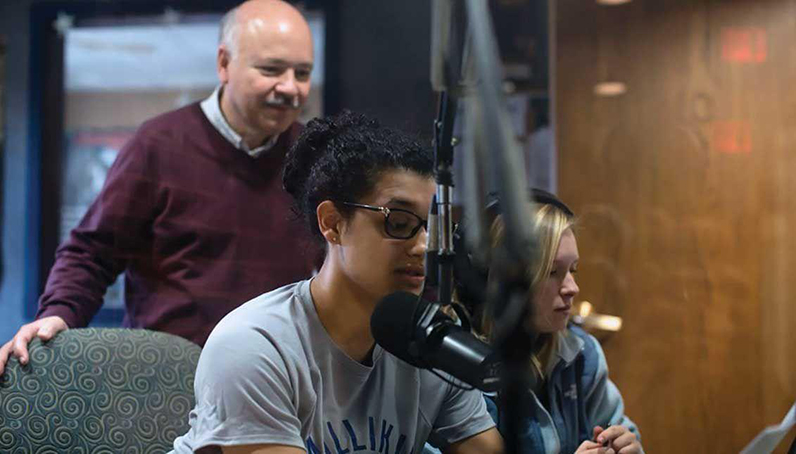 "We do not teach only Spanish language, but a whole culture," said Dr. Cabrera. "Some of the students decide to travel to Spain, or to Latin America, in an exchange program and they return to the United States absolutely changed. Many had not even left their own state before. They return with a more open mentality, they want to travel again. The goal of our university is to train global citizens."
Dr. Cabrera received his Ph.D. in Spanish with specialization in Latin American Theatre at the University of California, Irvine. He is also the Chief Reader for AP Spanish Literature and Culture appointed by the College Board and Educational Testing Service.