Dr. J. Mark Munoz becomes the most published Filipino-American business author
Dr. J. Mark Munoz, professor of management and international business in Millikin University's Tabor School of Business, has built a successful career as both a teacher and an author.
A Millikin faculty member since 2001, Dr. J. Mark Munoz is a former Visiting Fellow at the Kennedy School of Government at Harvard University. A multi-awarded professor, he's received several prestigious awards including a Literary Award, three Best Paper Awards, the 2012 Distinguished Scholar by the Academy of Global Business Advancement, the 2013 ACBSP Teaching Excellence Award (one of 10 in the world), and the 2014 Teaching Excellence and Leadership Award at Millikin University.
In a recent interview with the Manila Standard, Dr. Munoz shared his thoughts on his publishing career and becoming the most published Filipino-American business author.
"In 2009, I became a visiting fellow at Harvard University and furthered my education there while sharing what I know with the campus community," Dr. Munoz said. "I enjoyed academic life in the U.S. and decided to stay. Aside from having the honor and privilege of educating young minds, my work schedule allowed me to travel the world and write books."
Dr. Munoz has authored, co-authored and edited 14 books such as "Winning Across Borders," "A Salesman in Asia," "The Handbook on Business Plan Creation," "International Social Entrepreneurship," "Contemporary Microenterprise," "Handbook on the Geopolitics of Business," "Hispanic Latino Entrepreneurship," "Managerial Forensics," "Strategies for University Management" and "Advances in Geoeconomics."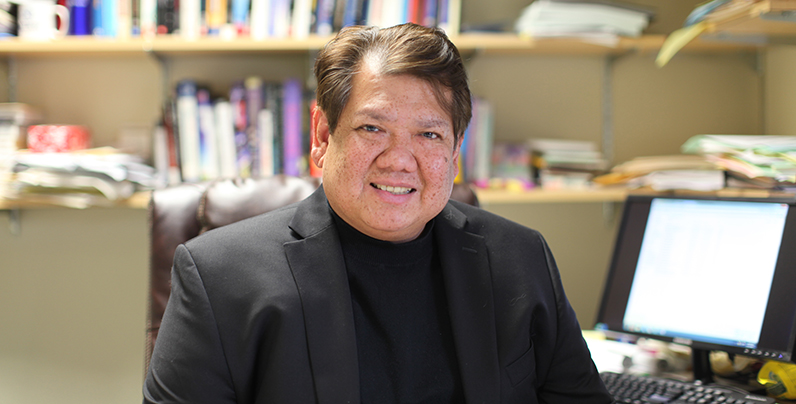 Dr. Munoz holds a Ph.D. in Management and a Master of Business Administration from the University of San Jose-Recoletos. Prior to joining Millikin, he held senior management roles for diverse multinational organizations.
"I ended up in the U.S. after getting hired to be an account director for an international market research firm," Dr. Munoz said. "The role allowed me and my family to live in the U.S. while I developed and marketed research products in Asia. After that role, I transitioned into academia as a professor at a private university. I ended up studying advanced management programs in China and Germany and directed educational programs across several countries."
One of Dr. Munoz's latest books, titled "Strategies for University Management," is a groundbreaking book that identifies the best practices in university management with insights from university leaders and experts from all over the world.
"I believe this book can be helpful to leaders in academia around the world," Dr. Munoz said. "While internal and external operating conditions vary across institutions, the insights provided by experienced university presidents, consultants and experts provide a clear roadmap for success in university management."
His most recent publication titled "Advances in Geoeconomics," ventured into a new path of an increasingly important field of international business called geoeconomics. Geoeconomics is the combination of economic factors, relationships and conditions that shape the interaction of countries. The geoeconomics field is quickly growing due to its high relevance to current events. The book assembles leading scholars and experts from around the world who advance current thinking on geoeconomics.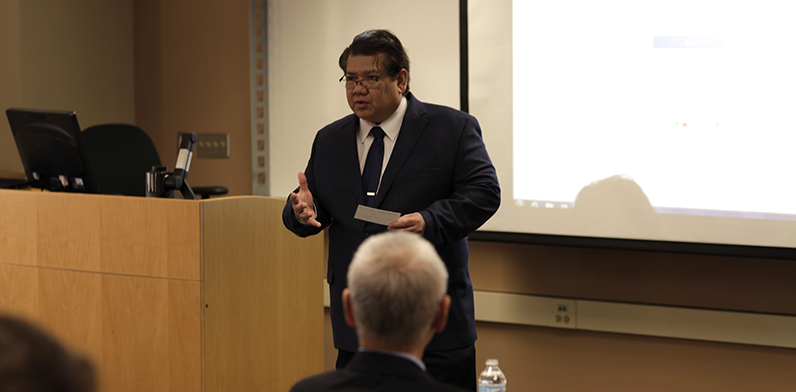 "On a personal and professional level, the book is a major breakthrough for me," Dr. Munoz said. "My expertise is in management and international business, and not economics. I am thrilled for having had the opportunity to lead this project and collaborate with top economists worldwide. I have learned a lot in the process."
At Millikin, Dr. Munoz teaches Introduction to Business, International Business, Business Strategy and International Business Consulting. His International Business Consulting course recently worked with the government of Ecuador to develop a U.S. market entry strategy for Ecuadorian handicrafts. The course provides an opportunity for students to take part in real life projects for companies, and sometimes governments, in various parts of the world.
"Very few universities offer that kind of hands-on experience, at least not at the undergraduate level," said Dr. Munoz. "Giving the students the confidence and experience to enter the business world ready to prepare and present such work, it provides companies a service for free that would normally cost thousands of dollars."
Dr. Munoz plans to finish six book projects that are in various stages of completion, and expects to have them published by 2018.