Millikin professor's book maps the historical terrain of forensic musicology
The field of forensic musicology has played an integral role in music copyright infringement cases for quite some time. Only recently has the field gained national attention thanks in large part to high-profile copyright infringement cases, such as collaborators Pharrell Williams and Robin Thicke versus Marvin Gaye's estate, centered on the hit song, "Blurred Lines."
So what is forensic musicology? When a music copyright lawsuit is filed a forensic musicologist is called upon as an expert witness to provide a detailed analysis of the two songs in question, examining everything from lyrics and melodies to arrangement of instruments, chord progressions and harmonic elements, and to assist in determining any likelihood of copying.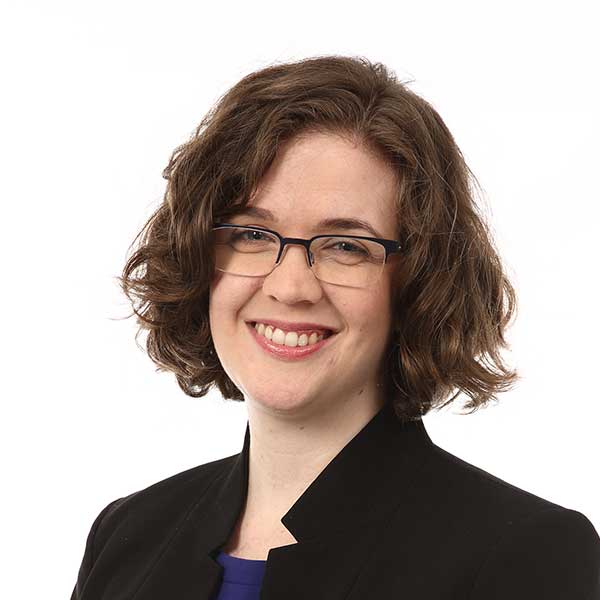 Millikin University's own musicologist Dr. Katherine Leo, assistant professor of music, coordinator of musicology and chair of the Academic Music Core, has published the first in-depth study of the evolution of the role of forensic musicologists in her book "Forensic Musicology and the Blurred Lines of Federal Copyright History" (Lexington Books 2020). Her book is a culmination of seven years of work dating back to the start of her Ph.D. dissertation.
Leo's book maps the historical terrain of forensic musicology, examining the contributions of musical expert witnesses and their analytical techniques. The book not only addresses the role of forensic musicology in federal copyright infringement cases but the issues musical experts have encountered. The book is organized into six chapters, covering landmark lawsuits and concluding with an analysis of the "Blurred Lines" federal music copyright lawsuit.
"Forensic musicology is the study of music as it pertains to law. It's really been more about expert witnesses and the practicalities of what they do for copyright infringement lawsuits," said Leo. "Part of what is so special about my book is that it starts to provide a frame and a historical terrain for forensic musicology as an academic as well as a public-facing discipline."
Leo added, "Expert witnesses encounter a lot of really interesting questions in copyright infringement lawsuits, very similar to questions that we ask in legal scholarship and musicology. One of the things that I wanted to do with this book was to find a way to frame what is going on in the courtroom by bringing together these disciplines."
The book begins by focusing on the earliest recorded copyright lawsuits of the mid-19th century. Leo says one of the most pivotal points in the book is the shift into the third chapter focusing on the case of Arnstein vs. Porter. Ira Arnstein, a professional songwriter, sued Cole Porter, a renowned composer, for copyright infringement. Arnstein had published several popular songs and claimed Porter had plagiarized some of his songs, including "The Lord is My Shepherd" and "A Mother's Prayer."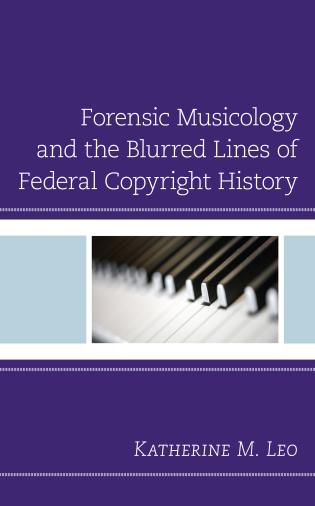 "This case establishes the test that courts use in order to determine copyright infringement," Leo said. "After the fourth chapter, there is a fragmentation that happens where the courts are dealing with a number of issues such as music sampling. In the late 20th century, ideas about expertise changes and we are continuing to see that today–how do we define who is an expert and who is not? The end of the book then looks at the 'Blurred Lines' case to see how the courts and experts are thinking of music as intellectual property."
Leo says the high-profile cases over the last few years, like "Blurred Lines," have drawn a lot of attention because the stories are very meaningful to fans of music. "The stakes are very high, these are very high-valued lawsuits," she said.
Leo noted, "I think what was so shocking about the 'Blurred Lines' lawsuit was this idea that you might be able to copyright a style. There were no two consecutive pitches that were the same for the melodies involved, and yet, some of the experts and the Marvin Gaye estate were able to successfully make this argument that there was copyright infringement because the style in 'Got To Give It Up' was used similar to 'Blurred Lines.' The experts in the case did an amazing job of explaining to the court what style is, and how to understand what is typical of a style and what is specific to a particular artist within a style. The case may have changed the boundaries of copyright."
Leo hopes her new book will speak to legal practitioners and help them to understand what it is expert witnesses are doing and what they can bring to a case.
"I would also like musicologists to understand the legal process better. We have two parallel research threads between what legal scholars and music scholars have been discussing. We need to bring them together and start dialoguing."
Dr. Katherine Leo
Dr. Katherine Leo joined Millikin University in 2017 as assistant professor of music. In this role, Dr. Leo serves as coordinator of musicology and chair of the Academic Music Core in the School of Music where she teaches a variety of traditional, hybrid, online and travel courses in western music history and ethnomusicology. Dr. Leo also serves as University International Cultures and Structures (ICS) coordinator, as a member of the International Programs and Policy Committee and contributes to the Millikin-Decatur Symphony Orchestra (MDSO) as author, speaker and cellist.
Dr. Leo's research investigates the intersection of music and legal histories in the U.S., with emphases on matters of authorship, originality, musical expert testimony and forensic similarity analysis in federal copyright litigation. Her research has been featured in the peer-reviewed journals Jazz Perspectives, Blue Light, Music and Politics, and the Journal of Music History Pedagogy and she has a forthcoming chapter on Forensic Musicology in the Oxford Handbook of Public Music Theory (Oxford University Press 2021).
As an active academic and forensic musicologist, Dr. Leo has notably presented at annual national meetings of the American Musicological Society, the College Music Society, the Society for American Music, and the Society for Music Theory as well as at international jazz conferences hosted in England and Germany. She has signed amicus curiae briefs in multiple high-profile federal music copyright lawsuits and serves as a contributor to the Music Copyright Infringement Resource (MCIR) blog.
Dr. Leo earned a Juris Doctor (2015) and a Ph.D. in Musicology (2016) from The Ohio State University.