MU Professor to help advance scholarship in the area of Artificial Intelligence
Dr. J. Mark Munoz, professor of international business at Millikin University, has been appointed as an advisor to the Artificial Intelligence (AI) Initiative through the John F. Kennedy School of Government at Harvard University.
As an advisor, Dr. Munoz's primary role will be to help advance the scholarship of Harvard students, researchers, alumni, faculty and other experts in the area of artificial intelligence. Dr. Munoz will also have the opportunity to present his research and book projects to the Harvard community as well as network and collaborate with thought leaders from around the world and help in the progress of artificial intelligence.
"I feel quite honored. Harvard University is a melting pot of top thinkers from around the world," Dr. Munoz said. "I am thrilled and delighted to have the opportunity to mingle with experts and enthusiasts in artificial intelligence and help advance thinking on the subject."
The AI Initiative is dedicated to tackling the rise of artificial intelligence from a public policy stance. Created in 2015, it gathers students, researchers, alumni, faculty and experts from Harvard and beyond, interested in understanding the consequences of the rise of artificial intelligence. Its mission is to help shape the global AI policy framework.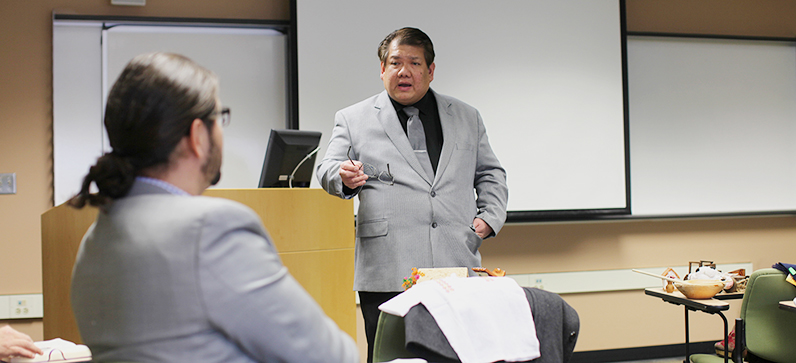 Dr. Munoz recently completed two books on artificial intelligence with Professor Al Naqvi, CEO of the American Institute of Artificial Intelligence, Inc.: "Business Strategy in an Artificial Intelligence Economy" and "The Beaver Bot of Yellowstone." Dr. Munoz is presently working on another edited book titled "Handbook of Artificial Intelligence and Robotic Process Automation: Policy and Government Applications."
"Some members of the AI Initiative at Harvard will be contributing chapters to the book," Dr. Munoz said. "I am hoping to share some of the ideas from these books with the Millikin and Harvard communities. The field of artificial intelligence in business is still emerging. There is much opportunity for scholars to help define business thinking in this field."
"Business Strategy in an Artificial Intelligence Economy" highlights how artificial intelligence impacts business functions such as marketing, human resources management and strategy formation. Experts from around the world have contributed chapters to this book.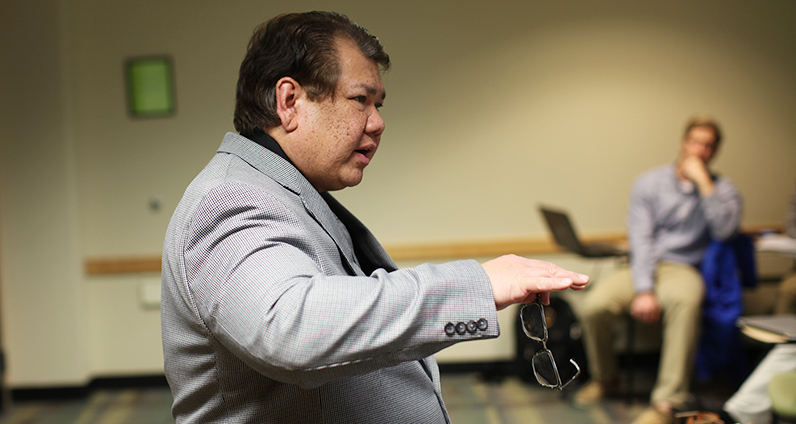 "One of the key lessons we've learned from the book is that integration of AI requires careful planning," Dr. Munoz said. "While opportunities for organizations to gain operational efficiency through AI is there, there are many challenges to navigate as well. For example, organizations need to think about ethical considerations, proper resource utilization, training of personnel and the like."
Dr. Munoz is a former Visiting Fellow at the Kennedy School of Government from 2009-2010. He is a recipient of several awards including four Best Research Paper Awards, a Literary Award, an International Book Award, and the ACBSP Teaching Excellence Award. He was recognized by the Academy of Global Business Advancement as the 2016 Distinguished Business Dean.
"As an advisor, I look forward to visiting the Harvard campus again and assisting the Harvard AI team in finding solutions for AI related challenges in business and government worldwide," Dr. Munoz said.
Aside from top-tier journal publications, Dr. Munoz has authored, edited and co-edited 17 books including "Land of My Birth," "Handbook on the Geopolitics of Business," "Hispanic-Latino Entrepreneurship," "Managerial Forensics," and "Strategies for University Management" (Volume I and II). He directs consulting projects worldwide in the areas of strategy formulation, business development and international finance.