Millikin University spotlighted on podcast
Millikin University was recently featured on a podcast presented by NowDecatur.com's Byers & Co. that highlights local businesses in the central Illinois community.
Millikin President Dr. Patrick E. White was the featured guest as he spoke on the effects of the COVID-19 pandemic including Millikin's decision to push back its deposit deadline, virtual admission visits and how the university is adapting to online learning.
On April 21, Millikin University announced that the deadline for admitted students to make advance tuition deposits would be extended to June 1, in recognition of the COVID-19 pandemic and its effect on family finances. Additionally, due to delays in ACT and SAT standardized testing dates, Millikin has adjusted its application requirements and review process. Fall 2020 applicants are now allowed to submit unofficial test scores to Millikin for admission consideration. For who students have not yet taken ACT or SAT tests, applications without test information are also being considered and evaluated for admission.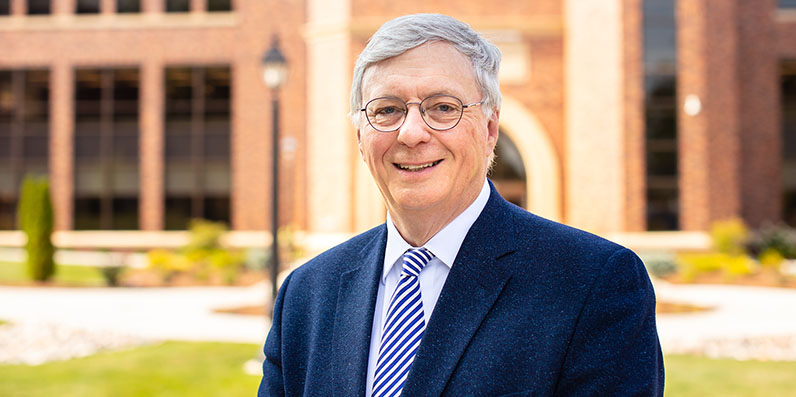 "The deposit is only one important step. We're talking with all kinds of students who are engaged in Millikin and trying to make the decision," President White said. "We're looking, and we always do, for multiple ways in which we can judge our students and make sure they are willing and able to take advantage of a Millikin education."
Recently, Millikin hosted a Virtual Admitted Student Day on April 18 where admitted students could learn about the next steps of becoming a Big Blue student, hear from President White, hear from current students and learn about financial aid options. President White shared insight into the success of the event which featured 150 students.
"Students were able to go off to different stations where they could talk with faculty, it was an amazing experiment that worked very well," White said. "What was really heartening, as we make contact with prospective students and our current students, we see that students are still excited about their Millikin experience."
Millikin's new experience with online and distance education began on March 23 as the University switched to remote learning for the rest of the spring 2020 semester due to the COVID-19 pandemic.
Since the switch, Millikin faculty, students and staff have made the adjustments to online learning and are now getting the job of teaching and learning done. The exact mode of delivery varies from faculty-to-faculty and course-to-course, with the goal of continuing the semester so that students will not lose progress toward degrees. Millikin students are also finding new ways to connect and interact creating virtual classrooms and discussions.
"We'd be doing online learning previously in a number of ways, so we weren't starting from scratch. More importantly, we were doing online learning with Millikin faculty and students who were already acquainted with one other," White said. "The students moved to online learning with some of the same energies that they had in their classes. I am extremely proud of our faculty and our students. They have embraced it and they have tried to make the most of it."
President White noted, "Students have been creating projects that they've shared online; they've done some of the most difficult things such as voice lessons, art lessons and acting lessons online. The faculty are engaging the students in the learning and that's what Millikin is all about."