Dissonance members earn individual honors
Millikin University's premier a cappella group Dissonance earned 2nd place at the 2021 Varsity Vocals International Championship of Collegiate A Cappella (ICCA) regional competition held virtually on March 13. By earning 2nd place honors, Dissonance has advanced to the ICCA semifinal competition which will take place live on Saturday, April 10.
In addition to the 2nd place finish, Dissonance members Bailey Banks, a junior vocal music education major from Ottawa, Ill., and Meghan Welfer, a junior theatre major from Geneseo, Ill., received individual awards for Outstanding Soloists. Senior music major and Dissonance Managing Director Josh Wick, of Beloit, Wis., won the award for Outstanding Vocal Percussion.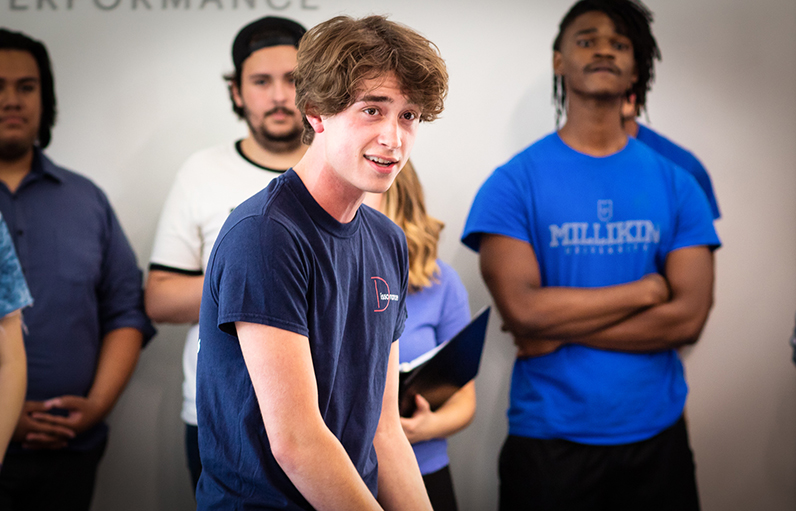 Despite the COVID-19 pandemic, the 25th annual ICCA tournament took place virtually featuring 3,500 performers in 250 groups from universities across 33 states and five countries.
This season, competitors had to create a four-minute music video in lieu of a traditional competition set, all while maintaining appropriate social distancing measures. All audio and video recording, mixing and editing was to be done by group members and their director. Because of these parameters, Dissonance decided to only arrange and record one song, "All For Us," originally performed by Labrinth, featuring Zendaya.
"'All For Us' was originally released in August of 2019 by the artist Labrinth, featuring Zendaya on lead vocals," said Madelyn Alvarado, a senior music education-vocal major from Homer Glen, Ill. "For Dissonance's arrangement we commissioned a senior composition student, Bradley Perry, who also sings baritone for the group. Choreography for the video was done by junior vocal music education major Jaylen Rick, who sings soprano for the group."
Josh Wick said seeing Dissonance members become recognized for the work they put into the art they create is one of the most rewarding parts of the leadership team.
"That's what you're there to do, right? Provide opportunities for your peers to showcase their talent? After spending four years in the ensemble and having competed at the ICCAs for four consecutive years, finally taking away an award for my vocal percussion after learning and improving throughout college has felt awesome," Wick said. "We are proud as a group to have so many talented individual members contribute their skills."
There are currently 13 members in the ensemble with one or two people contributing to each voice part. Dissonance was founded in 2016 starting with eight members and eventually grew to 18 members after having their first auditions. Dissonance re-elects its five board members every late spring and those board members are responsible for holding auditions and organizing the group for the coming year. Even members who have been in the group have to re-audition.
"Musically, Dissonance definitely takes a unique approach to the traditional a cappella sound," Alvarado said. "Through much of our repertoire, we experiment with different sounds, tones, and timbres that can vary from a bright, electronic sound to a dark, operatic sound."
Additionally, the group loves to incorporate crunchy chords with heavy amounts of dissonance that might not typically be seen in a cappella. "Personally, Dissonance was one of the reasons I came to Millikin and I am so grateful to have been a part of it for the past three years," Alvarado added.
Wick describes Dissonance as a unique musical group on Millikin's campus because it embraces and relies on solely student talent for every part of the rehearsal and performance process, teaching real-world skills in music direction, production and performance for its members in a peer-to-peer environment.

"I've spent a year as a group member, two years serving as musical director and now spending my senior year as the managing director … when you have a team of driven students collaborate on projects like the ICCAs, or recording an album using unconventional methods, the only limit is the team's ingenuity and willingness to try new and inventive ideas," Wick said. "Dissonance strives to create a collaborative environment where students can test their musical skills at the highest levels with one another."
In addition to re-releasing the "All For Us" music video from the ICCA Semifinals, Dissonance plans to make the single available for streaming on all platforms in early April 2021. The group is currently recording and plans to release a full length album in May 2021 comprised of ICCA sets from the past two years, plus a few extra tracks.
"This is an impressive accomplishment from these talented students. The direction, video and musical arrangement was all student directed," said Dr. Brad Holmes, director of choral activities at Millikin and faculty advisor for Dissonance.