Over 300 Millikin graduates honored during virtual celebration
The graduates of the Millikin University Class of 2020 will always have a special place in the heart of Millikin President Dr. Patrick E. White. One reason; they are the first class in the history of the university to celebrate commencement virtually. The second reason; President White is retiring at the end of June.
"It's my class," White said in an interview with the Herald & Review. "I'm 'graduating' too, and this is my last class and even though I'm sad, it's just as if we're at the Decatur Civic Center. We're sad, we're happy, I hate to see you go, but it's what we want to do. We send them out into the world and they do wonderful things, and that's exciting. This class is marked by this distinctive experience. We'll all be very proud of them. People say, 'Aren't you sad, Pat?' and I say, 'I'm sad every year.'"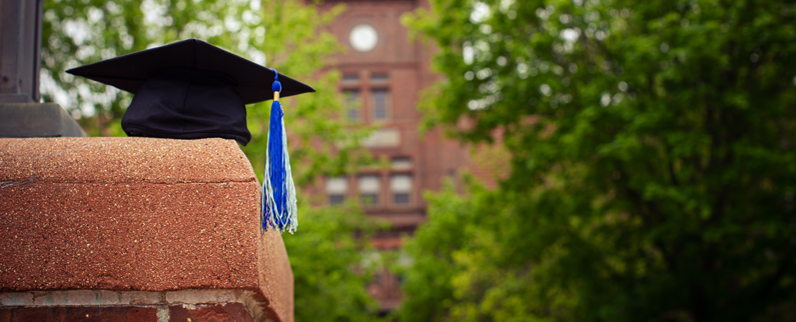 Millikin hosted a virtual graduate celebration for more than 300 spring graduates on Sunday, May 17. President White presided over the celebration which was streamed on the university's Facebook page. White opened the virtual experience by saying the celebration is a "unique distinction" because of the COVID-19 pandemic.
"Recognize that over the last two months you have triumphed over enormous difficulties to complete your Millikin degree," said White. "You experienced the great disruption of a pandemic that continues to shake our world and has us all working hard to continue, to endure. Faced with these challenges, it was difficult to keep going, but you have done it. Today signifies your triumph over the last two years as well as your success over the last four years."
The graduate celebration also featured a speech from student speaker Allen Brown, of Illiopolis, Ill., who earned a Bachelor of Science in Nursing. Brown began by reflecting back on his senior year of high school and choosing which college to attend.
"I knew from the day I stepped on campus that Millikin is where I was supposed to be," Brown said. "Today is different from what we all imagined but that does not make it any less special. The Class of 2020 quickly adapted to an entirely new learning format and continued to strive for excellence. This class is going to be remembered for its resilience, dedication and commitment to our work. Regardless of the circumstances, this is something that can never be taken from us."
The graduate celebration was made complete with a special musical performance of Millikin's Alma Mater from A Cappella group Chapter 6. The group made its start as an A Cappella ensemble at Millikin University before winning its first competition in 2000.
Among the graduates was Brittany McClelland, of Decatur, Ill., who earned a Bachelor of Science in Nursing. McClelland will move to St. Louis in the fall to work in the pediatric intensive care unit at St. Louis Children's Hospital. "I was fortunate to finish my clinicals in person and gain that hands-on experience before the pandemic," she said.
Jordan Williams, of Champaign, Ill., earned a Bachelor of Science in Information Systems. Williams has been accepted to St. Louis University Law School and has also been offered a full-time position at State Farm in Bloomington, Ill. As an information systems major, Williams easily adapted to the online learning mode but still missed having classes in person.
"It was a smooth transition and our professors did the best they could do to give us the same experience and teaching. I do appreciate the faculty and staff," said Williams.
Millikin has invited all May graduates and their families back to campus in December 2020 to walk across the stage and celebrate their commencement in person with their class.
"Our students have learned in this process that the education is also about, not only what you're studying, but who you're studying with and learning it with," White said. "It's a communal enterprise. I say this to students, if all you care about is a degree, you can do that anywhere, but if you want a complete education, you need that community."
President White capped the graduate celebration in perfect fashion by saying, "It has been a great honor to be a part of your lives for our time together and as you continue to learn and grow, know that Millikin stays with you. However scattered we might be, wherever your adventurous life might take you, know that Millikin stays with you. I know that in the days and months and years to come you will live out our mission with courage, kindness and creativity, so that when you find yourself thinking or acting in a particular way learned here, you will feel a rush in your mind and heart, and you will say, with fond memory and delight … ah, there you are Millikin."