Saliva-based testing available to students Jan. 11, employees the week of Jan. 18
Millikin University has partnered with SHIELD Illinois to implement a COVID-19 saliva-based testing program that will be available to students beginning on Monday, Jan. 11, 2021. Millikin employees will have the capability to begin testing starting the week of Jan. 18.
SHIELD Illinois is a screening testing program and infrastructure that deploys the University of Illinois' innovative saliva test across the state. SHIELD Illinois uses a saliva-based test that is easy to administer, scalable, sensitive and specific to SARS-CoV-2, the virus that causes COVID-19.
Current notification time for the saliva test is only six to 12 hours whereas turnaround time for currently available tests is around two to three days, or longer.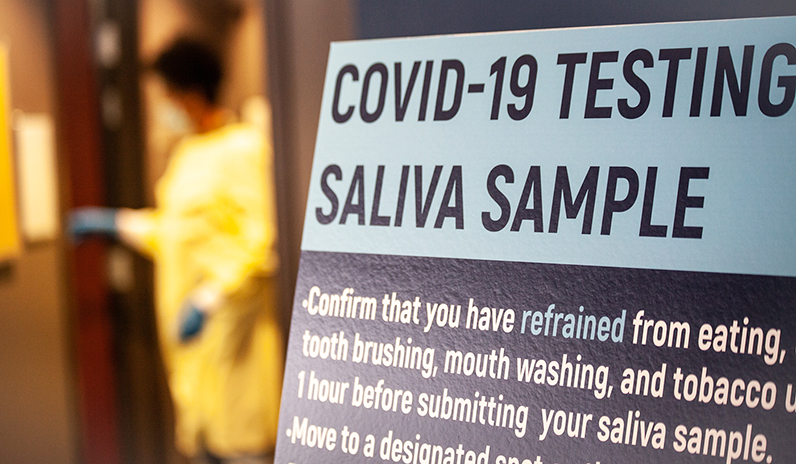 Millikin University's COVID-19 saliva-based testing clinic located at Dolson Hall
The test produces rapid results at costs significantly below current alternatives such as nasal swabs. Through cost and speed advantages, the saliva tests can increase access to testing and control spread of the virus by identifying pre-symptomatic and asymptomatic carriers.
"Millikin is proud to partner with SHIELD Illinois to provide expanded and rapid testing to the campus community. The new saliva-based testing program will allow our students and faculty to engage in increased in-person experiences and return to the Performance Learning model that is the hallmark of a Millikin education," said Millikin Vice President for Student Affairs Raphaella Prange.
Prange added, "We want to thank all of our students for their diligent compliance of our COVID-19 campus safety plan that allowed for a very successful in-person fall term. This culture of compliance with testing as a vital component, will ensure the upcoming spring term is equally as successful."
According to the researchers of the Illinois-developed saliva-based test, SARS-CoV-2 is spread through droplets and aerosols transmitted through person-to-person contact, and thus saliva may be a relevant medium for diagnosing SARS-CoV-2 infection status. The saliva-based process is operationally simple, utilizes readily available materials, and can be easily implemented by existing testing sites, thus allowing for high-throughput, rapid and repeat testing of large populations.
Additionally, the saliva-based test is non-invasive and does not need medically trained personnel to collect samples and has a specificity of 99.8-99.9 percent, with very few false positives. High specificity combined with frequent testing makes the SHIELD saliva-based test extremely accurate.
The test has been validated, and the University of Illinois System's final application for emergency use authorization from the United States Food and Drug Administration (FDA) was submitted on Dec. 30, 2020, and the FDA's independent review of the validation is pending.
SHIELD Illinois is currently partnering with universities, companies, school districts, healthcare facilities and other organizations to launch collection sites. For more information about SHIELD Illinois, visit uillinois.edu/shield.