Millikin nursing students learn how to advocate for policy
The School of Nursing at Millikin University offers a course in its graduate program that focuses on health policy and economics. One of the unique aspects of the course is an opportunity for graduate students to engage in Lobby Day at the State Capital Complex in Springfield, Ill. This year's Lobby Day was held on Tuesday, March 21.
The course is led by Pam Robbins, part time faculty member in Millikin's School of Nursing Master's Program. During the Lobby Day experience, students met with Senator Pat McGuire and provided insight into the pros and cons of particular nursing and public health safety issues.
"The students shared the difficulties and patient safety dangers they face regarding inadequate nurse staffing in their registered nurse experiences," Robbins said. "Senator McGuire shared important aspects of what a legislator is looking for in a conversation with a constituent. Both the legislator and graduate nursing constituents came away with a better understanding of how representative democracy works in communicating with each other."
Robbins says Lobby Day is one aspect of the health policy and economics course she teaches in "real time." The students pick a "real time" legislative proposal concerning a proposed law that will affect nurses, the public's safety or a particular health care issue during an active Illinois General Assembly session.
"I believe the best way to learn is to have it relate to reality," Robbins said. "Talking and reading about policy I believe pales against researching and discovering your particular position about a real time legislative proposal that the student is actually interested in – it makes for a fuller health policy course experience."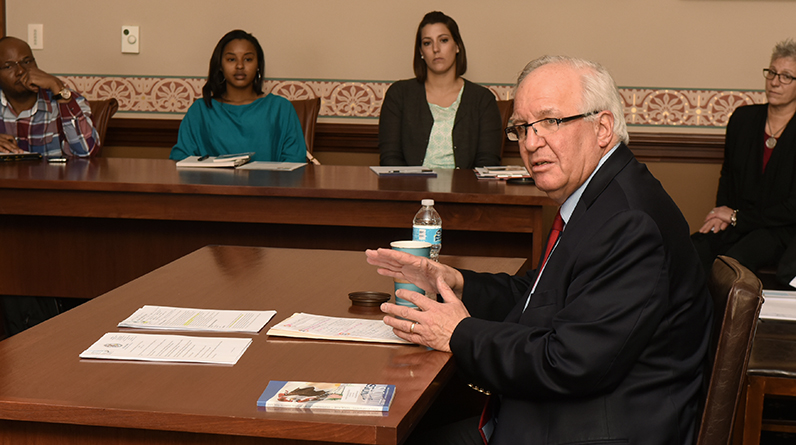 Millikin graduate nursing student Mallory Pierson, from Girard, Ill., says the experience expanded her knowledge on the legislative process as well as the benefits of lobbying.
"Meeting with Senator McGuire gave us the opportunity to express our passion for patient-centered care and advocate for the rights of patients and health care workers that are often overlooked," Pierson said. "We need to be advocates because not a single Illinois legislator is a nurse. What better group to advocate for the patients in front of our legislators than the very men and women who do it within the hospital room and community setting."
One set of tools learned in the course is how to negotiate successfully and using evidence-based information for solid debate, discussion and decision making on issues.
"Nurses need to be informed, articulate advocates for making good decisions backed up with evidence to address issues that directly affect their nursing profession," Robbins said. "Shaping solid regulation is absolutely one of those issues nurses need to be at the table to affect positive change."
Among Senator McGuire's suggestions to those hoping to advocate for a bill were to know the basics about where a bill is in the process, who is sponsoring it and when deadlines fall.
"The experience really opened my eyes to the importance of advocating for policy, especially in the nursing profession," said Millikin graduate nursing student Abby Robertson, from Forsyth, Ill. "So much of what a nurse does daily is controlled by policy that is passed by legislators. It is extremely important for nurses to voice their opinions in order to educate legislators on what is needed in this profession."
Senator McGuire said, "It's tough to work a job, raise a family, and go to school, too. I salute Pam Robbins and her students for adding issues advocacy to their to-do lists. We legislators need to hear the real-life experiences of, in this case, registered nurses. Their responsibilities are complex and literally life-and-death."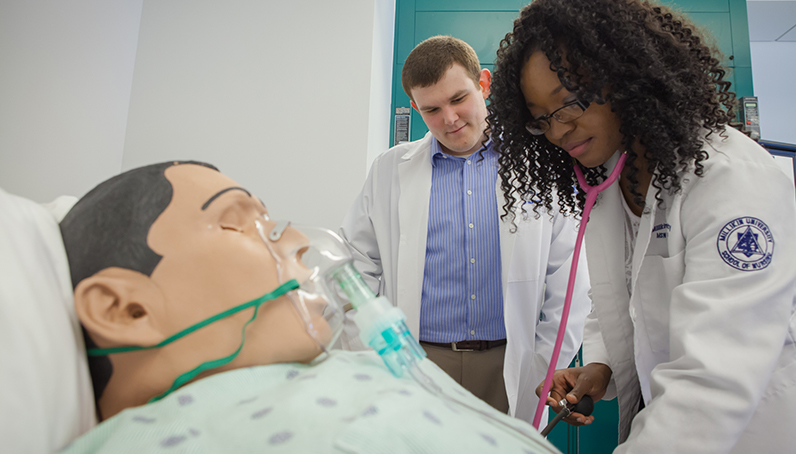 Nursing is a profession recognized for its intentional blend of the rigorous application of scientific knowledge with the art of caring. The framework for the nursing curricula at Millikin incorporates the School of Nursing mission, goals and outcomes under the core concepts of person, nursing, environment and health. The nursing programs at Millikin University foster the development of women and men in a community of life-long learners who are able to envision and shape the future of health care and compose a personal life of meaning and value. For more information about Millikin's School of Nursing, visit millikin.edu/nursing.