Millikin hosts on-campus COVID-19 vaccination clinic
Millikin University nursing students served as an integral part of an on-campus COVID-19 vaccination clinic held in the University Commons on May 4. Nursing students received firsthand experience by helping the Macon County Health Department administer vaccines to students, faculty, staff, and local community members.
At the clinic, community members were able to receive their first dose of Moderna vaccinations and Johnson & Johnson (Janssen) single-dose vaccinations. Those who chose the Moderna vaccination had the opportunity to schedule their second dose at the clinic.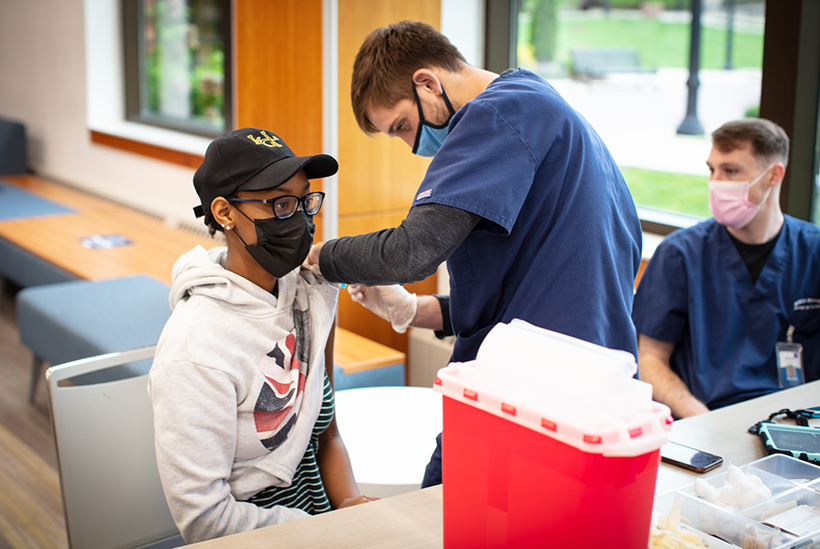 Evan Patterson, a senior nursing major from Auburn, Ill., was among the students administering COVID-19 vaccines as part of the cohort's last clinical experience of the spring 2021 semester. The clinic provided close to 350 doses.
With the COVID-19 pandemic underway, a lot of the usual clinical experiences that student nurses would normally have were closed to them, such as home visits. The immunization clinics provided clinical experience and a service to the community at the same time.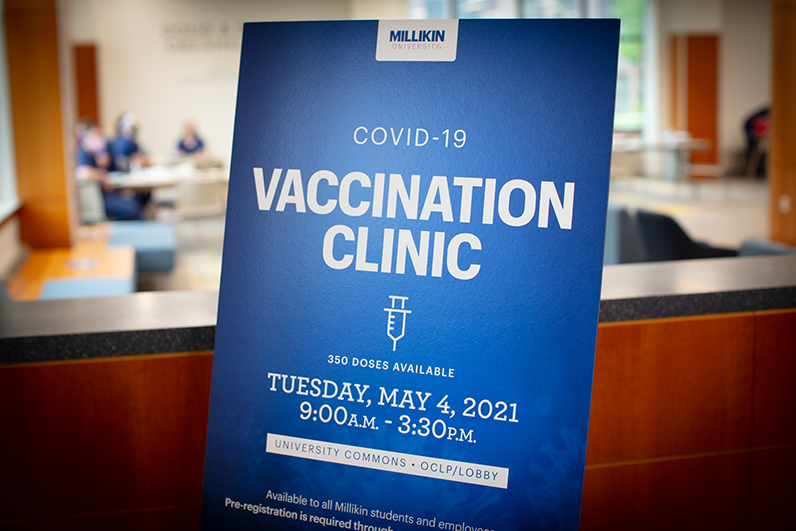 "I came to Millikin undecided," Patterson said in an interview with the Herald & Review. "My first year, I was deciding what I wanted to do and I knew I wanted something to do with medical, and Millikin has a great nursing program. It was recommended to me because I didn't know exactly what I wanted to do. There's a lot of flexibility, a lot of different avenues you can go, and a lot of stuff you can do post-graduation, further schooling."
Kate Rukujzo, a senior nursing major from Plainfield., Ill., chose nursing because she enjoys building relationships with people. "My hope is to work in pediatrics because I like to get goofy with kids, and I know that they're going to be frightened and uneasy in a hospital, so helping them feel better emotionally as well as physically is important to me."
Throughout the pandemic, Rukujzo has understood the importance of adaptation and time management as two key skills in the nursing profession, and the vaccine clinic made her feel she's contributing already.
"It's kind of cool because you get to make a difference in the world, and giving the vaccines is a huge thing throughout the pandemic," she said. "And we get to educate people and let them know about the pros and cons, and kind of show them a different light of the pandemic."
Millikin Nursing Professors Julia Auton and Jamie Nickell served as faculty advisors during the clinic. Auton said her students have had the privilege of vaccinating thousands of people.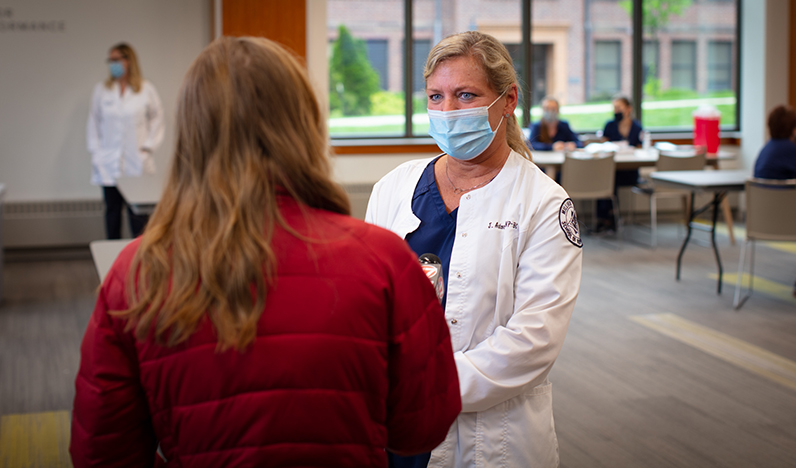 Professor Julia Auton
"Holding a clinic on campus to vaccinate their peers and faculty is the culmination. It's taught them leadership and independence," Auton said.
Jamie Nickell said students might not have had a "normal" clinical experience, but what they've learned is just as important.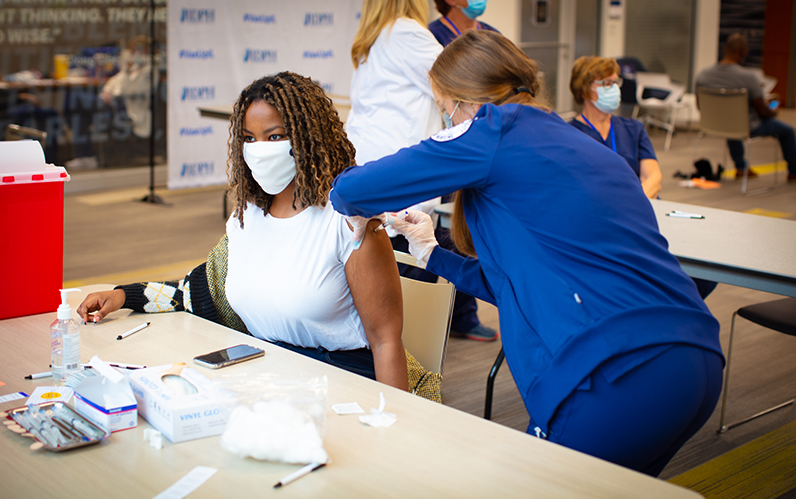 "They know how to use different kinds of needles, how to give injections, what to watch for, and they got to live history," Nickell said. "They're really pleased to give back to the community and it's been wonderful to work with them. They're so happy to be here, and we don't always see that. Any one of them could help organize a clinic now. Even though they didn't see patients, they've done community work, just a different style. So I'm confident they could go out and set up a clinic and help run it and know what they would need to do."