Award recognizes high-quality educational programs that train future generations of entrepreneurs
The United States Association for Small Business and Entrepreneurship (USASBE) has named Millikin University a finalist for the Model Program Award as part of the 2022 USASBE Entrepreneurship Education Awards. The award recognizes colleges and universities that provide comprehensive, bold, high-quality educational programs that train future generations of entrepreneurs.
The USASBE Model Program Award is one of four Excellence in Entrepreneurship Education categories. To be considered for the Model Program Award, a program must have an established record of accomplishment for a minimum of three years. The nomination was announced on Nov. 9 and winners will be announced during the USASBE 2022 Annual Conference in Raleigh, N.C., taking place Jan. 5-9, 2022.
Previous Model Program Award winners include Purdue University (2020), University of Missouri – Kansas City (2019) and Syracuse University (2018).
"We are thrilled to be recognized as a USASBE Model Program Award finalist," said Dr. Marcos Hashimoto, director of the Center for Entrepreneurship at Millikin. "Our application is one of the finalists this year for the innovative approach to provide the best hands-on experience for our students, mostly through the student-run ventures initiative and the cross-campus reach, going beyond the Tabor School of Business through innovative curricula in majors, minors and certificates such as Music Business, Art of Entrepreneurship and Design Thinking."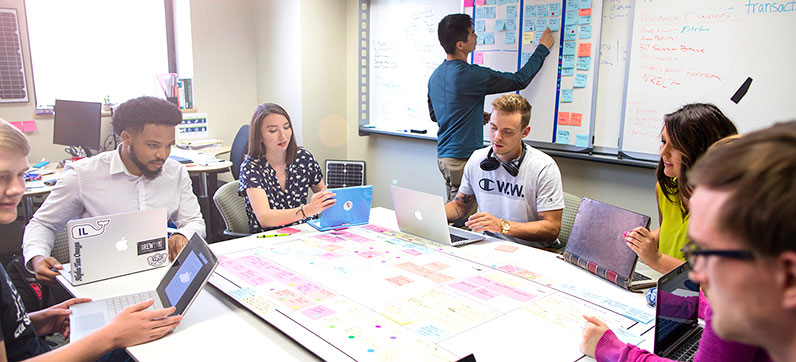 The Excellence in Entrepreneurship Education Awards are presented annually by USASBE to colleges or universities in recognition of bold and innovative programs that make an impact in the field of entrepreneurship education.
All awards are judged on the basis of demonstrated innovation, quality, comprehensiveness, sustainability, impact and their potential replicability. All finalists are asked to submit a video pitching their program, pedagogical innovation or co-curricular innovation for the award.
About USASBE
Founded in 1981, the United States Association for Small Business and Entrepreneurship is an inclusive community of educators, researchers and entrepreneurs advancing entrepreneurship education through bold teaching, scholarship and practice. Membership is open to all, as is attendance at USASBE's hallmark annual conference. USASBE also publishes a peer-reviewed academic journal, Entrepreneurship Education & Pedagogy, and develops a variety of helpful resources and professional development opportunities for entrepreneurship educators as they create a positive impact.
Millikin Center for Entrepreneurship
The Center for Entrepreneurship at Millikin University is a dedicated resource for entrepreneurs at every level. Through a variety of programs and development opportunities, the Center serves Millikin faculty and students, youth (ranging in age from elementary to high school level), community and local businesses.