Dr. Kaitlin Glause named Executive Secretary for IATE
Millikin University has been named the host institution for the Illinois Association of Teachers of English (IATE). The appointment will take effect starting July 1, 2022.
The Illinois Association of Teachers of English is a statewide organization that provides support for teachers, student teachers, and leaders in English and Language Arts departments. The organization also works with the National Council of Teachers of English (NCTE) on issues of equity, diversity and academic freedom for teachers.
The IATE meets each October for its annual conference which is hosted at various locations around the state of Illinois. The organization's most recent conference took place in Chicago Oct. 15-16.
Additionally, Dr. Kaitlin Glause, assistant professor of English at Millikin, was named the executive secretary for the IATE. Dr. Glause is the coordinator of Millikin University's secondary English Education licensure program and a co-editor of the Language Arts Journal of Michigan. She has 10 years of professional teaching experience at the middle, secondary and post-secondary levels.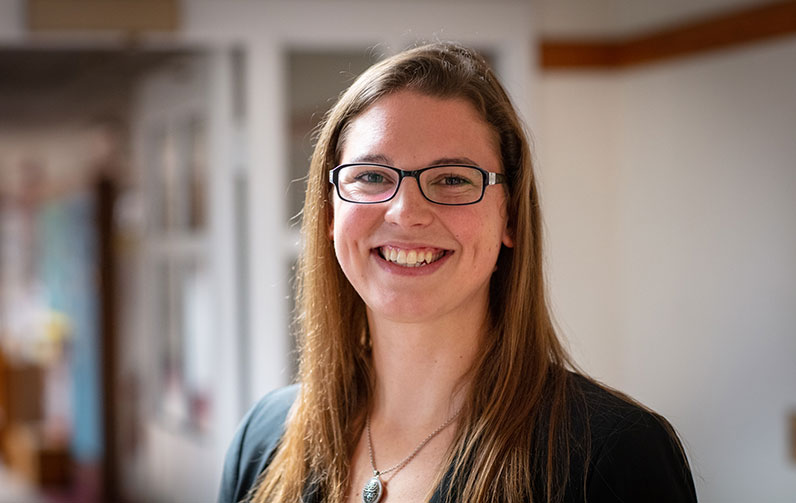 Dr. Kaitlin Glause
"The Illinois Association of Teachers of English has a wide reach. Within the organization itself, it was time to find a new host institution and Millikin has been involved with the organization for a while … we've hosted events and have people who are active members," Glause said.
As executive secretary, Dr. Glause will have several responsibilities including being the face of the organization. She sees the role as a way of supporting the organization and its mission.
"Supporting the executive board through resources and materials; to be able to provide professional development opportunities within the organization and Illinois; and to provide continuity over time for the organization," Glause said. "What it means for Millikin is that I get to work directly with many of the teachers, teacher educators and leaders throughout the state of Illinois … it's very exciting."
As the host institution, Millikin University will have the opportunity to host IATE events including the Fall 2022 Annual Conference. The Millikin English Department will also help with relaunching the Illinois English Bulletin, the IATE journal, which has been regularly published since 1920.
"We have other events that will be hosted throughout the year with professional development opportunities," Glause said. "It will bring people to campus, but it will also provide opportunities for people to hear about Millikin and to hear about the work that is happening here … it's going to be fantastic for our student-teachers because they will get to be involved with the organization in tangible ways."
Dr. Julie Bates, assistant professor of English at Millikin, added, "I'm thrilled to have my colleague Dr. Glause serving as executive secretary for IATE. It's such an important organization. I have valued getting to know the teachers involved in the organization over the past few years, and I have learned so much from them. I've also enjoyed being able to share what we are doing at Millikin with Illinois high school teachers through IATE conferences and meetings. I look forward to seeing how Dr. Glause is able to further connect Millikin students and faculty with IATE members and their high school students."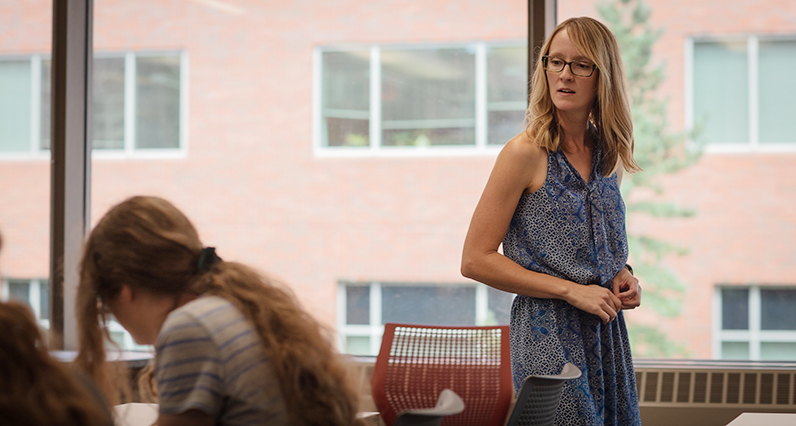 Dr. Julie Bates
Dr. Glause teaches courses in content and disciplinary literacy, English/Language Arts methodology and contemporary adolescent literature at Millikin. Her research interests include arts-based and arts-integrated ways of knowing, learning and growing; the relationship of mind, body and language for developing embodied and equitable learning and assessment practices in the classroom; and culturally responsive and historically relevant language and literacy instruction.
She earned a Ph.D. in Curriculum, Instruction, and Teacher Education with an emphasis in language and literacy from Michigan State University, an M.Ed. in Secondary English Education from the Harvard Graduate School of Education, and a B.A. in English and Dance from the University of Iowa.
One of the reasons that drew Dr. Glause to Millikin was the interdisciplinary nature of the University. Much of the work she does in terms of learning and literacy is incorporated with the arts.
"Millikin really values the arts and I felt it was a strong fit when I was looking at Millikin as an institution," she said. "I love being able to work with the students so closely – I am teaching classes that I'm very excited about. One of my favorite things is to see in which the ways we can connect our understandings of text and literacy, and how people communicate with each other across different fields."
Glause noted, "Working with IATE is exciting especially for my research because it puts me in direct communication with teachers and other scholars that I can work with and share my interests with."