Millikin named to Forbes' 2016 Top Colleges Ranking
Millikin University is once again ranked among the nation's best colleges and universities by Forbes in its ninth annual Top Colleges in America ranking. Millikin is one of 26 colleges from Illinois to make Forbes' national ranking of 660 institutions.
Forbes' 2016 Top Colleges in America ranking is prepared exclusively with research from the Center for College Affordability and Productivity (CCAP), the Department of Education, Payscale and the America's Leaders list.
The ranking is based on numerous factors that evaluate student satisfaction, post-graduate success, student success in garnering nationally competitive awards, student debt and graduation rates.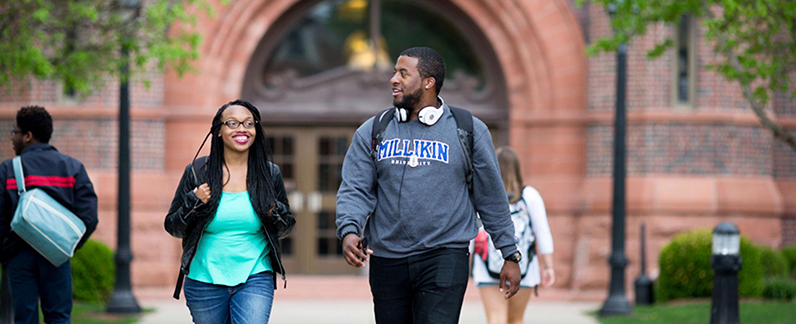 Millikin University President Dr. Patrick White says, "We are pleased that Forbes continues to recognize Millikin among the best colleges and universities in the state. Since 2009, Millikin has been included in this distinguished list. Our 99 percent placement rate in employment and graduate and professional schools; our pioneering commitment to Performance Learning for all students, through which every student is challenged and supported to learn and do, to act and perform in a way that builds confidence, competence and success; and our historical excellence in the performing arts and the sciences are a few of the markers that continue to place MU in this elite company."
Forbes explains, "This list of 660 schools distinguishes itself from competitors by our belief in 'output' over 'input.' Meaning, we're not interested in what gets a student into college, like our peers who focus heavily on selectivity metrics such as high school class rank, SAT scores and the like. Our sights are set directly on ROI: What are students getting out of college?"
Forbes added, "College has become one of the biggest financial decisions students and their families make. They deserve all the information they can get on the questions that directly concern them: Are current undergrads satisfied? Is it likely I'll graduate on time or incur a ton of student debt? Will I get a good job and be a leader in my chosen profession?"
For more information on Forbes' Top Colleges in America ranking or for the full list, visit forbes.com/top-colleges.
"It's exciting to be recognized by Forbes as one of America's outstanding institutions because it reminds us of the importance and effectiveness of our work with students," said Millikin Provost Dr. Jeffery Aper. "This recognition also offers inspiration to continue to refine and strengthen our distinctive Performance Learning based approach to student learning and development. We know that we are going to continue to stand out as a star in the constellation of American higher education because of the talent, dedication and innovative work of our faculty and staff in collaboration with students who aspire to make a real difference in their careers and in their lives."
Millikin University is a private, comprehensive university with a diverse student population of approximately 2,000 undergraduate and graduate students. A Millikin education features Performance Learning, a unique learning approach offered only at Millikin that gives students the chance to build the confidence and skills to succeed before and after graduation. Millikin offers more than 50 majors in the College of Fine Arts, College of Arts and Sciences, College of Professional Studies and Tabor School of Business, and is located on a 75-acre residential campus in Decatur, Ill. Last year, 99 percent of Millikin graduates gained employment or admission into professional/graduate school within six months of graduation. More information is available at millikin.edu.