MU among institutions offering best career opportunities for chemistry majors
Millikin University has been named among the top seven colleges in Illinois for chemistry majors according to Zippia, a career advice website dedicated to helping recent college graduates with their career choices.
Zippia identified the best chemistry schools by looking at data on how schools perform and compared them to one another. Zippia used data from the National Center for Education Statistics (NCES) and College Scorecard data from ED.gov to understand which chemistry departments offer the best career opportunities.
"We at Zippia decided to take a look at the data on the institutions of higher learning in Illinois to determine which programs offer the best career opportunities for chemistry majors," Zippia writes. "After we had this data, we looked at the institutions of higher learning with chemistry majors in Illinois. We then ranked each of these schools for each of the criteria with '1' being the best in any given criteria."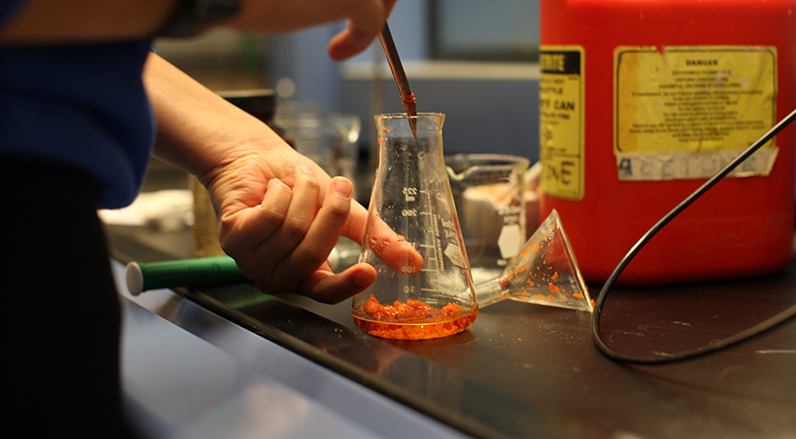 Criteria used to determine the ranking included career results and mean earnings after six and 10 years, and the ratio of people working to not working after 10 years; chemistry emphasis and the percentage of a graduating class that are chemistry majors; and school performance, including admission rate, graduation rate, average cost of attendance and the median amount of debt.
"Millikin is one of the top seven chemistry programs among the large number of such programs in Illinois because we have extraordinary faculty working with extraordinary students," said Millikin Provost Dr. Jeff Aper. "Chemistry faculty engage students in research, reach out actively to business, professional and educational organizations beyond the university, and make the most of the facilities and instrumentation available to support their teaching and active involvement in the larger professional and educational community."
Millikin University is ranked No. 7 on the list. Click here for more information about the ranking.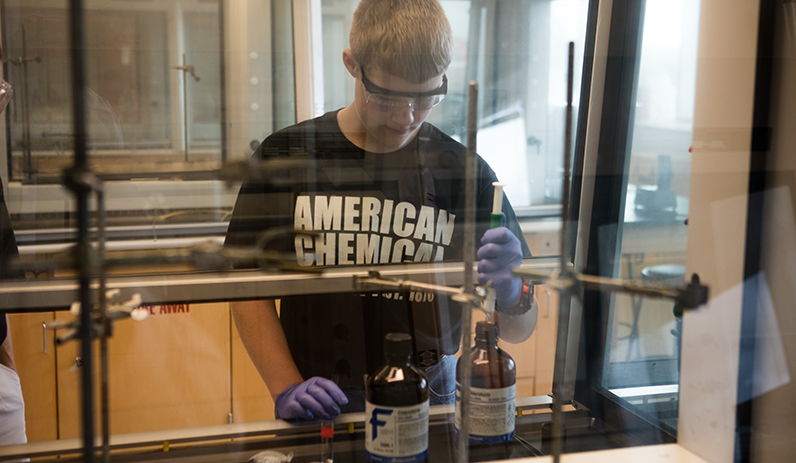 The Chemistry Department at Millikin University prepares students for diverse fields, including medicine, biotechnology, the food industry, chemical engineering, research, education, business and more. Millikin chemistry faculty members offer quality, hands-on instruction for majors and non-majors to help them achieve success through integrated learning.
"Preparing students for professional life after completing their undergraduate degrees is very important to the chemistry faculty," said Dr. Paris Barnes, chair of the Chemistry Department at Millikin. "Our students are motivated to succeed. Their desires for meaningful careers in chemistry drives the chemistry faculty to give our students their best every day. We challenge our students and attempt to expose them to applicable chemistry. We want our students to do chemistry as chemists do it. We ask them to use the most modern instruments we can provide as part of their education and have opportunities for industrial internships to prepare them for future success. In turn, our students thrive in their science-related jobs after leaving Millikin."
Chemistry alumnus Dr. Bryan Barton '06 says Millikin faculty encouraged and enabled him to achieve a career as a research scientist. Dr. Barton currently works at The Dow Chemical Company in the area of Chemical Mechanical Planarization Technologies.
"Millikin University's chemistry faculty engage students with strong mentoring relationships that shape career options tailored to one's strengths and aspirations," Dr. Barton said. "They connect students with resources to obtain real-world experience, helping them make informed decisions while enabling placements with great opportunities."
Millikin chemistry students receive many opportunities for learning in and out of the classroom. Every chemistry student uses state-of-the-art equipment from the first course on. Each of the department's majors completes at least one semester of research in collaboration with a faculty member. Most of the chemistry majors complete industrial internships before they graduate, and many work as assistants in lab courses.
"The chemistry program continues to develop new learning opportunities for students. This year we just received funding and support for a new ADM Cares Chemistry Scholarship," said Dr. Randy Brooks, dean of the College of Arts & Sciences at Millikin. "This new scholarship provides financial support for a successful chemistry student who also is employed in the subsequent summer as a research intern with ADM (Archer Daniels Midland)."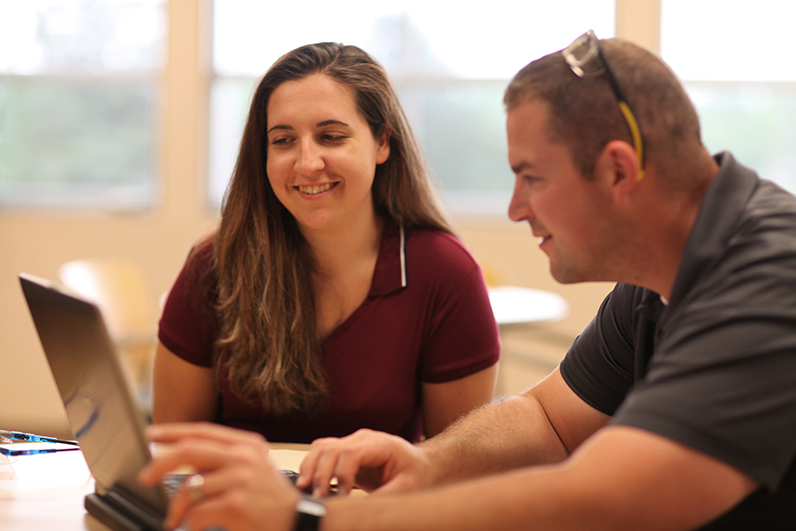 Korinne Frankford, a senior chemistry major from Alton, Ill., was the first recipient of the ADM Cares Chemistry Scholarship. She spent last summer working with analytical instruments in the glycol plant in Decatur, Ill. Last spring, she presented original research at the Sigma Zeta National Convention in Indianapolis, Ind. She intends to enroll in a graduate pharmacy program after graduation.
"After I earn my bachelor's degree from Millikin I will have four years of pharmacy school," said Frankford. "Eventually, I see myself running my own pharmacy."
For more information about Millikin's Chemistry Department, visit millikin.edu/chemistry.
Millikin University is a private, comprehensive university with a diverse student population of approximately 2,000 undergraduate and graduate students. A Millikin education features Performance Learning, a unique learning approach offered only at Millikin that gives students the chance to build the confidence and skills to succeed before and after graduation. Millikin offers more than 50 majors in the College of Fine Arts, College of Arts and Sciences, College of Professional Studies and Tabor School of Business, and is located on a 75-acre residential campus in Decatur, Ill. Last year, 99 percent of Millikin graduates gained employment or admission into professional/graduate school within six months of graduation. More information is available at millikin.edu.