Millikin-Decatur Symphony Orchestra Director and students perform for local students
Millikin University's School of Music is known for bringing relevant, performance-based opportunities to all facets of music education. Students not only practice their craft in the classroom and perform on stage, but they engage with a community of musicians and beyond.
Dr. William McClain, director of the Millikin-Decatur Symphony Orchestra (MDSO), and three Millikin students who perform in the orchestra took the School of Music's community interaction a step further by visiting with students at Maroa-Forsyth Grade School on Oct. 15. Dr. McClain and the students talked about their instruments and what careers they're preparing for, and each played a bit for the students.
Vocal music teacher Christine Smith received a grant from the Decatur Area Arts Council to have McClain and the three Millikin students visit the school. Smith, who plays oboe and English horn in the symphony, wanted her students at Maroa-Forsyth to meet McClain and the older students to realize careers in music are an option.
"I asked if he could bring some Millikin students because I know that since they're closer in age (to her students), they're usually very interesting to these students," she said in an interview with the Herald & Review.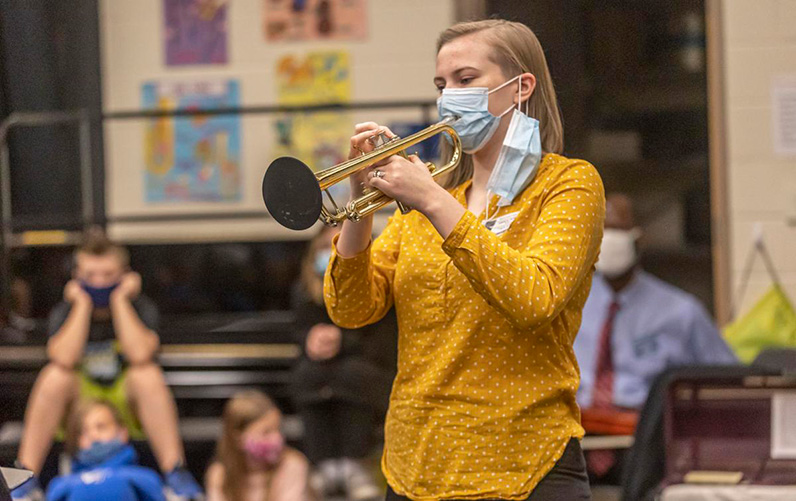 Grace Portz (photo courtesy of the Herald & Review/Clay Jackson)
"I'm passionate about the education of the next generation of students and musicians," McClain said. "I think it's just a wonderful opportunity to show them a little bit about what a conductor does and tell them about the different instruments, and it's also a really special treat because we have our Millikin students with us, and many of these students are training to be teachers themselves."
McClain added, "They're all great performers in their own right, so it's a really wonderful collaboration and honestly, I love kids. I love working with the students. They're so full of energy and it's a wonderful opportunity to get them excited about music early."
Grace Portz, a senior instrumental music education major from Springfield, Ill., brought her trumpet along and told the students she's majoring in music education and plans to be a teacher, and that required her to learn a little about every instrument in the band.
"I can play almost all the band instruments, but not as well as the ones I've studied," she said. "I began learning violin in seventh grade, trumpet in eighth grade and piano as a senior in high school."
Adrian Sanchez-Rodriguez, a junior from Merida, Venezuela, and Elyse Morehead, a senior from Springfield, both play violin and played two duets for the students. Morehead plans to teach private lessons and play in a symphony orchestra professionally after college.
"I love playing in a large group, so I wanted to keep doing that, because you get to play the best music," Morehead said.
Rodriguez noted, "I think it's really great to spread the music of Decatur and Millikin, really everywhere. I think it's a great opportunity to spread the music, spread our knowledge and invite more people into this field."