Dr. Mark Tonelli to teach courses in jazz ensemble, jazz guitar and music entrepreneurship
The U.S. Department of State and the Fulbright Foreign Scholarship Board has honored Dr. Mark Tonelli, assistant professor of applied guitar and coordinator of the Guitar Studies Program at Millikin University, with a Fulbright U.S. Scholar Program award to Brazil for the 2021-22 academic year.
Tonelli will serve as a visiting professor at Universidade Federal de Uberlandia in Uberlandia, Minas Gerais. For four months, he will teach courses in jazz ensemble, jazz guitar, and music entrepreneurship and conduct research into the arts and political movement Clube da Esquina.
"It was surreal to find out that I had been awarded because, traditionally, the Fulbright Scholarship is difficult to get," Tonelli said. "I will be teaching at the Federal University of Uberlandia in their Popular Music program which would be equivalent to our Commercial Music program at Millikin. It's a new program they are trying to get off the ground."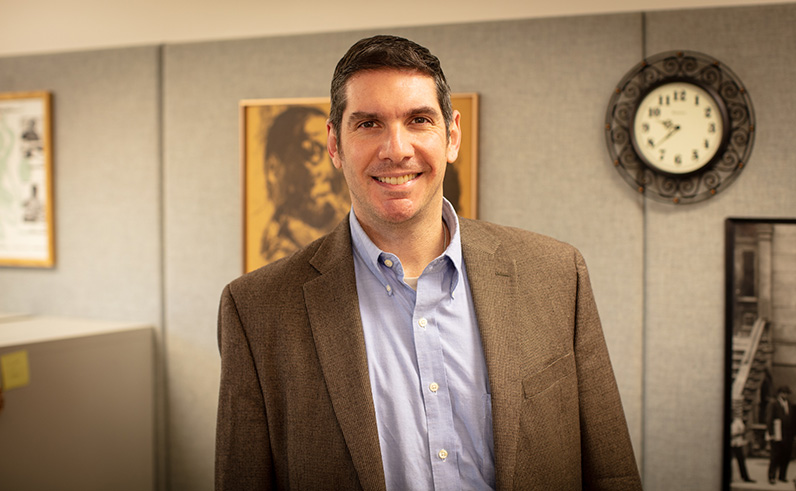 Mark Tonelli
As a Fulbright Scholar, Tonelli will share knowledge and foster meaningful connections across communities in the United States and Brazil. In addition to directing a jazz ensemble and teaching jazz guitar studies, Tonelli will teach arts entrepreneurship to help students build strategies for their careers.
"Essentially, the things I do at Millikin I will be bringing to Brazil. Many South American countries don't have access to this type of information and the more their students are able to do, and the more versatile they are able to be, the better chances they will have in developing a successful career," Tonelli said.
Tonelli says Brazilian music and jazz studies often go together because the two are derived from the same base which is African music. "They had local music mixed with African music which formed a samba, which later mixed with jazz that became a bossa nova. A lot of Brazilian music has elements of jazz in it and a lot of American jazz has elements of Brazilian music in it. The two cultures have had this beautiful mix and exchange," he said.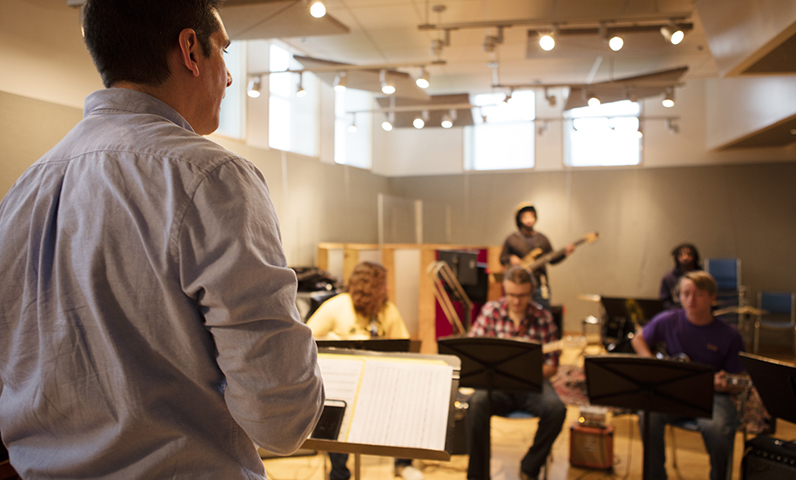 Since arriving at Millikin University in 2016, Tonelli has expanded the Millikin Guitar Studies Program by adding the Electric Guitar Ensemble that focuses on jazz, rock and pop styles. In addition to teaching applied lessons and guitar pedagogy, he teaches jazz improvisation and serves as professor for Arts Café, a course he created where students learn how to operate a live performance venue.
"I love Brazilian music and it is something I have been studying seriously for the past seven years, but I have been playing it for most of my career because that is what jazz musicians do … they play Brazilian music, it's part of their repertoire," Tonelli said. "I will be bringing more of the authentic American jazz side to what they are doing, but I will also be learning from them."
Tonelli plans to perform in concert with some of the faculty members as well as perform throughout the surrounding area of the university. He will also travel to other areas of Brazil to host workshops and concerts, including Rio de Janeiro and São Paulo.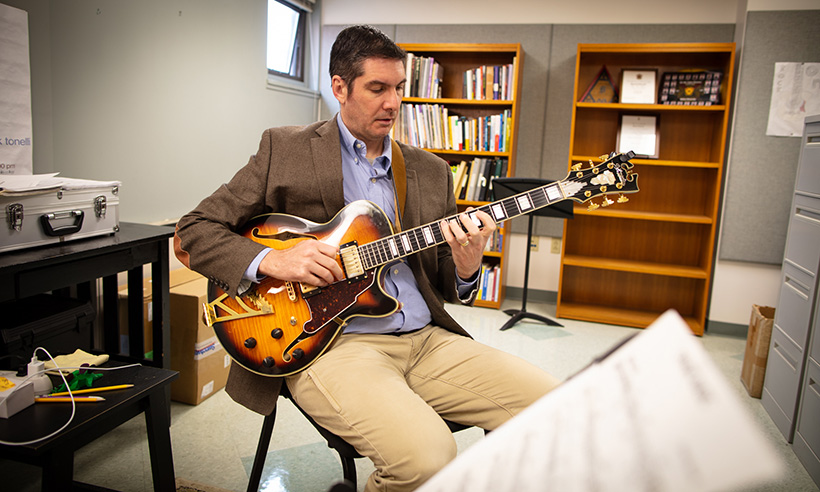 In terms of his teachings, Tonelli hopes that playing jazz will open a new world for the students. "One thing that is unique about jazz musicians … if you have a group of trained jazz musicians from anywhere in the world and drop them on a stage together, with no rehearsal, they could play a high-level concert," he said. "I'm hoping to help the students develop that repertoire that they could then use and take with them anyplace in the world and function as a jazz musician. Jazz is a stylistic portal that allows you to work on other musical styles … it opens up other doors."
Tonelli is an active guitarist, composer and author who has built a career spanning nearly three decades performing with artists such as Clay Aiken, Jon Faddis, Rita Moreno, Carol Channing and Lynn Seaton. His music has been featured on National Public Radio's (NPR) "All Things Considered." He has been a winner or finalist in the Billboard Magazine World Song Contest, USA Songwriting Competition and The Great American Song Contest. His large jazz ensemble arrangements are published by UNC Jazz Press and FJH Music and are performed by collegiate and high school bands across the country. His music for guitar ensemble is published by Guitar Chamber Press.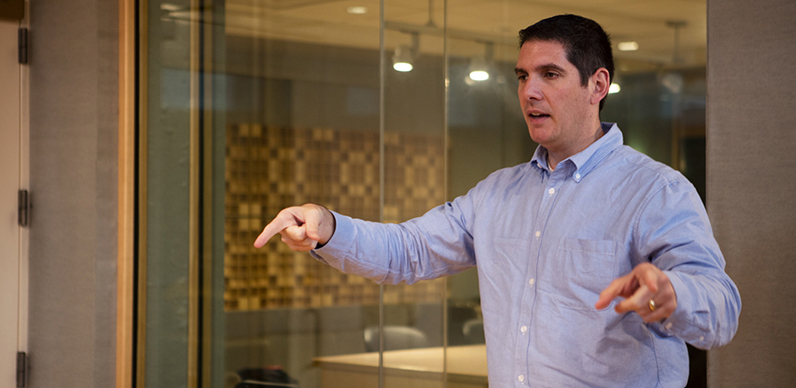 Prior to Millikin, Tonelli was the guitarist for the West Point Band's Jazz Knights for 10 years, touring and performing in some of the nation's top venues, including Jazz Standard, Blues Alley, Avery Fisher Hall, The Rock and Roll Hall of Fame and The Midwest Clinic.
Tonelli is the co-editor of "Entrepreneurship in Action: The Power of Student-Run Ventures," published by Edward Elgar, a book that examines six exemplar student-run ventures in depth that span disciplines from all across campus (arts, humanities, technology) and have known track-records of success. Readers learn the inner workings of all six student-run venture courses first-hand from the faculty teaching the course and from students who have taken the course.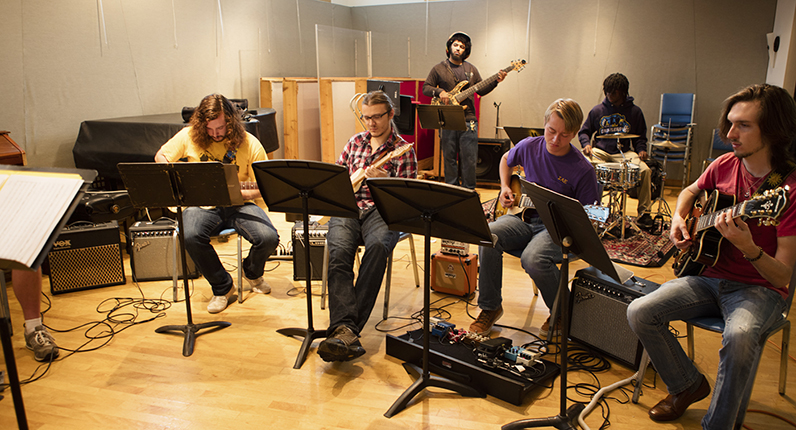 Fulbright Program
Fulbrighters engage in cutting-edge research and expand their professional networks, often continuing research collaborations started abroad and laying the groundwork for forging future partnerships between institutions. Upon returning to their institutions, labs, and classrooms, in the United States, they share their stories and often become active supporters of international exchange, inviting foreign scholars to campus and encouraging colleagues and students to go abroad. Fulbright alumni include 60 Nobel Prize laureates, 88 Pulitzer Prize recipients, and 39 who have served as a head of state or government.
The Fulbright Program is the U.S. government's flagship international educational exchange program and is supported by the people of the United States and partner countries around the world. Since 1946, the Fulbright Program has provided more than 400,000 participants from over 160 countries the opportunity to study, teach and conduct research, exchange ideas and contribute to finding solutions to shared international concerns.
For further information about the Fulbright Program or the U.S. Department of State, please visit eca.state.gov/fulbright.