MBA students research work environment, next-gen technology and health physicals
Students from Millikin University's Master of Business Administration (MBA) Fast-Track program partnered with Caterpillar Inc.'s (CAT) Decatur plant this past academic year to help the company with case studies on work environment, next generation technology and health physicals.
As part of its capstone project, the Millikin MBA cohort was divided into three teams to work on each of the case studies for 18 weeks. The students worked under the guidance of John Yotter, a Caterpillar Black Belt teacher and adjunct faculty member in the Millikin MBA program. The students presented the results of their research to CAT managers and executives at the Decatur plant on May 14.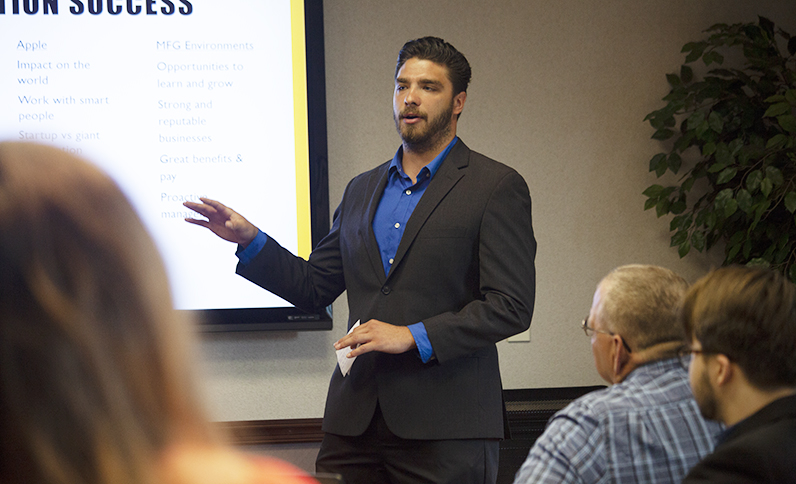 Students Travis Goveia '17 and Michael Nash '17 explored how CAT can instill a meaningful work environment at the Decatur plant. As undergraduates at Millikin, Goveia studied exercise science and Nash studied accounting.
"What do you want to be? What do you want your Caterpillars employees to be? Do you want to be highly motivated, engaged, satisfied and doing good work?" Goveia said.
Goveia and Nash's business case centered on the Caterpillar experience which is made up of four factors: meaningful work, a winning culture, empowered environment and personal growth. The students went a step further by focusing on the meaningful work factor and three crucial elements that drive the Caterpillar work experience in Decatur: job recognition, employee engagement and supervisor support.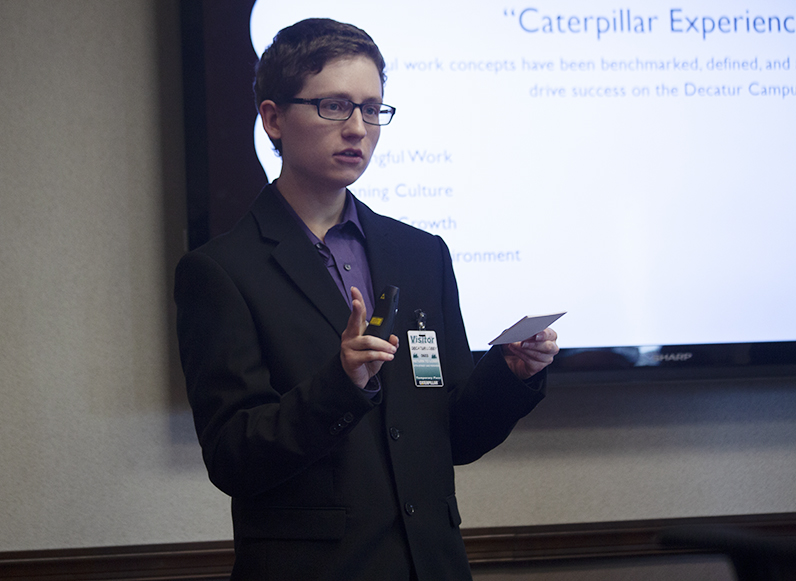 "The goal for this project was to develop an implementable plan for the Caterpillar plant which included developing a working definition of meaningful work, benchmarking elite organizations and delivering a communication plan," Goveia said. "We also researched how other elite organizations measure meaningful work. We also came up with a sample survey delivered on a quarterly basis."
Nash noted, "We define meaningful work as productive work that makes a positive impact on the organization and surrounding community, or providing the employee with personal fulfillment. We wanted to go outside the box and think about the managers at Caterpillar, Caterpillar as an organization and the customers – what do these people consider to be meaningful work?"
Ryan Bodine '16, Devin Flanagin '16 and Andy Huss '17 looked at next generation technology as a way to improve inspection performance. For instance, could recognition capabilities, such as Google or Apple facial recognition software, be translated to the factory floor? Would it be possible to snap a picture or fly a drone over an area to determine if all of the features were there and in the proper place?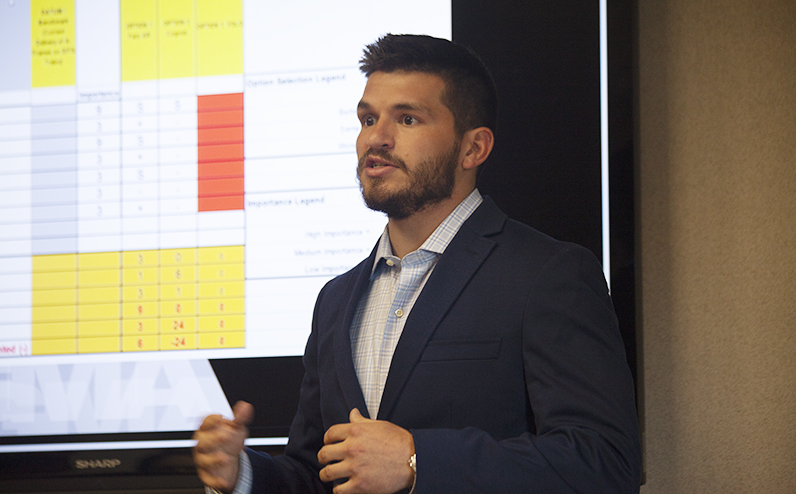 "With the current state of technology, especially with coordinate measuring machines (CMM), it can be time-consuming to check the quality of the CMM frames," said Huss. "Our goal is to recognize that if the hardware is missing on the frame or if it's off at a part, it can be detected in real time. We want our future check times to be better on 100 percent of the frames and accurately recognize the features on products."
Some of the basic research measuring tools that the students focused on were the cycle time, offline time, inspection results, percentage of production components checked, the accuracy of the features, percentage of the features detected and the cost.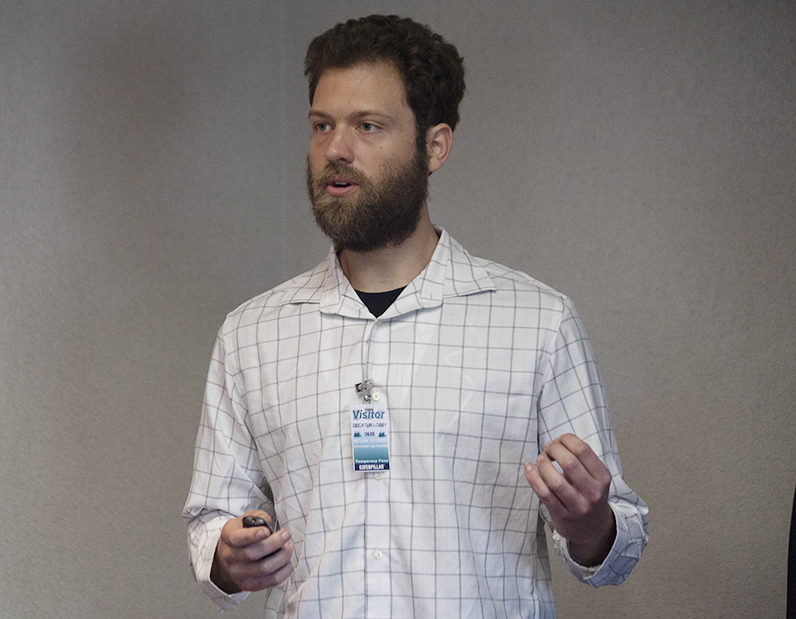 One program the students recommended to Caterpillar is a software called You Only Look Once, a real-time object detection system that can work on a phone or laptop.
"It can tell the difference between people or objects, and eventually we can teach it to recognize equipment like tractors or the different types of tractors," Bodine said. "Using some of the similar computation as the face recognition on a phone or laptop can be beneficial."
David Haines '15 and Mary Tenney '16, two Millikin nursing graduates, teamed up to research how CAT can encourage more employees to take advantage of free health physicals that CAT offers.
The students developed a survey to determine a culture of engagement and assess communication gaps. Questions included awareness about the physicals, methods of communication employees utilized and if employees planned to take a physical in the future. Data showed that 71 percent of first shift employees were aware of the benefit while 71 percent of second shift employees were not aware.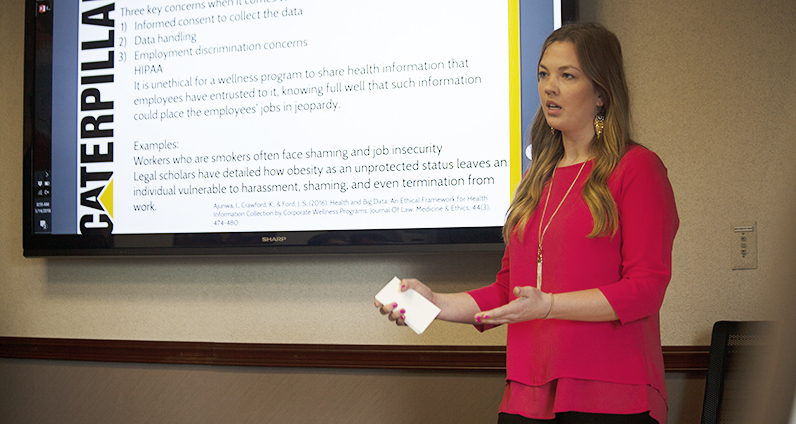 Based on the results of their survey, Haines and Tenney developed a marketing plan as a possible solution to drive more employees to take advantage of the free physicals.
"In order to help us better understand the problem, which is low engagement in health physicals, we developed an Ishikawa diagram (cause and effect) to identify the cause," said Haines. "The promotion of the physicals is currently done by bulletin boards, television screens and postcards sent to home. What can we do to drive more engagement?"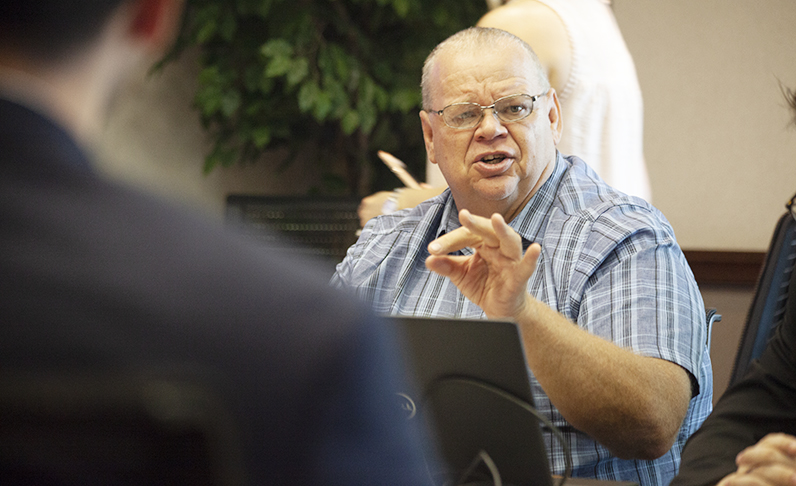 In the end, the presentations were well received by the Caterpillar executives who were impressed with the data collection and shared feedback about possibly implementing the student ideas.
"One benefit of this program is the real life project-based experience," John Yotter said. "In addition to academic learning, this course adds reality. In classroom environments, the data is always there or available. Here, they learn firsthand about red-tape, challenges of getting data and the need for planning data. I was impressed with the creativity used in data collection and how the deliverables were brought together."
Millikin MBA Fast-Track
Millikin University's Fast-Track MBA provides a unique experience tailored to the diverse needs of today's ambitious business professionals. The 12-month Fast-Track MBA offers accelerated day classes for recent college graduates. Students will work with a Fortune 100 company (Caterpillar Inc.) to earn internal Green Belt Lean Management Certification. Graduates are also prepared to take the Six Sigma Green Belt Certification exam upon completion of the program. Millikin undergraduate students in the Tabor School of Business and/or with a music business major may take MBA classes during their senior year.