Attendees show support and stand in solidarity with Ukraine
More than 100 people filled the Bob and Debi Johnston Banquet Room of the University Commons at Millikin University on March 9 to hear from local experts on the state of the war in Ukraine.
In a panel discussion hosted by Millikin's Office of Campus Life, Center for International Education, and History and Political Science Department, Roman Ivashkiv, director of Ukrainian Studies at the University of Illinois at Urbana-Champaign, University of Illinois graduate student Sofiia Dunets and Dr. Laura Dean, associate professor of political science at Millikin University discussed the seeds of the Russian invasion and the war.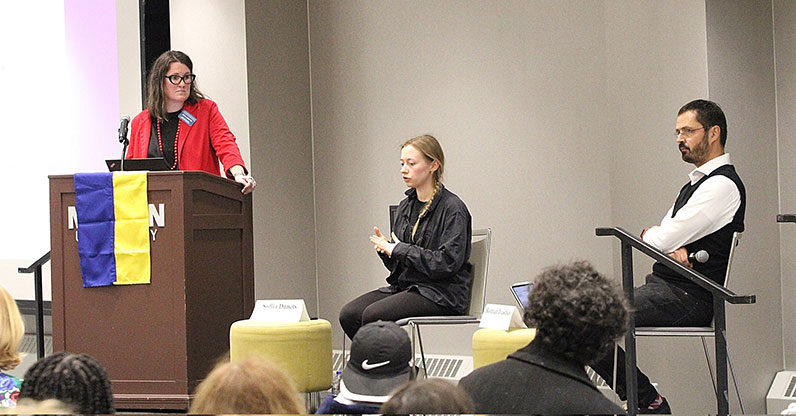 From left to right: Dr. Laura Dean, Sofiia Dunets and Roman Ivashkiv
The panel not only offered insight into the humanitarian response and political outcomes, but the elements of Ukrainian culture which have produced a united response to Russian aggression.
"Unfortunately, this is beginning to look like the physical extermination of the Ukrainian nation which is something that has already happened to Ukrainians in 1932 and 1933," Ivashkiv said.
Attendees were able to support Ukraine by bringing a donation for Nova Ukraine, a humanitarian organization, and Razom's Emergency Response which provides critical medical supplies to Ukrainians during the war; the event helped raise $950.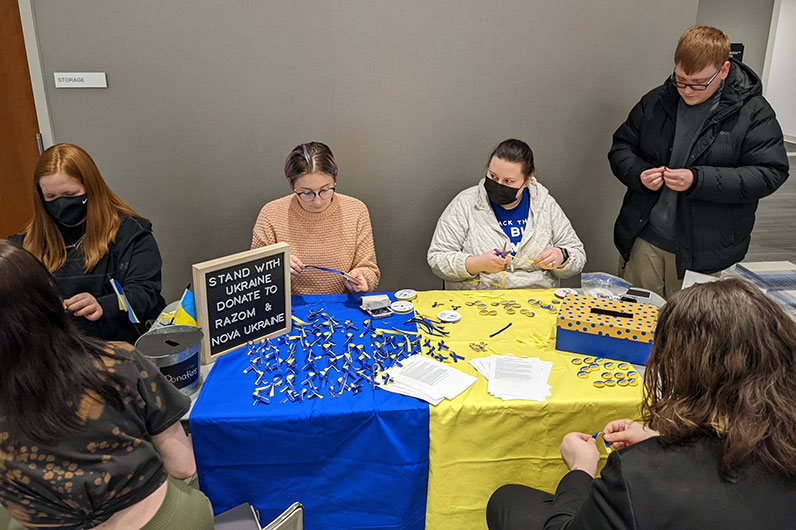 Ribbons and buttons were also handed out for attendees to support and stand in solidarity with Ukraine.
"I was so impressed with the outpouring of support for Ukraine from the Millikin campus and local community at our War in Ukraine event at Millikin," Dr. Laura Dean said. "History and political science students came together to make buttons and put together Ukrainian flag ribbons. Students collected donations for Razom and Nova Ukraine – two humanitarian organizations providing emergency medical supplies to Ukraine."
Dean added, "The interest and compassion shown by many people at Millikin for Ukrainians fighting for democracy and freedom was truly inspiring."