Millikin, local community partner to Knock Cancer out of the Park
In a collaborative effort to "Knock Cancer out of the Park," the Millikin University campus community and the Big Blue softball team worked together to raise proceeds for Come Together Let's Walk to serve the Decatur and Macon County area in the fight against cancer.
The event was held on Wednesday, April 12, during the Big Blue's doubleheader against Illinois Wesleyan University at the Workman Family Softball Field on Millikin's campus.
"The event was a combined effort among the Millikin community – athletics, student life, faculty and staff – and the Decatur community," said Millikin Head Women's Basketball Coach Lori Kerans. "All of the proceeds raised stay right here in Decatur and Macon County to support families impacted by cancer."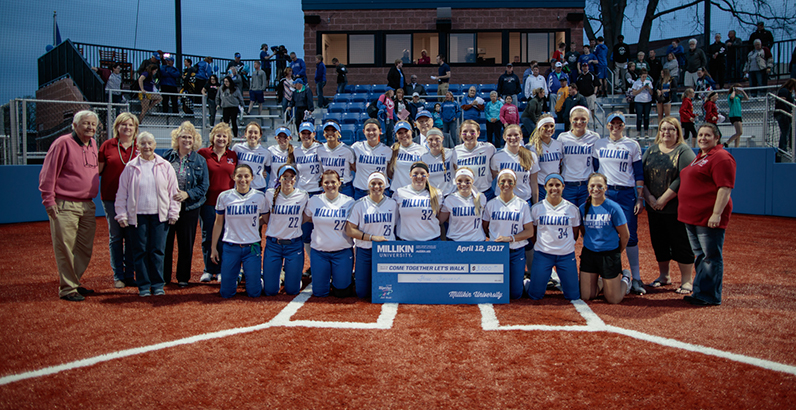 At the conclusion of the doubleheader, the Big Blue Softball team and Millikin President Dr. Patrick White presented a check to Come Together Let's Walk for $3,000. Donations are still coming in, and as of April 12, the Knock Cancer out of the Park event has raised over $3,200.
During the event on April 12, nine people, and their families, who have battled cancer were honored and their stories were told in front of a large crowd at Workman Family Softball Field. A home run derby, dizzy bat races and a run the bases relay were held between games.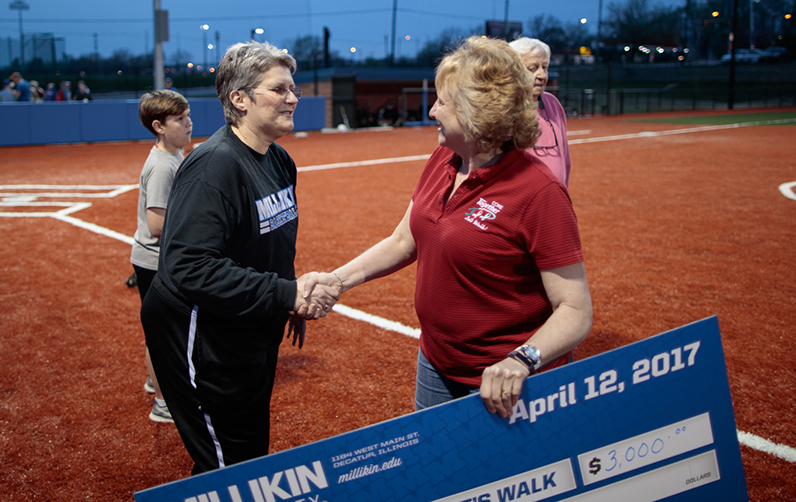 "Battling cancer is a team sport, and we were proud to support and show love to those families," Kerans said. "Softball fields have on-deck circles; the place where the 'next person up' stands waiting their turn. Our hope with this event, and in joining teams like Come Together Let's Walk, is that we find a cure for cancer so that someday soon there is no 'on-deck' waiting their turn to be the next person to battle cancer."
Come Together Let's Walk is an annual event that focuses on the fight against Ovarian, Breast and Cervical cancers. The seventh annual Come Together Let's Walk event will be held on Saturday, June 24, at Fairview Park in Decatur, Ill., beginning at 8:15 a.m. For more information about Come Together Let's Walk, visit cometogetherletswalk.com.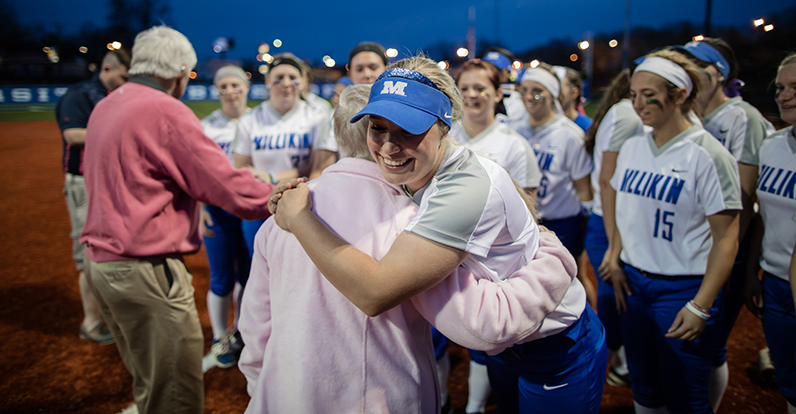 The magic of the Workman Family Softball Field continued on April 12 as the Millikin softball team improved to 10-0 in its new home with a doubleheader sweep of Illinois Wesleyan on April 12. Millikin won game one 5-4 and rallied to take game two 7-2.