Homecoming is in the Heart
During these unprecedented times, Millikin University's Homecoming 2020 celebration will be like no other. For Homecoming 2020, Millikin University has invited the community to remember that "Homecoming is in the Heart" as the University launched its first-ever virtual Homecoming celebration on Oct. 12.
While this year's Homecoming celebration will look much different than from previous years, Millikin University is excited to offer some unique and exciting opportunities for the Big Blue family to come together virtually and celebrate all of the wonderful things that make Millikin so special. Participate in a Q&A session; impress your friends with your brain power at Millikin's trivia night; join us in recognizing Millikin's newest Alumni Award winners and Athletic Hall of Fame inductees; and jam out with your family from the couch during one of Millikin's virtual concerts.
The University is excited for the opportunity to include more people in its Homecoming festivities than ever before, creating unique possibilities to celebrate from wherever the Millikin family calls home. Here's a look at some of the events:
On Wednesday, Oct. 14, Millikin will honor the latest class of outstanding athletes to be inducted into the Millikin University Athletic Hall of Fame:
Cora Jeffers Herek, Class of 2013, Softball
Jack Klawitter, Class of 1989, Baseball and Soccer
Dr. Ollie Mack, Class of 1971, Football and Track and Field
Ariel Robinson, Class of 2013, Track and Field
Elise Wildman, Class of 2011, Women's Basketball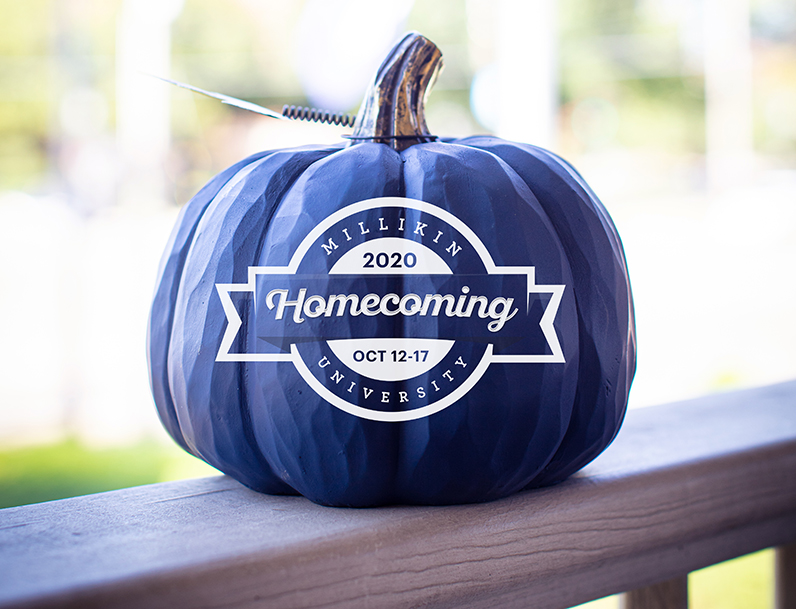 On Thursday, Oct. 15, Millikin will honor the latest class of its Alumni Awards recipients:
Co-recipients of Alumnus of the Year: John William Prange, Class of 1960, and Sue Logan Prange, Class of 1962
Loyalty Award: James "Jim" Butts, Class of 1951
Merit-Loyalty Award: Jeffrey "Jeff" Monken, Class of 1989
Young Alumnus Award: Krista Scott, Class of 2016
Faculty/Staff Recognition Award: Tammy Morrison
On Saturday, Oct. 17, the Millikin community is invited to join President Dr. Jim Reynolds, President Emeritus Dr. Patrick White and Mary Black, director of the Millikin School of Theatre & Dance, for a special ribbon-cutting ceremony for the new Center for Theatre & Dance. The ceremony will begin at 10 a.m. and will be livestreamed on Facebook Live and will feature a virtual tour of the building.
Also on Saturday, Oct. 17, join the Millikin Symphonic Wind Ensemble on YouTube for an eclectic array of socially-distanced chamber music. The ensemble's second concert of the season will feature faculty soloists Amy Catron [cello] and Amanda Pond [flute], along with the wonderful wind, brass and percussion students at Millikin. This vibrant, international program has something for everyone, and is dedicated to all Millikin Alumni as the University concludes its Homecoming 2020 virtual festivities.
For more information about Millikin University's 2020 Virtual Homecoming celebration, visit millikin.edu/homecoming.