Millikin kicks off academic year with First Week
First-year students at Millikin University will get a jump start on their college experience during Millikin's 2016 First Week program scheduled Aug. 16-21.
First Week is designed for first-year students to become acclimated and immersed in their new Millikin home before classes begin on Monday, Aug. 22. The First Week experience teaches students what is expected in the college environment and how to best engage in the Millikin community to ensure success.
First Week activities begin with Move-In Day for residential students on Tuesday, Aug. 16, from 9 a.m. – 2 p.m.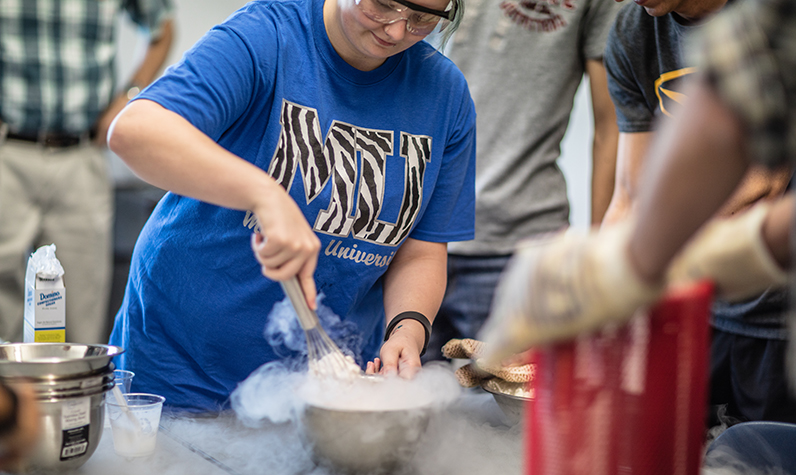 An integral part of the First Week experience is the First-Year University Seminar. University Seminar is intended to be a unique learning opportunity for first-year students entering Millikin University. The seminar introduces students to college-level academic inquiry by focusing on critical and ethical reasoning, and reflection.
University Seminar also blends theory and practice by engaging students in service learning and by addressing specific student success topics. The seminar provides an opportunity for first-year students to make important connections with faculty members and First-Year Experience Mentors.
First Week will also feature Performance Learning workshops on Friday, Aug. 19, from 2 – 5 p.m. Throughout the workshops, students will learn the various Performance Learning opportunities within the Colleges of Arts & Sciences, Fine Arts, Professional Studies and the Tabor School of Business.
A highlight of the week's activities will be the Class of 2020 Day of Action. Day of Action is Millikin's opportunity to give back to the Decatur, Ill., community by sending students into the neighborhoods for service opportunities. This year's Day of Action features two days of service activities on Friday, Aug. 19, and Saturday, Aug. 20. Students will be involved with service activities from 8:30 a.m. – 12:30 p.m. each day.
This year, Millikin students will perform services at several sites including the Macon County Fairgrounds, Good Samaritan Inn of Decatur, Boys & Girls Club of Decatur, Special Olympics Illinois and Dennis Lab Elementary School.
The week concludes with Opening Convocation on Sunday, Aug. 21, at 7:30 p.m. in Kirkland Fine Arts Center, where Millikin faculty and students gather to celebrate the beginning of the academic year.
For more information on First Week, contact the Millikin Office of Inclusion and Student Engagement at 217.424.6335. For a full list of First Week activities, visit millikin.edu/admission-aid/after-acceptance/first-week.