Millikin Institute for Science Entrepreneurship receives $10,000 contribution from 300 Below, Inc.
Millikin University's Institute for Science Entrepreneurship (ISE) received a contribution of $10,000 from 300 Below, Inc. on Wednesday, Feb. 22. The contribution will support the continued growth of the Institute's Undergraduate Fellows Program, which provides Millikin students with a stipend to perform real-world projects with commercial applications in collaboration with private companies.
Formed by Dr. David Horn, professor of biology, Dr. George Bennett, professor of chemistry, and Dr. Casey Watson, associate professor of physics and astronomy at Millikin, the Institute for Science Entrepreneurship serves as a bridge between external clients, faculty and students of Millikin to provide high quality services for science-related organizations.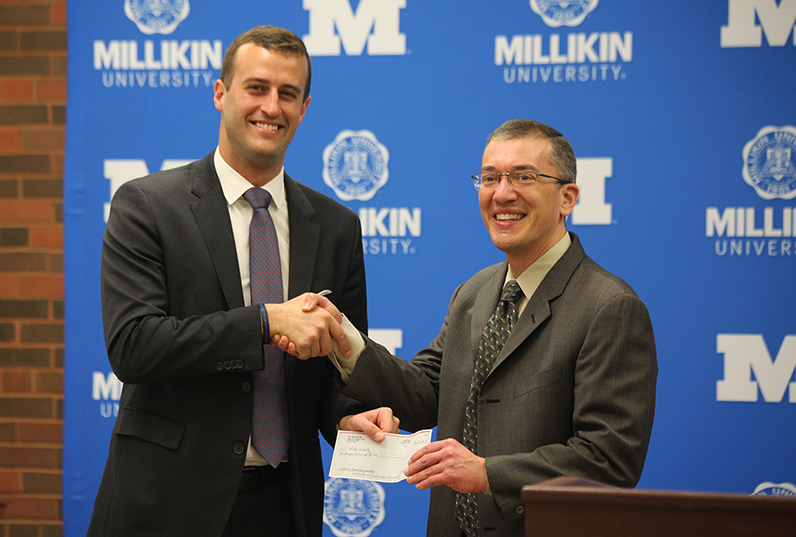 "The Institute for Science Entrepreneurship is honored to receive a donation from 300 Below, Inc.," Dr. Horn said. "The donation will allow us to continue to fulfill the Institute's mission and provide Millikin University students with Performance Learning opportunities that prepare them for the transition from science student to science career. The generous donation by 300 Below, Inc. will help support our Institute's Undergraduate Fellow Program."
Based in Decatur, Ill., 300 Below, Inc. is the world's largest and oldest commercial cryogenic processing company, in business since 1966. 300 Below has started 156 operations in 36 countries around the world with its technology.
300 Below has processed millions of pounds of steel. Through a unique stress relief and stabilization process, 300 Below reduces client expenses by making treated items last longer and perform better. Its ultra-low temperature treatment process uses liquid nitrogen to rearrange molecular structures of many materials, typically improving the lifespan and performance of tooling used in manufacturing operations, as well as impacting multiple industries.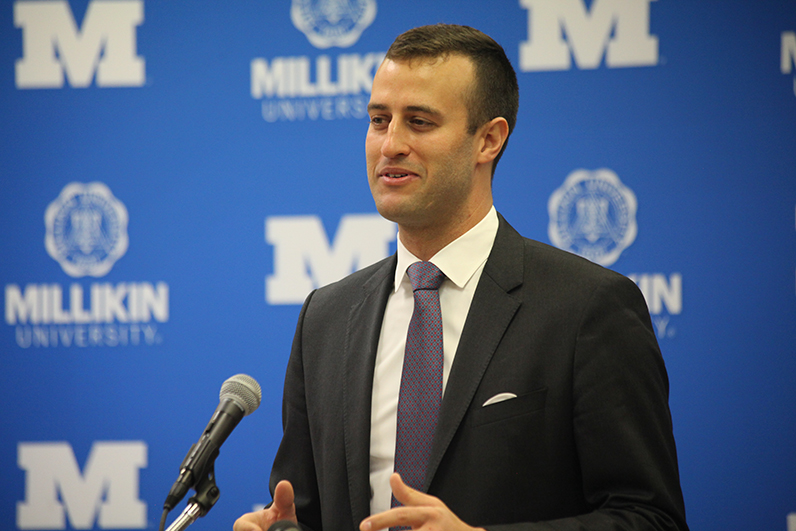 "Through the Institute for Science Entrepreneurship, 300 Below is applying its cryogenic technology to study and improve all sorts of materials, including railroad steel, solar cells and wind turbine gearbox bearings. This partnership has worldwide impact for our business," said Pete Paulin, chief executive officer of 300 Below, Inc.
Millikin's Institute for Science Entrepreneurship serves as a training center for students in the natural and health sciences to develop skills needed to create science ventures. Skills are reinforced through two courses in science entrepreneurship and the ISE-led Clinical Nuclear Science Program.
The Institute provides opportunities for students and faculty to conduct research, create and upgrade products, and provide other services for external clients.
To promote science entrepreneurship to the larger community, the Institute hosts a Science Entrepreneurship Speaker Series that focuses on science entrepreneurship and how it fuels both job creation and societal well-being.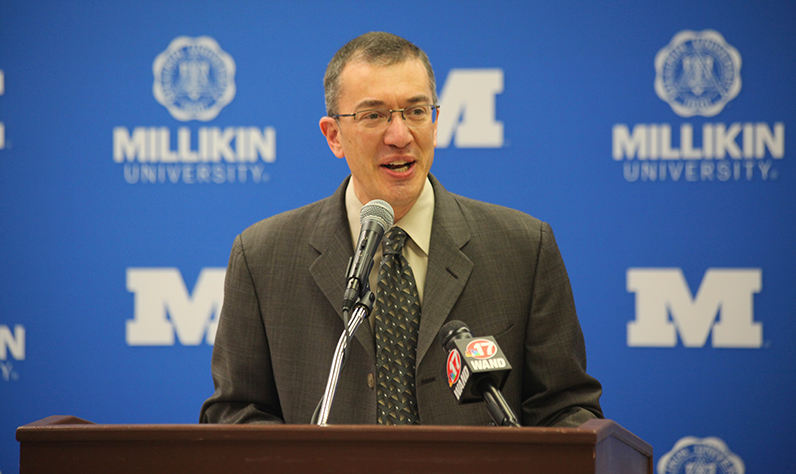 Dr. Horn noted, "In less than five years' time, the Institute has been able to lay the foundation for a culture of science entrepreneurship at Millikin University and the greater community. 300 Below is one of the science companies that we have forged a strong relationship with since our founding, and is a model for the type of relationship we would like to develop with other organizations."
The Institute for Science Entrepreneurship was originally funded by a Millikin University Performance Learning Enhancement Grant in December 2012. Since that time, the institute has been pledged or received funding and support from 300 Below, Inc., Andreas Foundation through the Community Foundation of Macon County, Archer Daniels Midland Company, Brechnitz Group of Raymond James, Busey, Caterpillar Decatur, Coleman Foundation, Decatur Memorial Foundation, Decatur Memorial Hospital, John Ullrich Foundation, Millikin University, National Foodworks Services, Parke Warehouses, St. Mary's Hospital, Tate & Lyle, Wild Bird Feeding Industry, Zevacor Molecular, a private foundation and several anonymous donors. Busey serves as the title sponsor of the Science Entrepreneurship Speaker Series.
ISE Undergraduate Fellowships
In addition to the contribution, Millikin University announced the five recipients of Institute for Science Entrepreneurship Undergraduate Fellowships for the spring 2017 semester. The recipients are Dean Larrick, a sophomore physics major from Decatur; Takunda Jakachira, a junior physics major from Harare, Zimbabwe; Whitley Sapp, a junior physics major from Decatur; Hunter Somers, a junior physics major from Heyworth, Ill.; and Andrea West, a senior physics major from Decatur.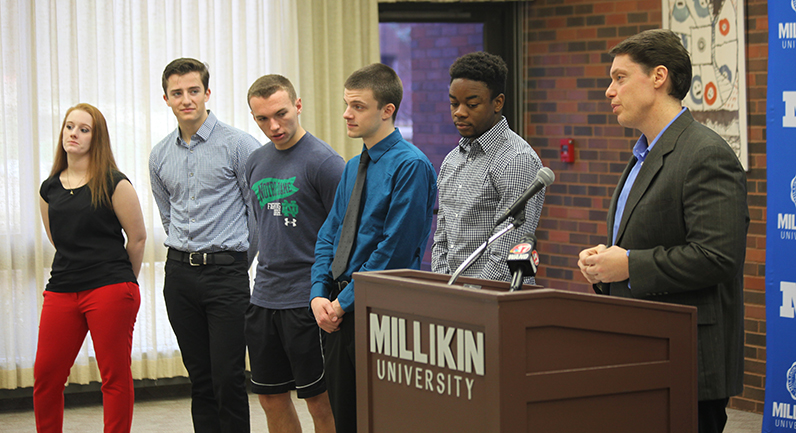 In collaboration with 300 Below, Inc., Dean Larrick will be working on corrosion resistance and tensile strength of carbon sequestration equipment. Takunda Jakachira will be studying wear resistance of 52100 steel wind turbine gearbox bearings. Andrea West will be examining electrical conductivity and efficiency of transformers, and Hunter Somers will be researching the efficiency and durability of monocrystalline silicon solar panels.
Whitley Sapp will be continuing his work from summer and fall 2016 as an ISE Summer Undergraduate Fellow with the Dunn Company for their Cold-in-Place Recycling Program.
For more information on Millikin University's Institute for Science Entrepreneurship, visit millikin.edu/InstituteForScienceEntrepreneurship.
View Coverage