MU Women's Triathlon team finishes in third place at NCAA Division III Championships
In the program's first season of competition, the Millikin University women's triathlon team finished in third place at the NCAA Division III Triathlon Championships held on Nov. 4 in Tempe, Ariz.
Millikin first-year students Hope Roderick, of Glen Carbon, Ill., finished in 10th place at 1:19:24.9; Morgan Powers, of Shelbyville, Ill., was 12th finishing at 1:20:17.0; Jaden Lockard of Centennial, Colo., finished in 16th place at 1:22:20.5 and Brigid Duesterhaus, of Decatur, Ill., was 26th at 1:28.33.0.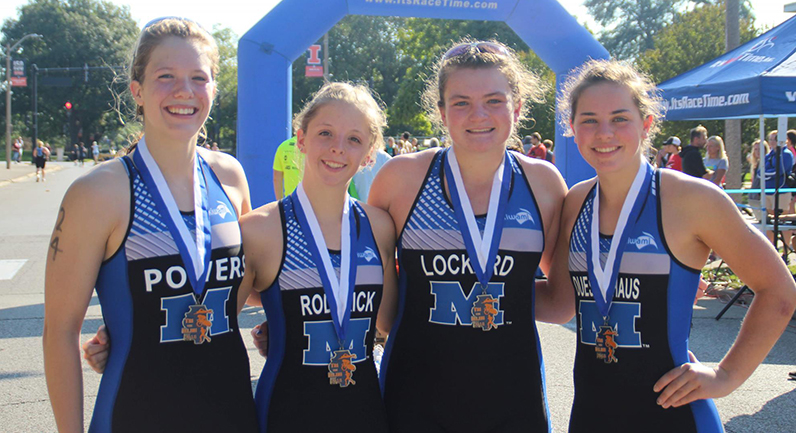 The NCAA DIII race was part of the USA Triathlon Women's Collegiate Triathlon National Championships that included a record field of 96 student-athletes from 18 varsity and four club teams. The National Championships course featured a 750-meter swim, draft-legal 20-kilometer bike and 5-kilometer run.
Awards were presented to the top three varsity teams in Division I, II and III, and the top three individual varsity athletes in Division I, II and III.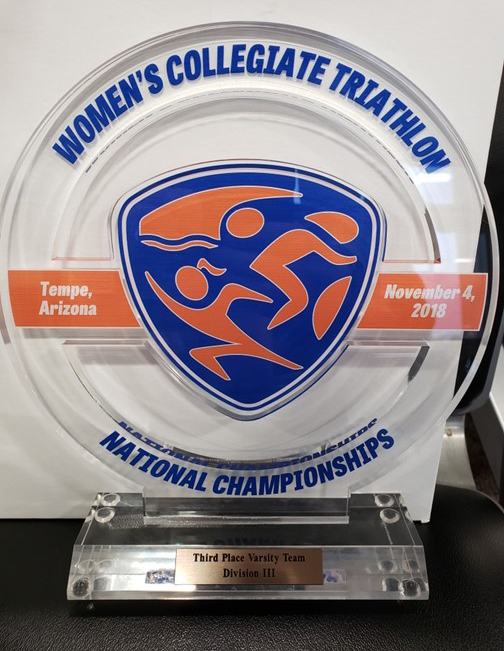 With the assistance of USA Triathlon, Millikin became the 18th school in the nation to add a varsity women's triathlon program in October 2017. The addition of the women's triathlon program was made possible through a $70,000 grant from the USA Triathlon Foundation.
The NCAA named triathlon an Emerging Sport for Women in 2014. The designation gives programs a 10-year window to demonstrate sustainability as a NCAA sport. The varsity season, which is composed of three regional qualifiers and the Women's Collegiate Triathlon National Championship, features sprint-distance races covering a 750-meter open water swim, draft-legal 20-kilometer bike and 5-kilometer run.
When Millikin began exploring the addition of another women's sport, triathlon seemed a natural fit for the University and the Decatur community. Decatur has successfully hosted triathlon events since 2007 with the start of the Rodney T. Miller Lakeside Triathlon. The event was named after Millikin 1988 alumnus and six-time NCAA Champion swimmer Rodney Miller, an Illinois State Police Officer who died in the line of duty in 2006. In 2017, the race was renamed the Lakeside Triathlon. Regardless of name, the Decatur triathlon encourages and supports triathletes of all ages and abilities.