Event to feature makers, crafters and artists from Millikin and local community
The Millikin University Center for Entrepreneurship and Women in Business student organization will host the first Millikin Makers Market on Saturday, Nov. 6, from 10 a.m. – 2 p.m. in the Oberhelman Center for Leadership Performance located on the 1st floor of the University Commons on Millikin's campus. The event is free and open to the public.
The event will feature makers, crafters and artists from the Millikin and Macon County (Ill.) community offering a wide range of goods and services. Items include clothing, personalized gifts, soaps, candles, tumblers, jewelry, artwork, greeting cards, baked goods and so much more. Some of the services include makeup, photography, and cello services for weddings and other special events.
"Originally, the idea was to give a platform to all of the makers on Millikin's campus to sell their goods and services. However, we received a lot of interest from local schools. So, we have opened vendor applications to local middle and high school students. This is a great opportunity for middle and high school students to get a taste of the entrepreneurial community at Millikin," said Bethany Gotts, program coordinator for Millikin's Center for Entrepreneurship.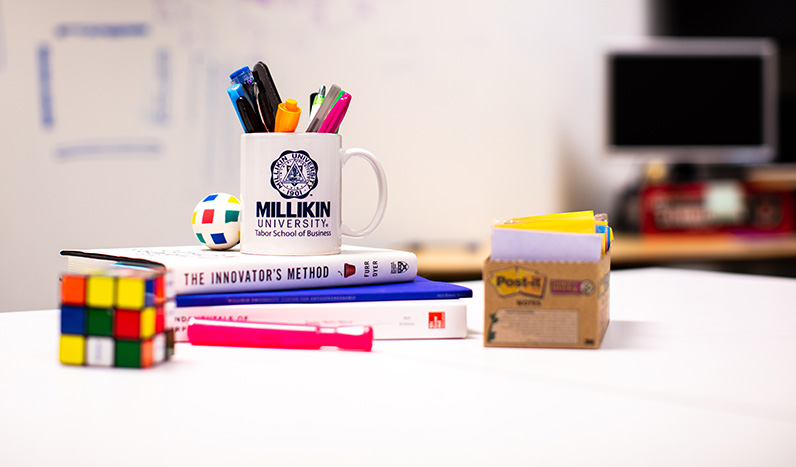 The Millikin Makers Market is scheduled to have 32 vendors. The idea for the event was developed by the Center for Entrepreneurship and Women in Business, a Tabor School of Business student organization, after noticing students on campus, of all disciplines, making and creating goods, and providing services.
"We wanted to bring them together and allow them the opportunity to promote their business/side hustle and network with other makers and creators," Gotts said.
Gotts says the Center for Entrepreneurship intends to hold the event annually if not once every semester.
"The entrepreneurial spirit at Millikin is contagious. We have designers and creatives from all majors and the Center is here to support them however possible. This event was designed for them," she said.
Payment methods for the Millikin Makers Market will vary by vendor, including cash, credit card and mobile apps. For more information about the event, contact Bethany Gotts at bgotts@millikin.edu or visit the Millikin Center for Entrepreneurship on Facebook to see weekly vendor spotlight features.
The Center for Entrepreneurship at Millikin University is a dedicated resource for entrepreneurs at every level. Through a variety of programs and development opportunities, the Center serves Millikin faculty and students, youth (ranging in age from elementary to high school level), community and local businesses.