Millikin graduates take the stage and embrace the future
More than 100 new Millikin University graduates took the Kirkland Fine Arts Center stage to receive undergraduate and graduate degrees during Winter Commencement on Sunday, Dec. 10. Graduates from Millikin's traditional undergraduate, Master of Science in Nursing and Doctor of Nursing Practice degree programs were honored during the ceremony.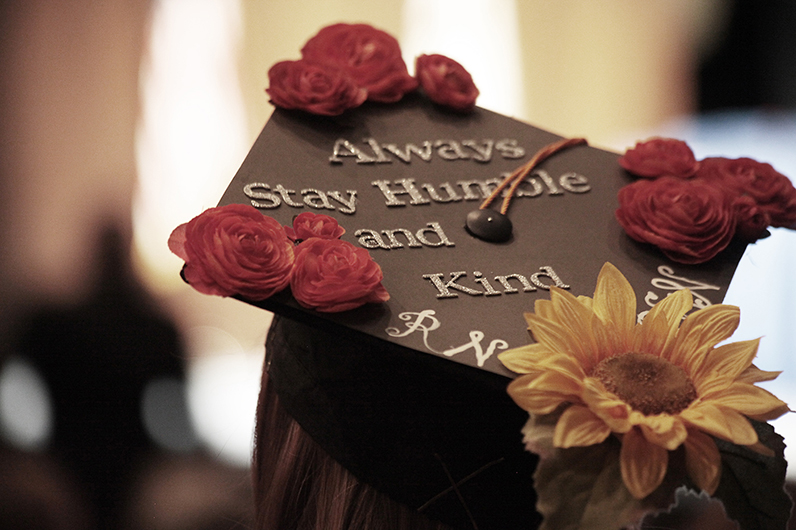 Among the guest speakers included Jesse Sargeant from Decatur, Ill., who earned a Bachelor of Science in Entrepreneurship. Sargeant's speech was titled "Fail Fast."
"When I was asked to give this speech, I wanted to give meaningful advice to my classmates," Sargeant said. "It wasn't an easy road, but what I've learned through the process is to embrace failure and learn from it, and with help from my Millikin professors, I can now say that I have succeeded. As you move forward in life there will be struggles and failures, don't let these minor setbacks destroy your ambition."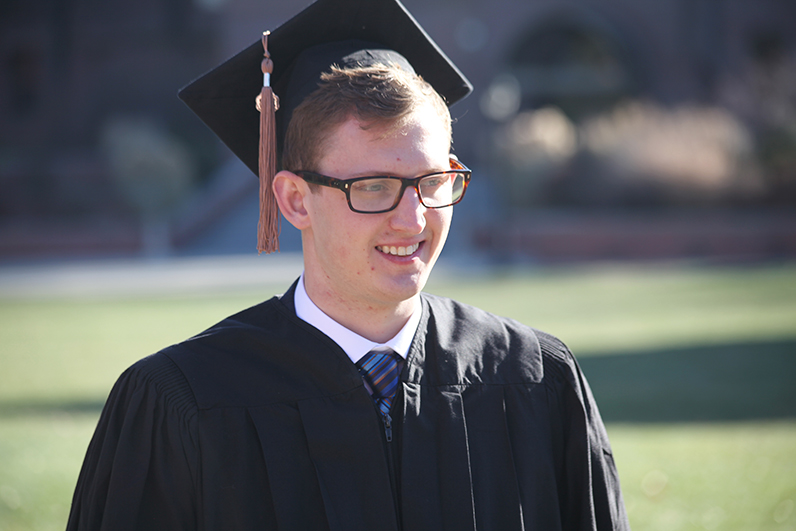 Kristen Eckhart of Riverton, Ill., who graduated with a Doctor of Nursing Practice degree, followed Sargeant with her speech titled "It was the Best of Times, It was the Worst of Times." Eckhart will begin work at Memorial Medical Center in Springfield, Ill.
"To get through a program as rigorous as this requires grit, perseverance and commitment to ourselves, commitment to the nursing profession, and most importantly, commitment to our future patients," Eckhart said.
For each of you graduates, this time marks a new beginning and when you leave here, you begin to take the next steps in achieving your life's goal.
Millikin's Doctor of Nursing Practice is a practice-focused doctorate designed to prepare advanced practice nurses to lead practice changes based on evidence to improve patient outcomes in complex healthcare systems.
The program has two tracks; Track 1 is for individuals who are BSN or MSN prepared nurses and want to become nurse anesthetists. Track 2 is for advanced practice nurses who want to complete the practice doctorate as their highest earned academic degree.
Millikin alumna Sheri A. Eichelberger '83 delivered the commencement address entitled "What Kind of Wake will you Leave?" Eichelberger graduated from Millikin University in 1983 with a bachelor's degree in marketing. She leads AT&T's Enterprise Solutions organization and serves as chair of the Dean's Business Council through Millikin's Tabor School of Business.
"So as you leave here today and begin your personal and professional journeys and life in general, I would ask that you ask this: what kind of wake will you leave?" Eichelberger said.
Millikin President Dr. Patrick White congratulated the newest graduates for selecting Millikin and embracing its unique Performance Learning education.
"We praise you for your dedication, persistence, and the passion to achieve your goal," President White said. "This is a great day for all of you, for Millikin University, and for all who will benefit from your lives for years to come. Let us not forget that the word commencement means beginning. For each of you graduates, this time marks a new beginning and when you leave here, you begin to take the next steps in achieving your life's goal."
View Coverage