School of Music Finalists compete for prestigious prize
Following a one-year hiatus due to the COVID-19 pandemic, the Millikin University School of Music's annual Hollis Prize competition will return in a virtual format with two livestream broadcasts.
The competition will be held on Saturday, April 10, at 7:30 p.m. and the Winner's Recital will be held on Sunday, April 18, at 2 p.m. Both events will be livestreamed on the Millikin University School of Music YouTube page.
The Hollis Prize, the highest award that may be received by a student instrumentalist or vocalist within the Millikin School of Music, was first awarded during spring 2003. This year's finalists are Max DiPasquale (saxophone), a junior music education-instrumental major from Belleville, Ill.; Bradley Perry (trombone), a senior vocal performance major from Peoria, Ill.; and Austin Shaw (piano), a senior piano performance major from Washington, Ill.
Millikin University is one of only a few schools in the country to offer such a prestigious prize through a music competition. Students must audition for Millikin music faculty for this opportunity, and after a rigorous selection process, three finalists are chosen to perform in a live final competition recital adjudicated by credentialed professionals outside the university. Previous winners have gone on to excel in graduate school and/or their chosen professional careers.
The Hollis Prize winner receives a monetary award of $2,000 in addition to the opportunity to perform a ceremonial showcase recital culminating the event. Each runner-up receives a $500 monetary award.
The annual competition is made possible by Dr. C. Kimm Hollis, a 1972 Millikin graduate who is retired department chair and professor emeritus of music at Hanover College in Hanover, Ind.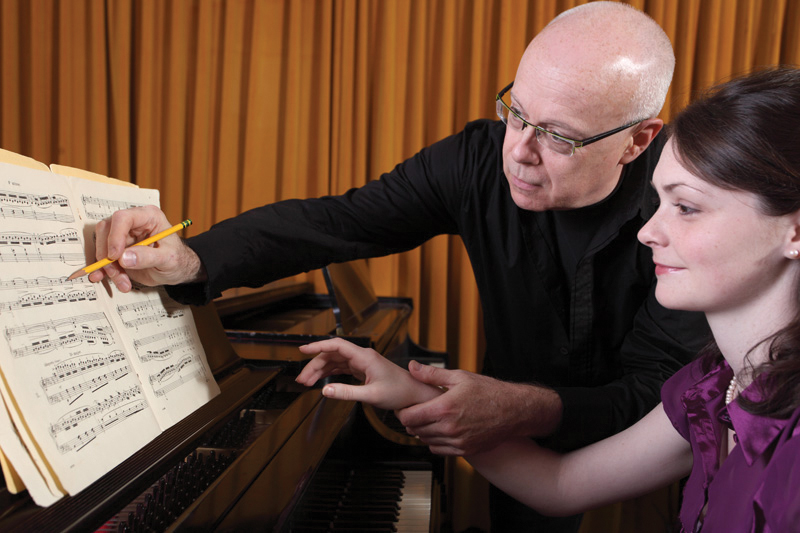 Dr. C. Kimm Hollis '72
The Finalists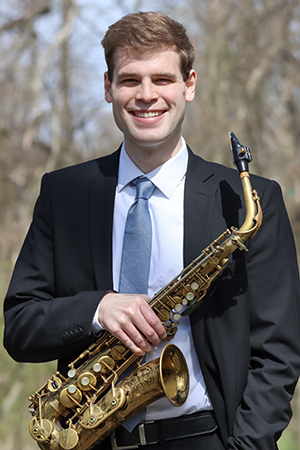 Max DiPasquale
Max DiPasquale is a junior music education major studying the saxophone with Dr. Perry Rask, professor of saxophone and coordinator of woodwinds at Millikin. DiPasquale is the son of two Millikin alumni and is from Belleville, Ill. He is actively involved with many instrumental ensembles at Millikin, including lead positions in Saxophone Quartet I, Jazz Band I, the Latin Jazz Ensemble and he is the saxophone section leader of the Millikin Symphonic Wind Ensemble. He was recognized as an Outstanding Sophomore in 2020 by Phi Kappa Lambda and has also earned an Outstanding Soloist award at the Elmhurst Jazz Festival. He is also in the honors program at Millikin and through his studies has maintained an overall GPA of 3.9. He is a member of the Phi Kappa Phi honors society and was recently nominated for the Scovill Award. As a member of the Golden Apple Program, he plans to teach at a school of need after his graduation, but also intends to pursue graduate school.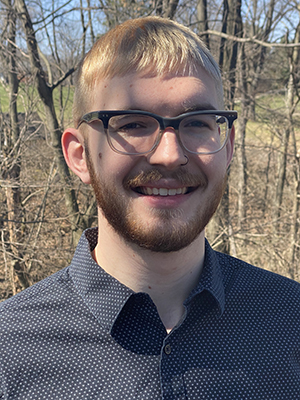 Bradley Perry
Bradley Perry is a senior studying trombone performance under the guidance of Dr. Gary Shaw, professor of music emeritus. He is an active composer and arranger, having just recorded his first piece for winds with the Millikin Symphonic Wind Ensemble. He has won the UMSL Student Composition Contest in the choral division for his piece, "Sweet Dreams, my Angel." Perry is also an active performer on the jazz and funk side of music. He plays in the Peoria-based band, Funk Sauce Brass Band, and sits in with various community big bands throughout central Illinois. Perry's goal is to eventually become a film score composer.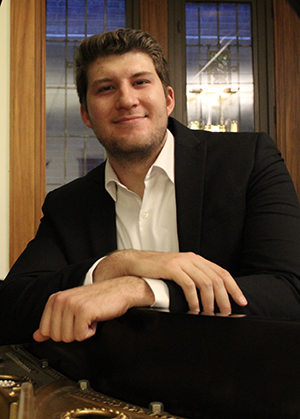 Austin Shaw
Austin Shaw is a senior piano performance major studying under the guidance of Dr. Silvan Negruțiu, associate professor of piano and chair of keyboard & instrumental studies. Shaw is a versatile musician with diverse interests, including arranging, composition and music production. A native of Washington, Ill., Shaw received his associate degree from Illinois Central College before transferring to Millikin University. He enjoys rich artistic activities on campus, preparing solo and collaborative projects with singers, instrumentalists and theatre productions. In 2020, Shaw was recognized by Millikin University with the Alice Herren Ayars Award for Outstanding Piano Student. His recent accolades also include winning the Second Prize in the 2020 ISMTA Collegiate Piano Competition and his solo debut with the Millikin-Decatur Symphony Orchestra (MDSO), as a winner of the 2019 MDSO Concerto Competition. Shaw aspires to become a Broadway music director in New York City.
The mission of the Millikin School of Music is to develop the whole musician – artistically, intellectually, technically – through the integration of theory and practice in an environment where students become active learners through their relationships with faculty, who themselves continue to grow as artists, scholars and teachers.
Millikin's nationally recognized School of Music brings relevant, performance-based opportunities to all facets of undergraduate music education. With five distinctive music degree programs and additional certificate options, students find their path to professional success through a blending of creative, performative, scholarly and entrepreneurial experiences designed to train the next generation of music professionals.
For more information about the Hollis Prize competition, visit millikin.edu/mevents/hollis-prize.