Class of 2018 told to be confident in abilities and embrace challenges
More than 300 new Millikin University graduates were honored during Millikin's 114th Commencement Ceremony held May 20 at the Decatur Civic Center. Millikin's Class of 2018 received more than just diplomas during the ceremony; the new graduates received advice from speakers on embracing challenges and being confident in your abilities.
"This is a great day for Millikin University. Graduates, the entire Millikin family shares your happiness knowing that you have successfully achieved one of the most important goals of a lifetime," said Millikin President Dr. Patrick White. "Today you have earned a degree in higher education, and not just any degree, you have earned a degree from Millikin University, a degree known far and wide as a mark of excellence."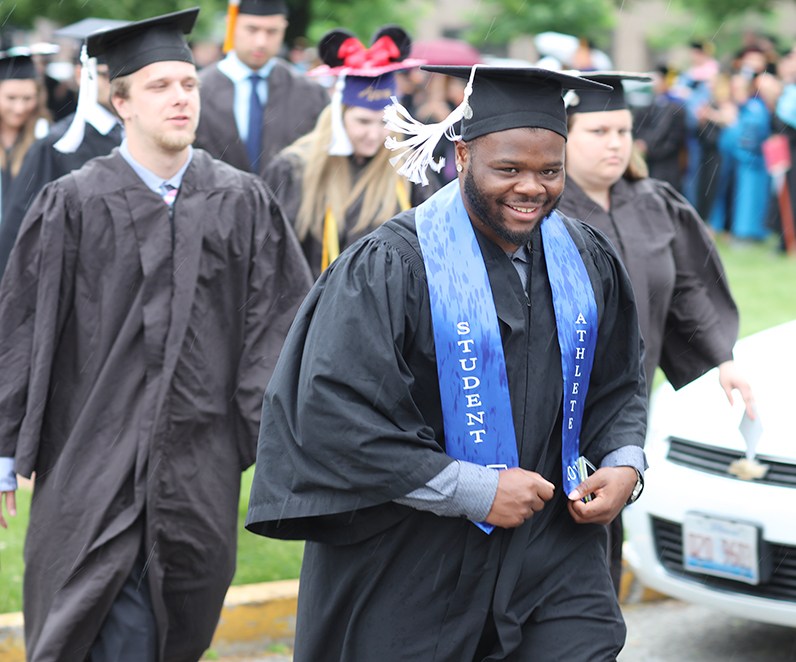 While addressing the audience, President White applauded the new graduates for their persistence and passion throughout their academic journeys.
"Today you have worked hard to live up to your University's best imagination," said Dr. White. "For each of you graduates, this time marks a new beginning, and when you leave here today, you begin to take the next step in achieving your life's goals and dreams. On behalf of Millikin University and all Millikin alumni all over the world, I want to honor and thank you for all that you have achieved and all that you will accomplish."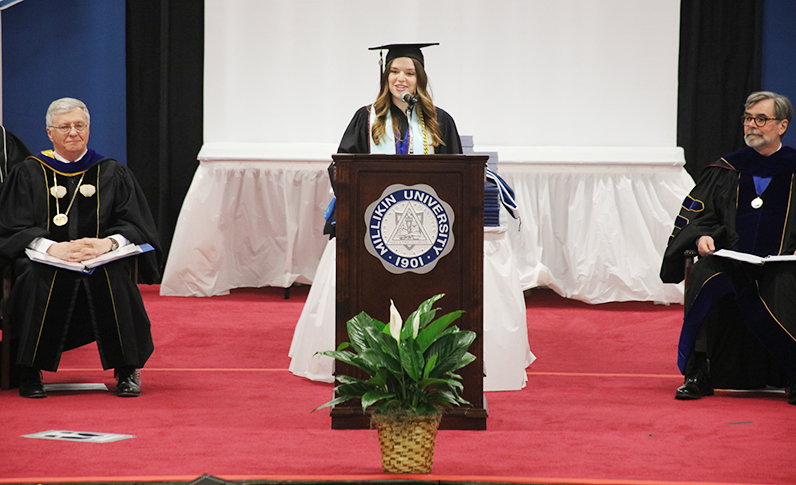 The ceremony also included remarks by student speaker Katie Meyer of Oswego, Ill., who graduated with honors earning a Bachelor of Fine Arts. Meyer was a double major in communication and dance. Meyer's speech was entitled "Press Play."
"During our time, we've used Performance Learning as a tool to prepare us for the future," said Meyer. "You see Performance Learning at every college within Millikin and every major, because it works. Millikin's mission isn't teaching you about a job, instead they encourage you to live it."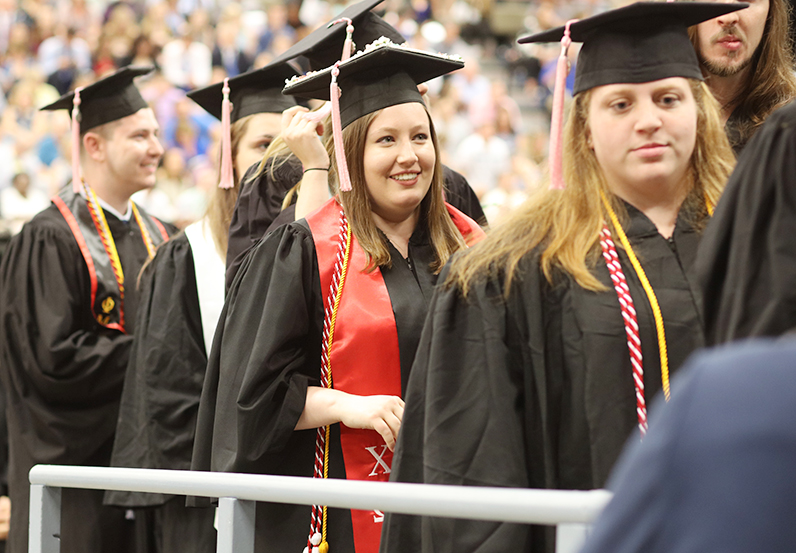 Meyer will begin a position at Limelight Theatre Company as a director and instructor, and hopes to continue her career and work as an actor in the Chicago market.
"Millikin produces connections unparalleled to any school – a close-knit community where the professors are like friends and friends are like family," said Meyer. "This is only the beginning; we now have tools to create a future that we want to live in. We must be confident in our abilities and be ready to face challenges ahead. We are the generation that can make change."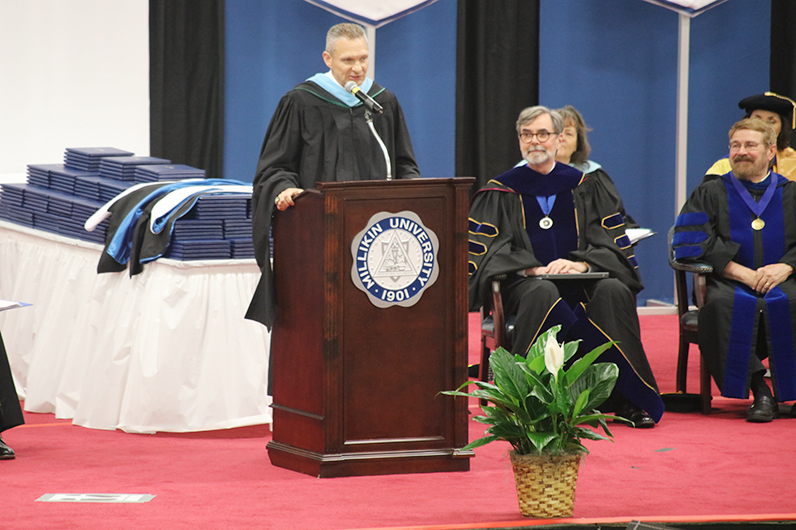 The commencement address was delivered by Millikin alumnus and current Army Head Football Coach Jeff Monken '89. A native of Joliet, Ill., Monken graduated with a bachelor's degree in physical education from Millikin in 1989. He is set to begin his fifth season at Army in 2018. Monken's speech was entitled "Back in Blue."
"Whatever you dream, just chase it," said Monken. "The Millikin University community is proud of its academics, athletics and public service, and the accomplishments of our alumni are noteworthy and remarkable. Millikin is a special place, and many people encouraged me to pursue my passion, and I'm certain Millikin has done the same for you."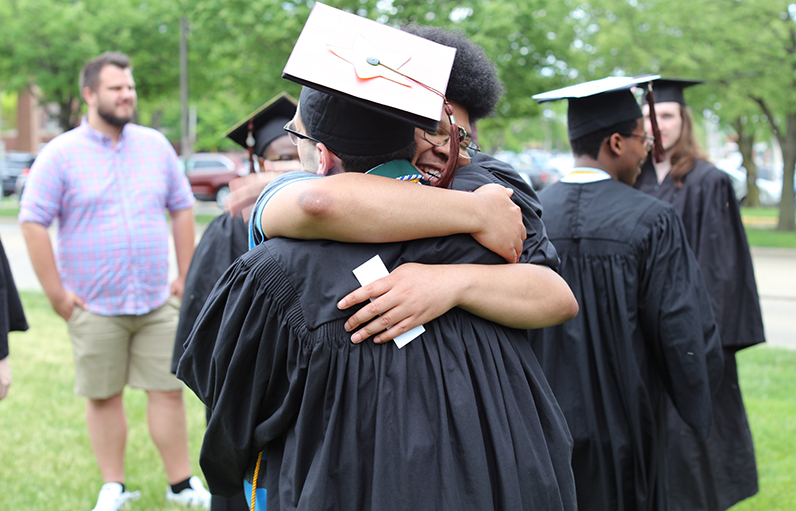 In 2017, Monken led Army to its first 10-win season since 1996, including a win over Navy and a bowl win over San Diego State in the Armed Forces Bowl. Jeff Monken was named Army's 37th individual head football coach on Dec. 24, 2013. Monken was inducted into the Millikin University Athletic Hall of Fame in 2013.
Lori Kerans, director of alumni engagement at Millikin, said having Monken back was just another example of Millikin staying in touch with their Alumni. "I think the most important thing is for them to always feel like this is home," said Kerans. "Staying engaged with them and always keeping them apprised and abreast of everything that's happening in Decatur and on our Millikin campus."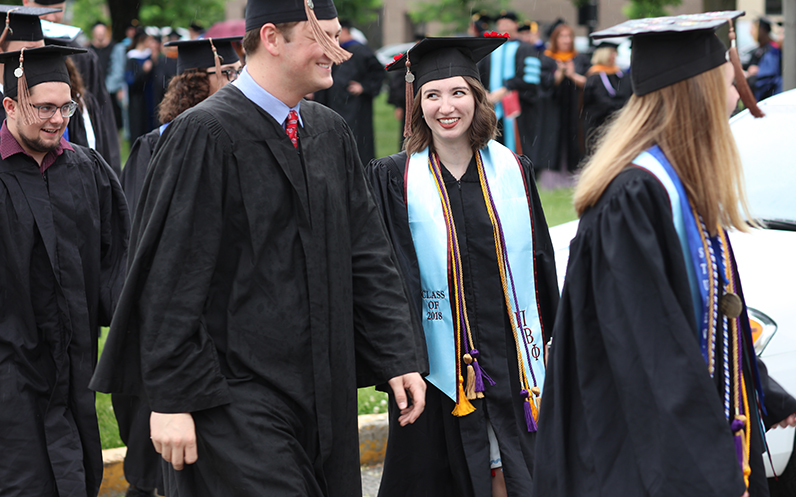 Millikin University also hosted a ceremony for graduates of its Master of Business Administration (MBA) Degree Program on May 19 at Albert Taylor Theatre. The MBA commencement address was delivered by Erik Brechnitz, who served on the Millikin Board of Trustees from 1996 to 2008 and now serves as Trustee Emeritus. Brechnitz is senior vice president of the Brechnitz Group of Raymond James & Associates, Inc. The ceremony also included a speech by MBA student speaker Scott Fawley who is currently a maintenance supervisor at Mueller Company.