Millikin graduates to be honored at Winter Commencement
Millikin University will recognize over 170 graduates during its 2016 Winter Commencement ceremony on Sunday, Dec. 11, at 2 p.m. in Kirkland Fine Arts Center. Graduates from Millikin's traditional undergraduate, Master of Science in Nursing, Master of Business Administration and Doctor of Nursing Practice programs will be honored during the ceremony.
Dr. Rhonda M. Gee will deliver the commencement address entitled "While You Were Sleeping: Insights from your Nurse Anesthetist." The ceremony will include remarks from student speakers Dana K. Sayles and Stephanie A. Sullivan.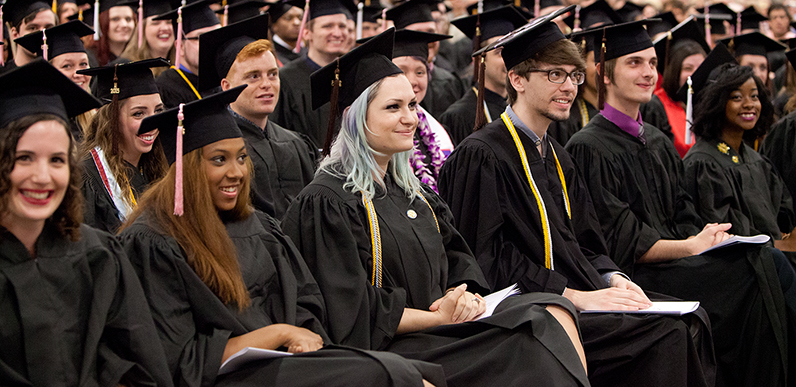 Dana Sayles is from Decatur, Ill., and is graduating with a Bachelor's Degree in Organizational Leadership. Sayles has been a business manager with Archer Daniels Midland (ADM) Company for 27 years.
Stephanie Sullivan is from Peoria, Ill., and is graduating with a Doctor in Nursing Practice degree, with a focus in Nurse Anesthesia. Sullivan will be working at Unity Point Methodist Hospital in Peoria following graduation.
A life-long resident of Pana, Ill., Dr. Rhonda Gee has been a practicing nurse for 40 years. Dr. Gee currently serves as the Decatur Memorial Hospital/Millikin University joint certified registered nurse anesthetist program director, and holds an appointment within the Millikin University School of Nursing as a full-affiliate faculty member. The Doctor of Nursing Practice Degree (DNP) is the first doctorate degree to be offered by Millikin University.
For more information on Millikin's 2016 Winter Commencement ceremony, please visit millikin.edu/commencement.