Ganley '17 one of 10 recruits sworn in as new Decatur Police Officers
Recent Millikin University graduate Philip Ganley '17 was among 10 recruits who were sworn in as new Decatur Police Officers in the city council chambers at the Decatur Civic Center on Jan. 4.
Ganley earned a Bachelor of Science in Sociology and a minor in Criminal Justice from Millikin University in 2017. As an undergrad, the Decatur, Ill., native completed an internship with the Decatur Police Department.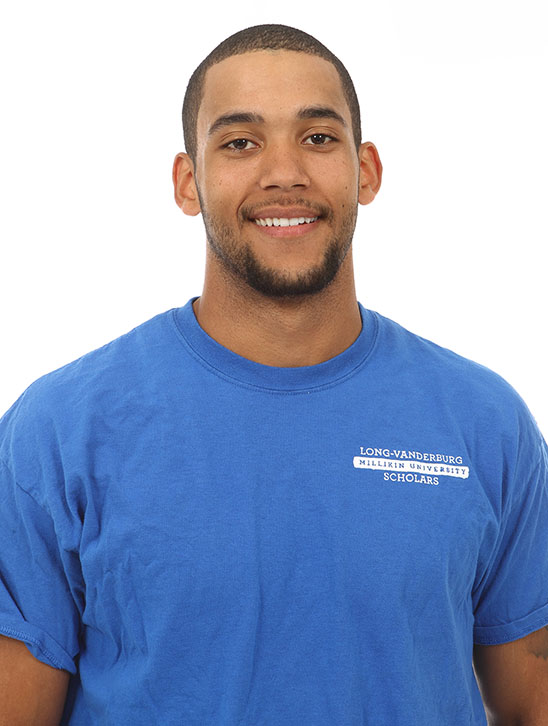 "Later you really learn what the work is like to be a police officer, and I was lucky enough to get an internship with the Decatur Police Department while in college," Ganley said in a recent interview with the Herald & Review. "I just feel lucky enough to be able to help people out."
The new officers will undergo 14 weeks of intensive training at the new Macon County Law Enforcement Training Center in Decatur. They will then be assigned to the department's field training program for another five months of on-the-job training.
While at Millikin, Ganley was honored as Millikin's recipient of the Lincoln Academy of Illinois' Student Laureate Award for 2016. The award is presented for excellence in curricular and extracurricular activities to seniors from each of the state's four-year, degree-granting colleges and universities, and one student from the community colleges in Illinois.
Ganley was a Long-Vanderburg Scholar, a member of the Millikin Baseball team and a three-year Academic All-Conference selection. He was president of the Sociology Club and a Long-Vanderburg Scholars Program mentor.
Kenneth Laundra, associate professor of sociology at Millikin said the following about Ganley, "Philip is always willing to engage in his own learning, with a penchant for taking the lead, either in class or with his many extracurricular activities, with an eye toward his ultimate goal, a career in federal law enforcement, where he will bring the academic insights, internship experiences and critical thinking skills he's developed."
Ganley was the recipient of the Scovill Prize at Millikin's Honors Convocation in April 2016. The Scovill Prize is the most coveted student award for overall excellence at Millikin University. Scovill Prizes are awarded on the basis of academic achievement, demonstrated leadership and service, and scholarship.
In a previous interview, when asked about looking back on his time at Millikin, Ganley said, "I think of family because I'm from Decatur, my Dad went to Millikin, and I think of the tight-knit community that students have with academics, sports and student organizations."
View Coverage