Millikin graduate to share "A Journey in Determination"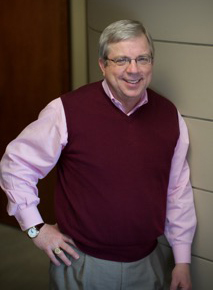 The Millikin University Institute for Science Entrepreneurship, a signature program of Millikin's Center for Entrepreneurship, will continue its Fall 2016 Speaker Series on Tuesday, Oct. 11, featuring keynote speaker and Millikin alumnus Norman Oberto '74, Chairman and Owner of Imperial Plastics Inc.
The presentation will be held at 7:30 p.m. in the East Room of Lower Richards Treat University Center on Millikin's campus. The presentation is free and open to the public, and no tickets or reservations are required.
With over 800 employees, Imperial Plastics Inc. is the largest plastic injection molder in Minnesota and one of the largest in the country. The company specializes in a variety of small to large plastic components and offers press sizes as small as 40 ton and as large as 3,300 ton. Prior to purchasing Imperial, Norman Oberto was the vice president of sales and marketing of Wagner Castings Company, a ductile iron foundry and automotive supplier that during his tenure grew to $150 million in annual sales and employed 1,200 people.
Oberto's presentation is entitled "The Imperial Plastics Story: A Journey in Determination."
Before joining Wagner, Oberto spent seven years as regional sales manager for American Saw & Manufacturing Company, a privately owned company that developed the Lenox Bi-Metal band saw blade. He started his career as an industrial engineer for Firestone Tire and Rubber Company from 1974-1979.
As an entrepreneur, Oberto sees opportunities to create win-win strategies in acquiring small companies and merging them into large entities that can provide improved capabilities and services in plastics, having purchased five companies during his time with Imperial. Oberto was recognized as Business Person of the Year by the Lakeville, Minn., Chamber of Commerce in 2011.
Oberto earned a Bachelor of Science in Industrial Engineering from Millikin University in 1974, and received the Major Thomas G. Storey Citizenship Award for being an Outstanding Engineering Graduate.
The speaker series focuses on science entrepreneurship and how an increased emphasis on entrepreneurship can spark job creation and societal well-being. This fall's series includes the CEO of a health center, an individual who started an international environmental movement, the owner of a plastics injection molders company, the CEO of a custom plate fabrication facility and an economist for a Fortune 500 company. Busey is the Title Sponsor of this year's speaker series.
The Institute for Science Entrepreneurship was originally funded by a Millikin University Performance Learning Enhancement Grant in December 2012. Since that time, the institute has been pledged or received funding and support from 300 Below Inc., Andreas Foundation through the Community Foundation of Macon County, Archer Daniels Midland Company, Brechnitz Group of Raymond James, Busey, Caterpillar Decatur, Coleman Foundation, Decatur Memorial Hospital, John Ullrich Foundation, Millikin University, National Foodworks Services, Parke Warehouses, St. Mary's Hospital, Tate & Lyle, Wild Bird Feeding Industry, Zevacor Molecular, a private foundation and anonymous donors.
In addition to the speaker series, the Institute teaches courses in science entrepreneurship, oversees a Clinical Nuclear Science Program, and students and faculty conduct applied research with science companies.
For more information on the speaker series or the Millikin University Institute for Science Entrepreneurship, contact Dr. David Horn at 217.424.6392, by e-mail at dhorn@millikin.edu or visit millikin.edu/InstituteForScienceEntrepreneurship.
The following is a list of upcoming speakers for the fall 2016 semester.
Fall 2016 Science Entrepreneurship Speaker Series brought to you by Busey
Tuesday, Nov. 15, 7:30 p.m., Lower Richards Treat University Center
Speaker: Parry Dixon, Chief Economist, Archer Daniels Midland Company
Thursday, Dec. 8, 7:30 p.m., Lower Richards Treat University Center
Speaker: Jim Grady, President and CEO, Kopetz Manufacturing