Millikin alum's book captures four-month travels, experiences and important lessons
During his senior year of high school in St. Joseph, Mo., Alex Bergland sustained a severe concussion and spinal injury from a diving accident. Effects from those injuries were serious enough to prevent him from attending classes for a month and caused his decline from a high-achieving student to barely reaching graduation.
After graduating from high school and finding long-awaited relief from his injury through a chiropractor following several months with no helpful answers from doctors, Bergland faced a crossroads. Instead of coming directly to Millikin University as a James Millikin Honors Scholar, Bergland decided to take much-needed time to breathe.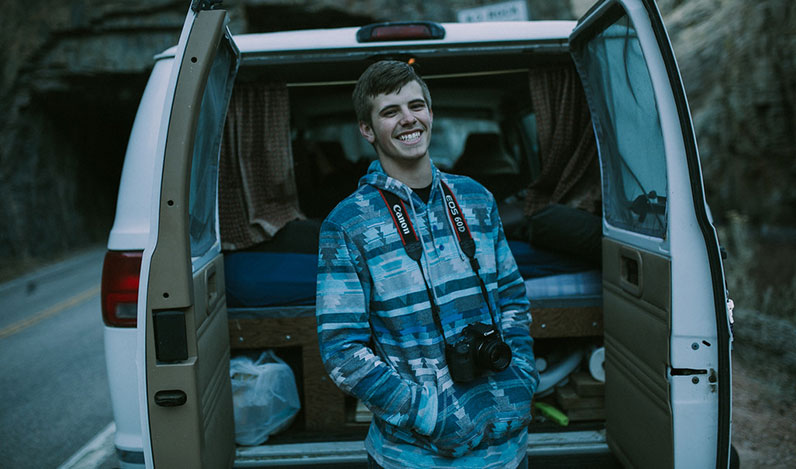 Alex Bergland, Class of 2021
In what he describes as "a plan to not plan," Bergland used the time to take an extended trip around the country in a van. Over the course of his four-month solo travels, Bergland covered 13,000 miles, visited 11 U.S. states and two Canadian provinces, slept in parking lots and next to lakes, ate a lot of canned soup and learned important lessons about himself and life.
Now a graduate of Millikin's Class of 2021 with a degree in creative market applications, Bergland has shaped his experiences into a memoir, "Canned Soup in a Wal-Mart Parking Lot," which he published independently in June 2021.
The book contains an honest and detailed account of Bergland's travels, along with highlights of photographs he took along the way.
"I met a lot of people, did a lot of wild things, almost died and lived every day to the fullest," he said about his trip. While on the road, Bergland recorded his experiences through blog entries and photography, which provided him a strong foundation to craft his memoir.
"Canned Soup in a Wal-Mart Parking Lot'' began as Bergland's capstone project during his senior year at Millikin but transformed into a tool to aid his memory and served as an exercise in healing.
"Since my injury, one of the things I've struggled with is memory. I wanted to push myself to try and remember a lot of the details surrounding the road trip and to have a finished work I could look back on if I forgot something," Bergland said.
While writing the book as his capstone project came with its own set of frustrations, such as academic deadlines and adjusting to his evolving writing style, Bergland says the experience was rewarding as well. "It was therapy," he explained. "The best and worst times of my life so far happened on that trip. Sitting down and processing all of those memories and considering how those experiences influenced my life was incredibly challenging and at several points, I wanted to quit," Bergland recalled.
Throughout his story, Bergland holds nothing back from his readers, describing both his struggles and triumphs in raw and intimate detail. Translating those intensely personal memories into a book that would be read by his advisor, parents and a host of other people in his life proved difficult at times for him.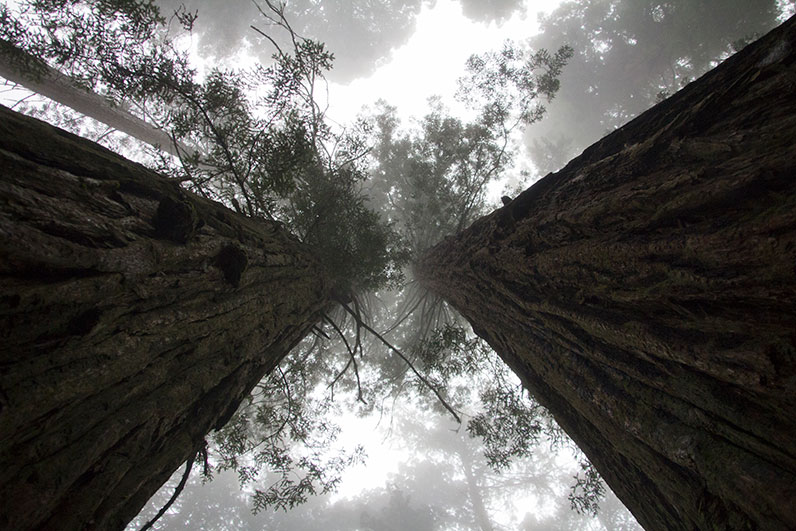 "Bringing everything to light was the most challenging part. It was hard to force myself to sit down and go through things I didn't want to deal with," he said.
Despite these obstacles, Bergland recounts that finishing the book was worth the moments of hardship. "In the end, it was so therapeutic to get everything in the light and my mental health got so much better after publishing," he said.
Though Dr. Carmella Braniger, professor of English, served as the advisor for his project at Millikin, Bergland entrusted the important task of editing the book to his mother, Tammy Bergland, Class of 1990.
"My mom is really good at changing out of her mom hat into someone more professional, which is why I was okay with her having a big hand in something like this," Bergland said while adding that some sections of the book caused his mom to worry. "At several points, I think it was hard for her to not have her mom hat on, and she left some comments that made that clear."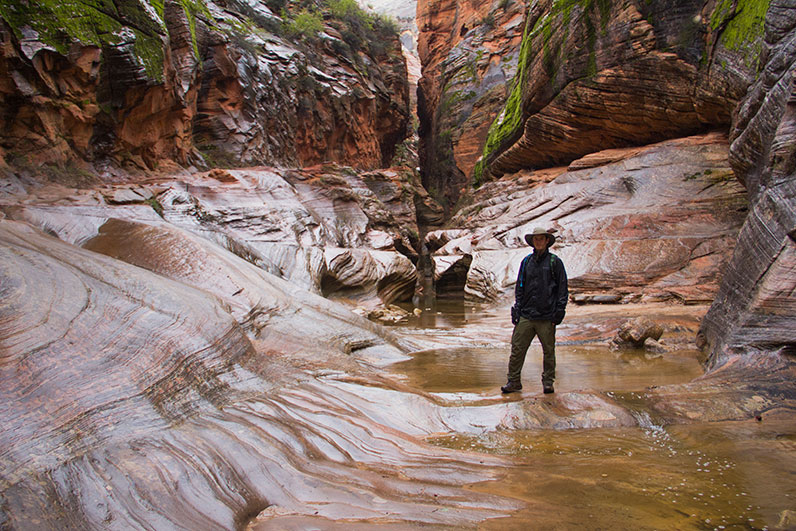 With his memoir and time at Millikin behind him, Bergland's future looks bright and busy. He has worked as a Via Ferrata guide at Arkansas Valley Adventure, an aerial guide at Colorado Adventure Center and is in the process of writing two more books. Additionally, he has taken up spoon carving and tool restoration.
Bergland's story, which begins when he suffered his injury and ends just weeks before he was set to attend Millikin in 2017, is one of travels, struggles and victories. Bergland's moments of self-reflection convey strikingly his fears, vulnerabilities and most importantly, his resilience.
The memoir concludes on a hopeful and nostalgic note: "I might turn around and see all the people I met along the way, crammed into the van with beaming smiles on their faces, ready for the next adventure."