Paige Ehrat '17 begins career working for State Legislature
Paige Ehrat, a Millikin University 2017 graduate, has been hired as State Senator Chapin Rose's (R-Mahomet) Legislative Assistant in Springfield, Ill., and District Aide in Decatur, Ill. Ehrat, who lives in Decatur, works in Rose's capitol office during session days and out of his Decatur office on non-session days.
"Working for the state legislature is a dream first job," Ehrat said. "Being involved in the legislative process, filing legislation, constituent outreach, and helping with local issues, I have a rewarding job experience every day."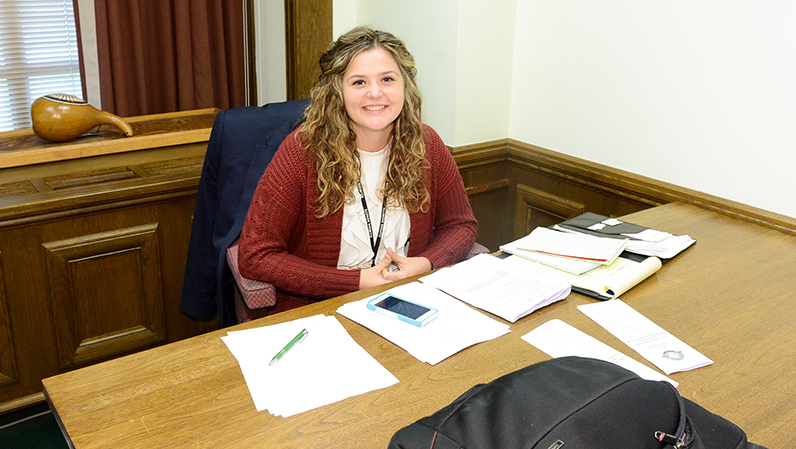 Ehrat previously interned for Rose from 2015-2017. As part of her responsibilities, Ehrat would review e-mails from constituents expressing their opinions or concerns about a particular bill that was being voted on. As an undergraduate, she had the opportunity to be Senator Rose's Page for the day at the State Capitol Complex in Springfield. Senator Pages are able to participate in lawmaking and the legislative process first-hand on Capitol Hill.
"I am also incredibly lucky to work for Sen. Rose, someone who is not only enjoyable to work with, but someone who takes his job and his constituents seriously," Ehrat said. "In a day where so often we hear our lawmakers are 'not working for us,' Sen. Rose is a breath of fresh air, always wanting to help the people he represents. To be part of his office and mission to help the people of the 51st Senate District and advance measures that help the 10 counties he represents in Springfield, has been an incredible experience."
Originally from Shobonier, Ill., Ehrat is part of a fifth generation family run dairy farm. She graduated from Millikin in 2017 with a degree in communications with an emphasis in public relations and minors in political science and digital media marketing.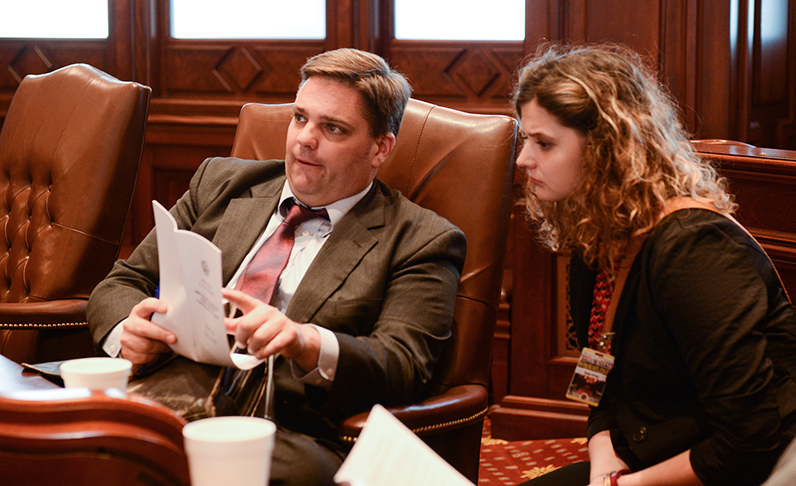 Ehrat added, "I am looking forward to learning more from Sen. Rose and the ins and outs of state government. Whether it's helping a constituent in Macon County or getting to walk into the most beautiful building in Illinois in the Statehouse, every day I work for Sen. Rose and the constituents he serves is a great day."
Senator Rose received a bachelor's degree in political science with an emphasis in economics from the University of Illinois in Urbana-Champaign. After graduation, Rose attended the University of Illinois College of Law. Before being elected to the legislature, Rose served as a senior assistant state's attorney in Champaign County where he prosecuted felony crimes.
Prior to becoming a member of the Illinois Senate in 2013, Rose served in the Illinois House of Representatives from 2003 until 2013.