Millikin graduate fulfills promise by earning degree
Jan Coventry's journey to earning her bachelor's degree from Millikin University has been 40 years in the making. She attempted a few semesters of post-secondary education at Millikin in 1976 but stopped after starting a full-time job; she promised herself that someday she would finish and earn a degree.
Flash forward 40 years later to Millikin's Winter Commencement ceremony on Dec. 11, 2016. Coventry earned two victories that day. She walked the Kirkland Fine Arts Center stage to receive her Bachelor of Science in Organizational Leadership, and more importantly, she kept her promise.
"This promise has become a reality," Coventry said. "A long time ago, I proclaimed to my husband and our children that I would return to school and finish my degree only after the kids successfully earned their degrees. Education is an essential component for our family."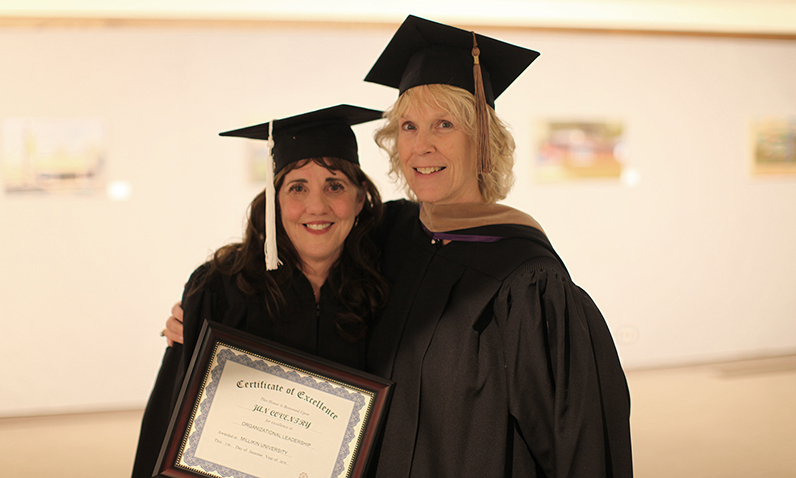 Coventry, from Forsyth, Ill., returned to Millikin in January 2014 and enrolled in the Organizational Leadership (OL) Program. She met classmates who were taking the same steps to reach their goals. Those same classmates recently nominated Coventry for Millikin's Outstanding Organizational Leadership Student Award, which Coventry accepted at Winter Commencement on Dec. 11.
"I am deeply moved by this award and humbled beyond words to have been selected by my classmates to receive this honor," Coventry said. "Without a doubt, it is certainly an award for all of us to share. We began this program as individuals and emerged as a cohesive team, encouraging, and helping each other succeed while developing a comradery of friends to last a lifetime."
This year's cohort of OL students used their capstone project to make a positive impact in the local community by working with Habitat for Humanity in Decatur, Ill. The students pitched a project proposal to help market Habitat for Humanity's ReStore, a new and revitalized project under the direction of Ed Smith, Decatur-area Habitat for Humanity executive director.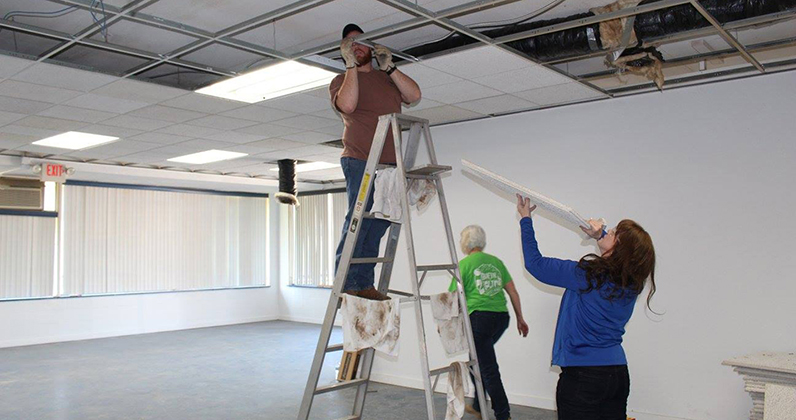 The Habitat ReStore sells materials that are donated from individuals, contractors, building supply stores and local businesses. The proceeds from the ReStore help fund the construction of Habitat homes within the local community.
To help build awareness of the ReStore, the Millikin students engaged the community by organizing fundraisers and appearing at local events. The students worked under the guidance of Professor Elizabeth Lahey, chair of the Department of Sociology and Organizational Leadership at Millikin.
"Being a part of something bigger than myself is fulfilling," Coventry said. "The OL Program allowed our cohort to make that connection beyond our personal, spiritual and financial needs. There exists a fulfilling humanity aspect when philanthropic efforts are solidified together to make a difference, as we did for the Decatur-area Habitat for Humanity."
Coventry's fellow classmates not only saw her as a great student, but a great leader that made an impact throughout the Habitat for Humanity project.
"From our first class in the cohort to the final class, I feel that she has grown the most out of all of us," an OL classmate said. "Jan stepped up and took initiative for our capstone project and led it from beginning to finish always with enthusiasm. She was the reason that project was as successful as it was; she's a great example of a leader."
Organizational Leadership
Millikin's Bachelor of Science in Organizational Leadership is a liberal arts degree with broad application due to its coursework in communication, leadership, ethics, fundamental business practices and team dynamics. Students who study Organizational Leadership earn a life-enhancing degree while learning to become stronger professionals and more effective organizational members. For more information, visit millikin.edu/orgleadership.