Caitlyn Garrity '19 talks research study on women+ in theatre industry
When it comes to the theatre industry, the fields of design, production and technical theatre are the most male-dominated disciplines, with exception to costuming. Why is this? As an undergraduate at Millikin University, Caitlyn Garrity '19 conducted a two-year research study to find the answers.
As part of her research, Garrity employed a 13-question survey for industry female designers and production personnel which included questions on theatrical discipline, employment status, experiences of discrimination and demographics. Based on their responses to the survey, Garrity found two key obstacles faced by these groups: gender discrimination and lack of support for working parents.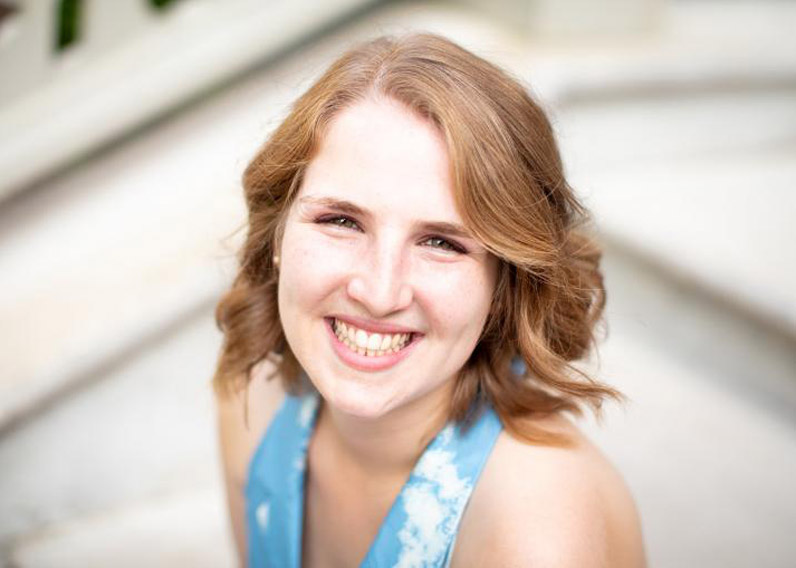 Garrity published her findings in the summer 2019 issue of Theatre Design & Technology, a quarterly magazine published by the United States Institute for Theatre Technology (USITT). Garrity's article was titled "Building a Better Workplace." The USITT honored Garrity as the 2020 Herbert D. Greggs Award winner in the Honors category for her article.
Garrity was recently featured on the USITT's official podcast, "TECHnically Speaking," where she shared insight into how to keep women+ working in theatre.
Listen to "2020 Herbert D. Greggs Award Winner Caitlyn Garrity: A Conversation on Women+ in the Industry" on Spreaker.
"This study sought not only to unearth the current struggles of women in technical theatre, but to confirm if women are leaving the industry at a faster rate, and why and for what reasons," Garrity wrote.
Garrity added, "It was personal for me, as well as for others, because I'm a female in the design production industry. I felt this study would be beneficial to the industry as a whole. Thanks to Facebook and word of mouth, we had almost 600 female-identifying responders across all disciplines who responded to the survey in about two weeks. From their responses we analyzed the data and that became the article."
The article gained traction which Garrity found very exciting. "It says that other people are interested in the topic and want to talk about it. I wanted to get the research and statistics out there so people would be aware. The article talks about solutions to these concerns and achievable changes that can be implemented. If there is a part two to this study, I want to focus on real life examples and how theatres are making progress."
According to Garrity's research, of 589 people who responded to the survey, 533 (90 percent) reported having experienced a negative work environment, gender-based harassment and/or pay disparity. Several of those who responded worked in stage management, lighting production or scenic design. Half of the respondents reported leaving the field due to discrimination, workplace harassment and lack of support for parents as their reasons.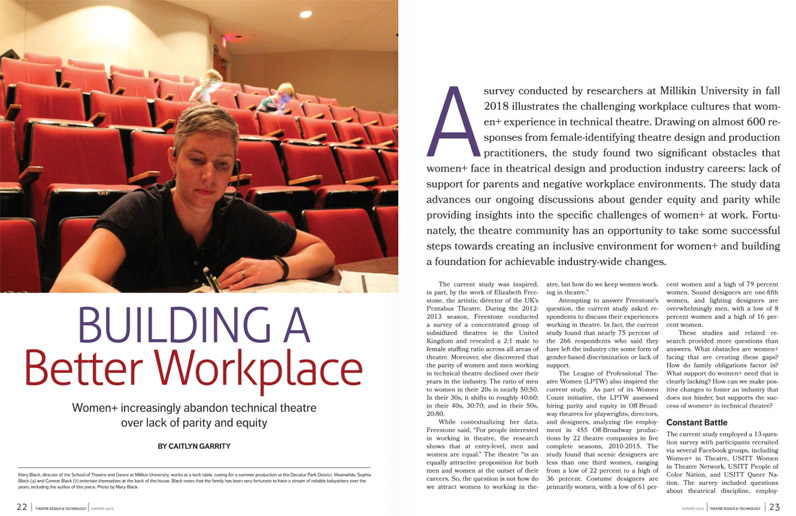 Parents also made up 19 percent of the people who responded to the survey, and among that demographic, only 21 percent reported ever being offered maternity leave by their theatre company or union.
"The research suggests two major areas in dire need of change: workplace environments and family support," Garrity wrote. "Technical theatre has an obligation to uphold a positive workplace environment for all people and provide support for parents. Without this welcoming environment, we will lose countless artists and their skills, further shrinking the pool of theatre practitioners to a select few."
Garrity earned a Bachelor of Fine Arts in Theatre Design from Millikin University in 2019. Mary Black, director of the School of Theatre & Dance at Millikin, served as Garrity's faculty advisor during the two-year research study.
Based on her findings, Garrity noted the importance of bringing conversations and awareness to the forefront on this topic.
"Production teams and management need to openly commit to more inclusive workplaces," she writes. "Real change is possible and achievable, and it can start through early implementation of policies and other simple solutions that acknowledge, name and attempt to solve the potential barriers faced by our theatre colleagues."