Bullying Prevention – A Positive Approach
Millikin University graduate Matt Wilhelm '01 is a nationally recognized speaker on the topic of bullying – he's also a BMX flatland stunt rider and a three-time X Games medalist.
Wilhelm returned to central Illinois on Jan. 15 to give an anti-bullying presentation to students at Holy Family School in Decatur, Ill., as well as provide demonstrations of BMX trick riding and stories about his own childhood.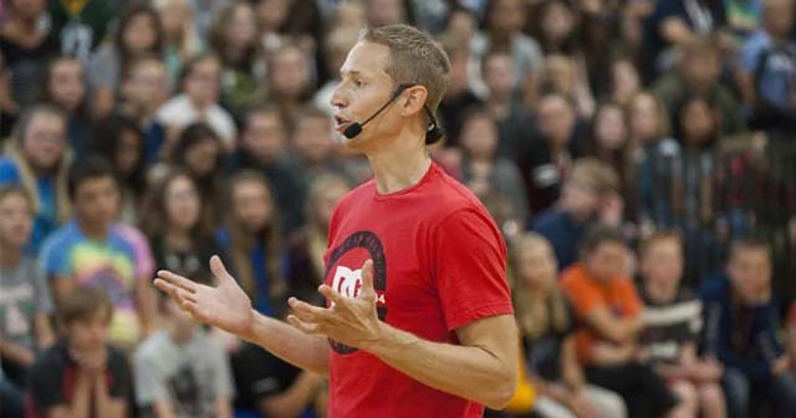 Wilhelm's program is more than just an anti-bullying "Don't do that" type of assembly, he focuses more on social-emotional learning. During his presentations, students learn about empathy, resilience and respect. Growing up, Wilhelm was made fun of for being "different" and riding BMX. However, another BMX rider had the courage to stand up for him and include him into the group.
He encourages every student to be a hero by doing something small that can make a big difference. "He was my Batman," Wilhelm said in an interview with the Herald & Review. "Chances are, someone in your class is getting picked on. Stand up and be their Batman."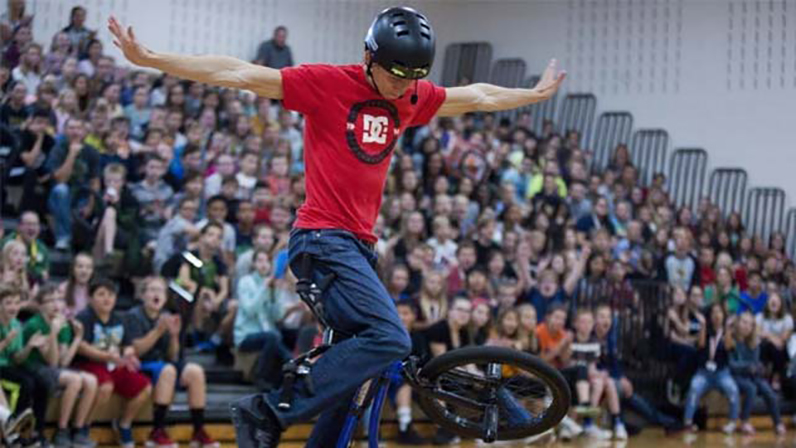 Known for his fast spinning and aggressive riding style, Wilhelm is a World Championship Silver Medalist and a two-time United States National Champion. In addition to several television appearances, Wilhelm advanced to the semi-finals on America's Got Talent and won the America's Got Talent YouTube Competition as well as FOX TV's 30 Seconds to Fame.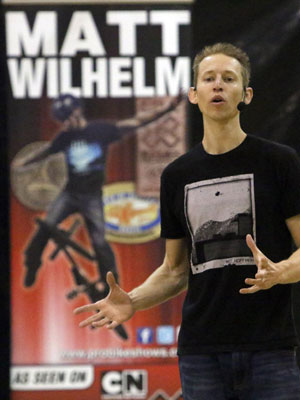 Wilhelm started performing and speaking at schools in 2005 and now does over 300 school assemblies a year.
"I encourage you to find something you love and devote yourselves to excelling at it, whatever it is," he said.
Wilhelm received a music scholarship from Millikin and graduated magna cum laude with a degree in marketing and a minor in music in 2001.
This year, BMX Park will be in the 2020 Olympic Games and he has high hopes that BMX Flatland, his event, will be in the next Olympics. If so, he plans to compete.
"Never give up," he said. "Don't listen to that little voice that says you can't do it."