International fraternity traces roots to Millikin University
Better Men for a Better World. That is the motto for Tau Kappa Epsilon (TKE), one of the largest collegiate men's social fraternities with over 270,000 members. TKE's purpose is to contribute to the advancement of society through the personal growth of its members, and service to others, and its roots can be traced to Millikin University.
Founded on Jan. 10, 1899, Tau Kappa Epsilon has 290 chapters in the U.S. and Canada. Among those is Millikin University's Beta Chapter which was founded ten years later on April 17, 1909.
The Beta Chapter of Tau Kappa Epsilon frequently participates in service and volunteer hours with other member organizations of Millikin's Fraternity and Sorority Community.
"The Beta Chapter of Tau Kappa Epsilon has been an avid supporter of blood drives and organ donor initiatives on our campus for well over 20 years," said Raphaella Prange, vice president for student affairs and dean of student development at Millikin. "The chapter encourages Millikin students to participate in these important public health programs."
Prange added, "The men of Tau Kappa Epsilon have also recently focused on domestic violence and sexual assault awareness programming, organizing hygiene product drives and participating in the 'Walk a Mile in Her Shoes' event which highlights survivor support services."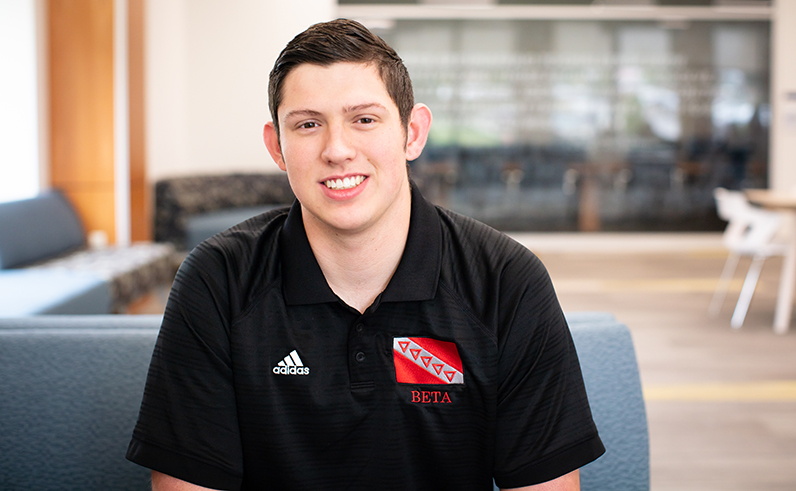 Jay Geanopoulos, a senior accounting major from Frankfort, Ill., serves as the current president of the Beta Chapter of Tau Kappa Epsilon.
"We do lots of philanthropy," Geanopoulos said in an interview with the Herald & Review. "Some of our local high-profile fundraisers and activities include TKE Toys for Tots, gift wrapping parties and blood drives."
The fraternity's "No More Cancer" rally with Delta Delta Delta sorority was also a successful fundraiser for the Millikin community.
"The event won us an award as Co-sponsor Event of the Year," Geanopoulos said. "We raised $3,000 in 24 hours."
Alex Baker, chief information officer for TKE headquarters in Indianapolis, Ind., says the Millikin chapter has an important role in the history of the organization.
"The impact we can make on young men is outstanding," said Baker. "The leadership is making a huge impact on their lives. We are proud that Millikin's chapter is part of the triangle."
Following Spring Commencement in May 2019, the Beta Chapter of Tau Kappa Epsilon now has 33 members, and the Millikin members expect to continue their philanthropy skills after they graduate.