Fellowship of Christian Athletes and Newman Catholic team up to host community kickoff
"Eat mor chikin."
Millikin University students did exactly that at the Faith Community Kickoff hosted by Fellowship of Christian Athletes (FCA) and Newman Catholic on Thursday, Aug. 29, on the Miller Quad. The two organizations came together to provide Millikin students with a night full of fun, music, and yes, Chick-fil-A.
Logan Bader, senior community service chair for Newman Catholic, was excited for FCA and Newman Catholic to team up and plan the event.
"Both organizations were started when I was a freshman," he said. "It was great to have the two organizations come together to put on an event that brought out over 200 Millikin students."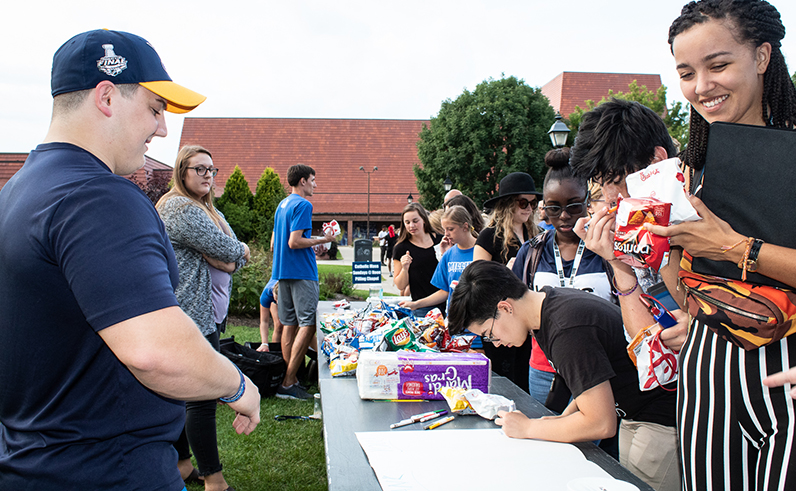 The night started out with students gathering on the Miller Quad to play various yard games. Students worked up quite an appetite while playing bags, nine-square, Frisbee and football. When it was time for dinner, there was a massive line of students waiting to get one of the chicken sandwiches that were catered in from Chick-fil-A.
Entertainment for the night was provided by an up-and-coming Christian band from Nashville, Tenn., called Mass Anthem. The band has close ties with central Illinois as two of the band members, brothers Chad and Tyler Sowards, hail from Springfield, Ill.
Millikin student Korbin Farmer, a senior philosophy major from Columbia, Ill., and one of the senior leaders for FCA, was excited to get the band on campus.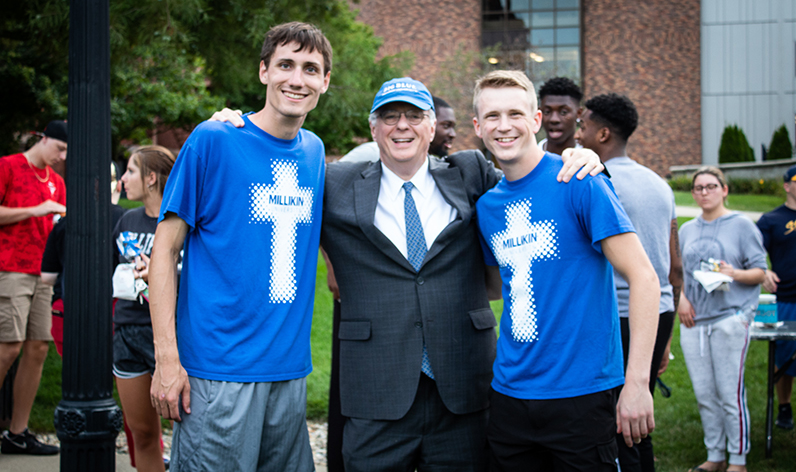 "The event was proof of how special Millikin is," said Farmer. "A few of us students had heard Mass Anthem last spring in Decatur (Ill.) and we thought it would be cool to have them come perform on campus."
The band was a hit with the students with their rock sound, upbeat energy and great dance moves. As the concert came to an end, the students got to indulge in ice cream and had the opportunity to meet the members of the band.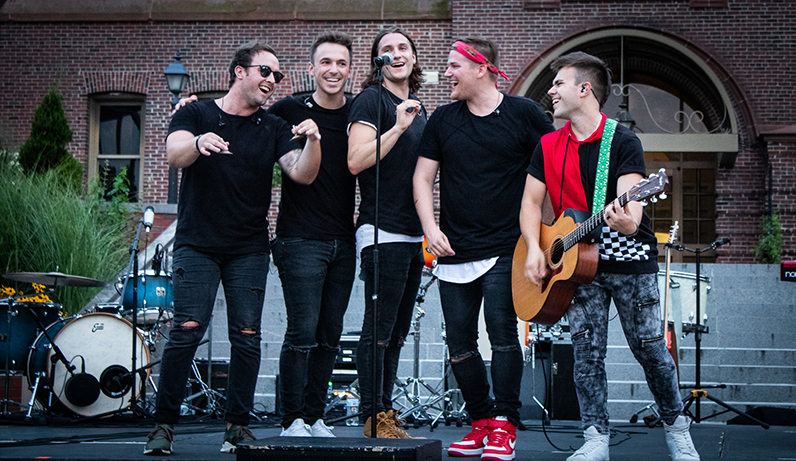 "I am overwhelmed by how successful this event was," said Bader. "Especially in that it was all centered around the promotion of faith within the student body. I feel so blessed to have been a part of this event's planning and success."
FCA will host their organization's kickoff event on Sunday, Sept. 8, at the Workman Family Softball Field on Millikin's campus. The organization meets weekly each Sunday in the Griswold Physical Education Center at 8:30 p.m.
Newman Catholic hosts services at 12 noon on Sundays in Pilling chapel where any Millikin musician or singer is welcomed to help lead music during the services. They also host a variety of events throughout the academic year, including small group discussions, social events and movie nights.
"I could not think of a better way to start the year than with this event. I'm excited to see what else the year holds for both FCA and Newman Catholic," Farmer said.