Books features contributors from around the world with views on arts entrepreneurship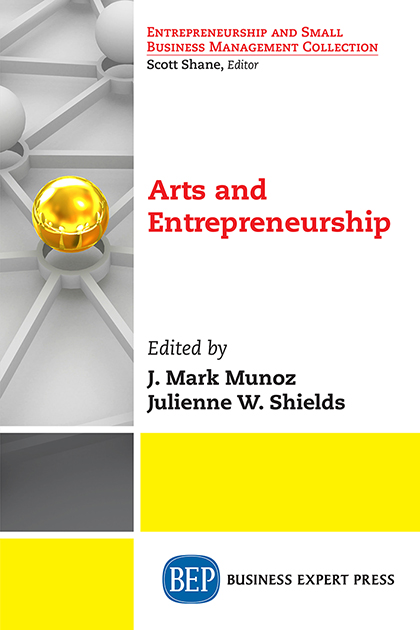 Interest in arts and entrepreneurship has grown in recent years, but there are challenges for people who want to build a career around their creative work.
Millikin University faculty members Dr. J. Mark Munoz, professor of international management, and Julie Shields, director of the Center for Entrepreneurship, have collaborated to publish a book on strategic entrepreneurial approaches combined with a passion for the arts titled "Arts and Entrepreneurship" (Business Expert Press, LLC, 2018).
The book brings together experts and thought leaders from around the world to uncover business success strategies for art enthusiasts worldwide.
"Julie (Shields) and I have talked about collaborating on a project many times, in one form or another, and we looked at arts entrepreneurship as a way to converge our interests and abilities," Dr. Munoz said. "What differentiates the book is that we gathered contributors from around the world to get their views on arts entrepreneurship. We have contributors from places such as Africa, Eastern Europe and Asia, to try to provide the best ideas. What makes the book unique, aside from the arts and entrepreneurship theme, is the international angle."
The purpose of the book is to encourage artists all over the world to understand the notion of arts entrepreneurship and hone their entrepreneurial abilities. With an assembled team of experts from disparate countries, the book provides ideas and fresh insights on how to converge artistic and entrepreneurial intent.
Organized in five sections, the book opens with an introductory chapter about understanding arts entrepreneurship. Other sections of the book go into detail about arts, culture, values and internationalization as well as pathways to growth and success.
"When Mark (Munoz) was Interim Dean of the Tabor School of Business, he got to see how important and influential Millikin is in the arts and entrepreneurship world, and in that role he got to see how we reached out to that particular set of artistic disciplines," Shields said. "Millikin is pretty well known for being a thought leader and an action leader within that discipline. This book helps us get our thoughts and ideas out there as well as bring in some international perspectives."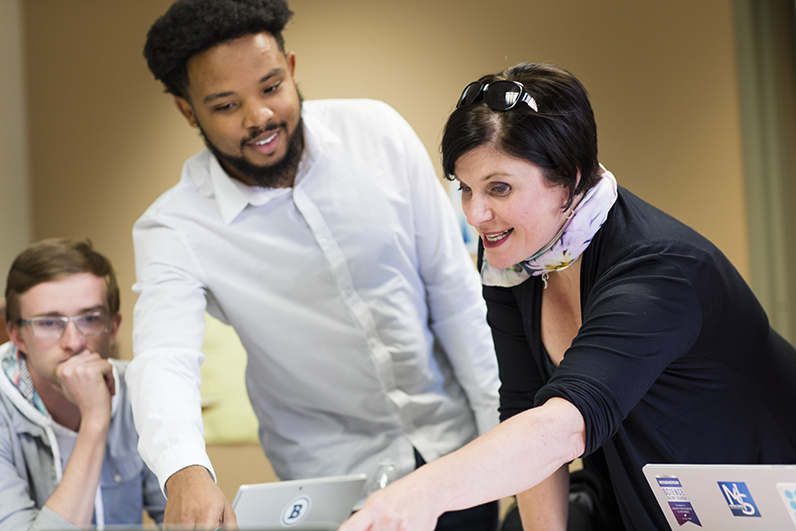 Aside from Shields and Munoz, Millikin faculty members Dr. Larry Stapleton, associate professor of operations management, and Sara Theis, assistant professor of theatre and dance, also contributed to the book.
Shields noted, "The international perspective of arts and entrepreneurship is one area of the book I really appreciated. It elevates that discussion and brings in more voices from an international audience which I found to be very fascinating."
According to the authors, artist entrepreneurs can be found in many business fields and disciplines, and there is a diversity of options available for the artistically inclined. For instance, arts organizations can be found in the performing arts and museums and cultural industries such as those in film, music, and video games.
Some of the challenges the book addresses when it comes to arts enterprises include financial pressures, balancing creativity and profitability, changing consumer taste and declining support.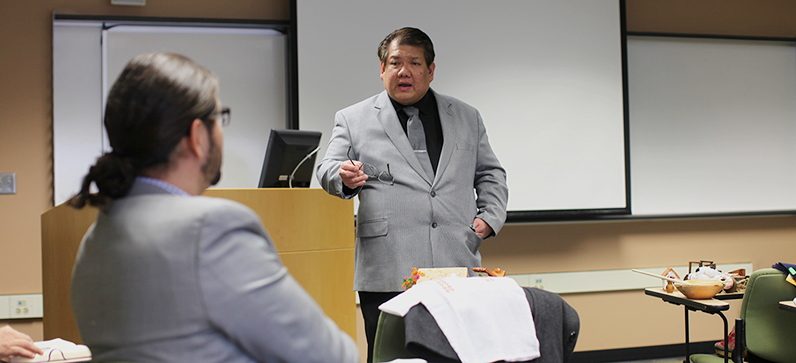 "I think the U.S. contributors really speak to how do you teach arts entrepreneurship and how do you have an experience within the classroom so students are understanding concepts about business and entrepreneurship," Shields said. "What I saw from the international contributors was not so much the teaching and learning standpoint but the research standpoint, and what are some of the things going on in the arts industry that can be studied and used in the classroom."
The book will serve as a guide that will help artists from around the world navigate the complex world of business and uncover pathways to success. The book also covers diverse topics that are intended to educate the reader in different aspects of arts entrepreneurship.
"At the end of the day, the lessons learned from this book could be applicable almost anywhere," Dr. Munoz said. "I think it will be very helpful for a lot of artists which is the objective we were looking for with the book. We have experts around the world providing insight that can help artists propel their businesses."
About the Authors
J. Mark Munoz
Dr. J. Mark Munoz is a professor of international business at Millikin University and a former Visiting Fellow at the Kennedy School of Government at Harvard University. He is a recipient of several awards including four Best Research Paper Awards, a Literary Award, an International Book Award, and the ACBSP Teaching Excellence Award. He was recognized by the Academy of Global Business Advancement as the 2016 Distinguished Business Dean.
Aside from top-tier journal publications, he has authored/edited/co-edited 14 books including "Land of My Birth," "Handbook on the Geopolitics of Business," "Hispanic-Latino Entrepreneurship," "Managerial Forensics," and "Strategies for University Management" (Volume I and II). He directs consulting projects worldwide in the areas of strategy formulation, business development, and international finance.
Julienne W. Shields
Julie Shields obtained her Bachelor of Arts in Classics from the University of Illinois at Urbana-Champaign, and her MBA from Millikin University. Prior to joining Millikin, she spent 11 years in the information technology industry during which time she worked for Nims Associates, Inc. and owned two technology start-up businesses, Open Integration Incorporated, which shared intellectual property with the University of Illinois, and InVivo Ventures, LLC.
In 2013, she joined Millikin University's faculty and in the commitment to Millikin's Performance Learning pedagogy led the Arts Entrepreneurship program including the Blue Connection retail art gallery learning laboratory for art and business students. Shields is currently the Director of the Center for Entrepreneurship and directs the Coleman Faculty Fellows program at Millikin University. She continues to foster the more than 15-year commitment to arts entrepreneurship and the development of artist entrepreneurs at the institution.